Americans waste 40% of food
by Joel Preston Smith
This article was originally published in February 2013
Go outside and turn on your car. Don't ask questions, just do it. Now walk away. You heard me, just leave it running. Set your watch for 30 minutes. When that time is up, you can turn off your car. While no sane person would let their car idle for a half hour, it burns through the same amount of money we squander each day in wasted food …
— Jonathan Bloom, in "American Wasteland: How America Throws Away Nearly Half of Its Food"
PCC shoppers are a conscientious bunch. We care about food and its impact on the environment. When we worry, it's about the pesticides used to grow apples, or whether hormones or antibiotics were used to hasten production of the meat or dairy. We're concerned about how food is produced, and don't often give much thought to what happens once it is.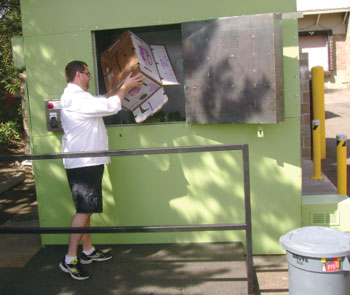 So consider this: an estimated 15,988,480 acres of crops were left unharvested in the United States in 2007, according to the Environmental and Energy Study Institute, a nonprofit sustainability center in Washington, D.C. Imagine all of Massachusetts, New Hampshire, Delaware and Rhode Island, every square inch of it edible, ripe for harvest. Now plow it under, and that still doesn't cover the square miles of crops fed to the dirt that year.
As rotten as those stats may seem, they rankle alongside another figure: roughly 40-50 percent of all food that reaches some "point of sale" ends up as garbage, according to Jonathan Bloom in "American Wasteland." He spells out the ironies and frustration you have to swallow if you look, on one hand, at the enormous output of American farms and food producers, and on the other, at how much is abandoned or treated as garbage.
Bloom describes touring the Crazy Horse Canyon Landfill, in Monterey County, Calif., where "an inch of shredded lettuce [obscures] the ground like a dusting of green snow." The landfill's owner tells Bloom that every day, 200 tons of "excess, rejected or misbagged produce" is offloaded at the site by garbage trucks. Crazy Horse shut down in 2009, partly due to the surfeit of wasted food.
On average, Bloom writes, every American throws away about 197 pounds of food each year — at a cost of roughly $1,600 for a family of four. It's an outrage, not solely because 50 million Americans (including 17 million children) are food insecure, according to U.S. Department of Agriculture 2011 data. It's an outrage also because of the enormous environmental cost of scrapping food.
Food waste is the single largest component — 20.5 percent — of waste at U.S. landfills, according to Jean Schwab, a senior program analyst for the Environmental Protection Agency (EPA).
"That's pretty staggering," she says, "when you think that we send more food to landfills and incinerators than we do cardboard and paper … that's a large volume of landfill space to take up. But it's a bio-material. There's no reason for it to go to a landfill."
Food waste and methane
EPA's biggest worry is that wasted food is wanton pollution. Landfills, Schwab explains, are the third-largest producers of methane gas in the United States. Molecule for molecule, methane packs 23 times the global-warming impact of carbon dioxide. Only the mining industry and agriculture generate more of the threatening greenhouse gas.
Dana Gunders, a food-waste expert for the Natural Resources Defense Council, notes methane is just the terminal link in a chain of waste that begins the moment a seed is planted. She recently authored the report, "Wasted: How America Is Losing Up to 40 Percent of its Food from Farm to Fork to Landfill."
Some of her key arguments: agriculture consumes 10 percent of the U.S. energy supply, 80 percent of all fresh water, and 50 percent of land resources — while infusing the soil with pesticides and other chemicals — for what? To let it rot? Or load 40 percent of it in a truck and drive it to a distant landfill, where it further pollutes the planet?
Large-scale change
It was this insanity that drove Bloom to brand himself as a food-waste warrior. He said the precipitating event was working in a grocery store in Carrboro, N.C., where he was a witness, and sometimes a party, to throwing away hundreds of pounds of edible food each day. "Being part of that waste was enlightening. It really stuck in my craw."
He says for a while he stacked the throwaways beside the grocery's dumpster, hoping someone would collect them, then hooked the store up with a local food-recovery group.
The same insanity compelled Christy Porter to launch Hidden Harvest, a nonprofit that gleans crops from the California fields that otherwise would be interred. In its first year, 2001, Hidden Harvest collected 75,000 pounds of food, much of it hauled in the hatchback of her old Subaru. By 2008, the agency topped 5 million pounds of rescued food, all of it gleaned from local farms by staff, contract workers and volunteers. "Nothing ever just comes to us," she says. "We have to go get it."
Hidden Harvest hires as many as 25 farmworkers a day and pays them a minimum of $12 an hour to keep what the farmworkers had been growing from being plowed under. Hidden Harvest now ships its pickings to 65 relief agencies, Porter says, and has an ongoing commitment to supply Feeding America pantries with a minimum of 1 million pounds of food annually. The Subaru is long gone, but seven cargo trucks replaced it.
It's a world of good in a community Porter says was ranked second poorest in the nation in the 2000 U.S. Census. But Bloom, Gunders and a host of others argue we can do better.
Don't toss that!
Consider the waste attributable to confusing food labels: a 2009 U.K. study found British consumers threw away as much as 20 percent of food purchases after misreading (or misunderstanding) the "best if used by" or "sell-by" date on the package. There's no reason to believe U.S. or other consumers around the globe are behaving differently.
"'Use-by' dates are completely arbitrary," explains Jennifer Erickson, a senior resource planner in Portland, Ore., "but people look at them like they're written in stone."
Portland metro taxpayers spend about $2.2 million a year on date dyslexia (not including the purchase price of the ditched food itself).
The only federally mandated "use-by" dates are those on infant formula. For all other products, Gunders explains, the sell-by date is a message to the retailer from the manufacturer, intended to protect the manufacturer's reputation, not the consumer's safety. Neither the "sell-by" nor "best if used by" dates have anything to do with consumer safety, and are not required by the Food and Drug Administration.
Gunders says the labels are so broadly misinterpreted that store managers sometimes order shelves cleared of any food set to "expire" two or three days later. See pccnaturalmarkets.com/basics/safety/ for more info about safe food storage.
PCC is trying to dam its own waste stream by hosting a pilot project for food recycling. The WISErg Corporation's "Harvester" was installed at the Issaquah PCC in March 2012. It processes the store's food scraps into a liquid that WISErg then refines into an organic liquid fertilizer sold at PCC stores and to farmers.
Seattle is making strides toward reducing waste: the city's curbside collection service for food waste collected almost 35,000 tons in 2010, up from 11,200 tons in 2009. In 2007 the City Council resolved that 70 percent of Seattle's municipal solid waste would be recycled by the year 2025. The figure was 53.7 percent in 2010. Seattle Public Utilities just launched a project to find out how much food waste residents generate, in hopes of using the data to structure a 2013 food-waste reduction plan.
Seattle Tilth offers an online resource guide to making food waste "fun" (meaning creative, guiltless solutions to what to do with your food waste): Seattle Tilth's Food Waste Fun ».
Back in California, Hidden Harvest's trucks are burning up the asphalt. There's more wasting in the fields than the nonprofit can collect, refrigerate and redistribute. The first week of last December, a farmer offered Hidden Harvest 88,000 pounds of eggplant, but it couldn't take more than 8,000. It had just accepted 65,000 pounds of lettuce.
How to help
Gleaning operations and food banks, including PCC partner food banks, always can use help. But you can start from home.
Give what you can't use to your local pantry or food bank. Visit PCC's food bank program to learn more. Read Bloom's and Gunders' books and blogs for tips on how to save money and cut food losses.
Read those labels, but no need to call the Poison Control Center if you see one stamped for yesterday. Or maybe even the month before. It depends.
At restaurants, tell the waiter you want a human-sized portion.
Don't overshop. Make a menu for a few days at a time and build your shopping list from that. When trimming vegetables, try to make it look like your paring knife wasn't a chainsaw.
Eat the middle of broccoli stems. They're soft in there, once you carefully peel off the woody skin. It's not garbage.