Tell FDA not to approve GE salmon!
This article was originally published in February 2013
The first genetically engineered salmon could be in grocery stores and restaurants in 2014.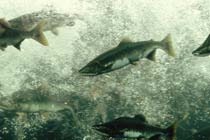 Take action
Sign the petition telling FDA not to approve GE salmon! »
Submit your own comment to FDA »
The deadline for comments is April 26, 2013 (date updated).
Please take a few minutes to write the Food and Drug Administration (FDA) about its recommendation to approve genetically engineered (GE) salmon — the first genetically engineered animal meant for human consumption.
At this point, it appears FDA is likely to approve engineered salmon after the comment period ends. The FDA is taking public comments through April 26, 2013.
FDA's recommendation to approve the so-called "Frankenfish" is opposite to what more than 40 members of Congress asked FDA to do: stop the approval process until concerns over risks, transparency and oversight are satisfied.
FDA's Center for Veterinary Medicine recommended approving the GE salmon as a "new animal drug," meaning the genetically engineered salmon is subjected to a less rigorous safety review than if it were classified as a food additive.
FDA received nearly 400,000 public comments demanding rejection of AquaBounty's application for approval of the fish. More than 300 environmental, consumer, health, and animal welfare organizations, salmon and fishing associations, food companies, chefs and restaurants filed a joint statement opposing approval.
Health concerns
There's little data on human health impacts of GE fish, but some recent studies give cause for concern. Scientists say foreign growth hormones forced into the fish may cause increased production of other compounds, such as insulin. Studies already have found the GE salmon contain elevated levels of a growth hormone called IGF-1, which in high levels in humans is linked to prostate, breast and colon cancers.
The FDA is moving forward with approval based on tests with only six GE fish for allergenicity. According to Michael Hansen, Ph.D., senior scientist at Consumers Union (CU), even this limited testing showed an increase in allergy-causing potential.
What's more, the few studies that have been done show GE salmon contain lower levels of heart- and brain-healthy omega-3 fatty acids than wild or farmed salmon.
Critics say FDA's Environmental Assessment is "flawed and inadequate."
Environmental concerns
GE fish would pose serious risks to the marine environment and wild populations of salmon. Many wild salmon populations already are suffering severe declines due to impacts from salmon farms. Millions of farmed salmon escape every year, outcompeting wild populations for resources and straining ecosystems.
Escaped GE salmon pose an additional threat — genetic pollution. Research in the Proceedings of the National Academy of Sciences notes the escape of just 60 GE salmon into a wild population of 60,000 would lead to the extinction of the wild population in less than 40 fish generations. GE salmon could become the final blow to wild salmon stocks.
AquaBounty says it will raise its GE fish only in land-based facilities and market the eggs, not the fish. AquaBounty also claims it will produce only sterile females. But fish are known to change sex and the company's own documents show 5 percent of its GE fish could be fertile and could reproduce.
A new strain of Infectious Salmon Anaemia, the deadly fish flu that has devastated fish stocks around the world, contaminated AquaBounty's Canadian production site. This information was not included in FDA's review.
Engineered salmon also are genetically engineered to grow faster than real salmon. It already takes four pounds of wild fish to feed a pound of farmed fish, and the GE salmon's growth rate likely will require more, placing more strain on overfished oceans.
Economic concerns
"The FDA has said it didn't consider any kind of economic impacts when reviewing this fish," says Colin O'Neil at the Center for Food Safety.
Alaska's House and Senate unanimously passed a law in 2005 requiring labels on engineered salmon, to protect its wild salmon industry worth hundreds of millions of dollars and thousands of jobs. Cheaper engineered, farmed fish would harm small independent fishers and coastal fishing community economies.
PCC opposes FDA's plan to approve AquaBounty's GE salmon and we support mandatory labels on such engineered fish, just like labels tell us whether our salmon is King or Sockeye, farmed or wild. If FDA approves the fish despite overwhelming opposition, clear labeling must be mandatory so consumers can make informed decisions.
Washington's initiative I-522 to label GE foods in Washington state would require labels on GE salmon.