Soil & Sea: reports from our producers
This article was originally published in August 2012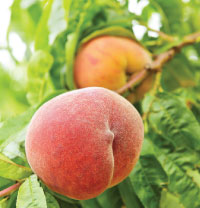 It's a stellar year for peach and nectarine flavor. Crimson Lady, July Flame, Fiesta Gem, Super Rich, Ivory Princess and other peach varieties are sweet and juicy, as are Grand Brite, Diamond Ray and Grand Pearl nectarines.
The Northwest produced a record number of blueberries this year and likely will continue to produce even more in years to come. Prices won't drop, however, as demand from Asia is high.
English walnuts have all but disappeared from Oregon's Willamette Valley, where many once grew. To blame are a killer freeze in the '50s, a 1962 storm that uprooted many trees, and the high cost of handpicking (before automation) that pushed farmers out of business from the '70s through the '90s. Clay soils also are to blame.
Washington wine grapes may bounce back with record tonnage this year after recent years of cool weather and freeze damage, though it may be another year before the grapes return to normal volume because buds for each year's crop start the year before.
The cost of fishmeal has skyrocketed from about $300 per ton five years ago to as high as $1,600 per ton, prompting Idaho trout farmers to look to barley as a possible alternative feed. Unlike soy, barley doesn't have growth inhibitors and may be able to provide a digestible, protein-rich diet for trout and other fish.
U.S. production of rainbow trout is declining. Increasing restrictions on water rights in Idaho's "Magic Valley," which produces about half of all U.S. trout, have made it harder on fish farms there to get water from the Snake River aquifer.
Meat prices are expected to rise faster than overall food costs in 2012 due to a drop last year in the number of cattle, hogs and chickens in the United States. Corn prices were at an all-time high, causing some farmers to cut back on the number of animals they raised to offset feed costs. Also, devastating droughts in some parts of the country dried up grasslands where cattle graze.