Sparkling wines for all seasons (and reasons!)
by Jeff Cox, PCC wine guy
This article was originally published in December 2011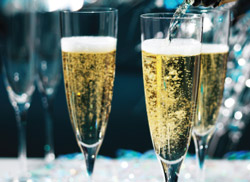 Tiny bubbles. A rain of stars. Champagne wishes … Nothing is more evocative of living well, celebration and refined hedonism than sparkling wine and the mesmerizing ascent of lacy effervescence in a glass.
While there are as many types of sparkling wine as there are languages, no two syllables are as universal in encompassing the very idea of effervescence and its many associations as Champagne.
Champagne is simply sparkling wine but conventional wisdom tells us that while many wines sparkle, without "Champagne" on the label they're little more than second-rate imitations, consolation for those without the means for the genuine article.
Fortunately, conventional wisdom is only half-correct (it's conventional) and the truth can send our souls and senses on first-class flights of fancy — at coach prices. Truly. No passport, no subscription, no club membership required. Just an open mind and a thirst for character are the ticket to worlds of amazing flavors. Compelling? We think so. But first things first. A little context, please.
Ethereal though the stars in your glass may be, they have their genesis in the most mundane of biological processes. Think saccharomyces — good old yeast. In the process of fermentation, yeast devours sugar and turns it into alcohol and carbon dioxide. Add just a little more sugar and yeast to finished wine, trap the resulting CO2 in the wine and voilà! — bubbles, baby.
Some grape types lend themselves more graciously than others to bubbles and those grown in cooler climates are best suited. Meaning that a dazzling array of grapes and climates wear effervescence gorgeously. Weave in the expression of both grape variety and terroir possible when grown and produced by people who care — and the possibilities are limitless. From that lovely, lengthy litany, here are a few of our favorites.
Blanquette de Limoux
The first record of sparkling wine anywhere dates to 1531, made by Benedictine monks in the Languedoc village of Limoux. (Dom Pérignon and the Champenoise traditionally get the credit for inventing fizzy wine but he didn't make the scene until much later.) Classic Blanquette de Limoux is made primarily of the local Mauzac grape and has persistent bubbles, lovely notes of dry, crisp green apple, wild herbs and a trace of minerals.
Prosecco
Prosecco is cool, the hip quaff of scene-sters everywhere. Not only does it offer a unique texture and flavors, the mere word rolls off the tongue with inimitable Italian cachet. Think flavors of just-ripe nectarines with the merest hint of grape skin, soft bubbles, and a delightful crispness. It's perfect with antipasti, medium-ripe cheeses and shellfish, and fabulous with a very simple risotto.
Lambrusco
Surrender your disbelief. Like a host of other words that have been besmirched by a surfeit of big-brand advertising and a lack of quality, real Lambrusco bears scant resemblance to the adult soda pop that had its heyday in the '70s. Imagine red wine with a savory note, the flavor of wild berries and a suggestion of savory grape skin … elegant, robust and great with everything from smoked salmon to a slow-simmered Bolognese draped in voluptuous folds of pappardelle.
Moscato d'Asti
Wrap the delicate sweetness of perfectly ripe, dancing-on-point Moscato in a veil of pianissimo bubbles and you get the idea. Drink it with fresh fruit, young gorgonzola, pecorino with honey or, if you're feeling decadent, with your beloved, for breakfast.
Crémant de Bourgogne
Like their famous cousins to the north, Crémants de Bourgogne are produced using the same method as Champagne. Much the same grape composition (Pinot Noir and Chardonnay) lend striking similarities in flavor — although perhaps lacking that ineffable je ne sais quoi that Champagne's cooler climate and chalky soils provide. Burgundy with bubbles!
Cava
Xarel-lo, Parelleda, Macabeu. A trio of caballeros? Nay, three grapes, Catalan grapes united in a distinctly Catalan expression of effervescence. Great Cava marries notes of soft citrus blossoms and fruit with hints of Mediterranean brush and minerals. Grilled fish, piquant or nutty cheeses, ceviche and paella are just a few savory alliances.
Whether it's modestly priced Cava, an Oregon sparkler, or the most elegant Champagne, perhaps the most important thing to remember is that it's wine. It's meant to share the table with food and be shared with friends.
Sparkling wine certainly lends an extra dimension of sparkle to celebrations but to hold its charms in reserve is to postpone a pleasure that can make every day special. So, drink up, sooner rather than later — and don't forget that two bottles are always better than one. Salut.