Small local producers
by Eli Penberthy, co-editor
This article was originally published in November 2011
The relationships we're building are allowing both PCC and our farmers and artisans to thrive — and making it possible to bring more delicious local, sustainable food to our tables.

PCC has grown remarkably in its nearly 60-year history, from a buying club of 15 families who joined together to share the cost of cases of food, to a thriving business with 45,000 member households and nine (soon to be 10) well-loved stores. Like any business, we've had to redefine and shift priorities during our growth, and at times have consolidated our sourcing to stay healthy as a business.
But we thought that Thanksgiving — when we're so grateful for the bounty of our region — is a great time to share with you how we're redoubling our efforts to source food from local, sustainable farmers and artisans. The relationships we're building are allowing both them and PCC to thrive — and making it possible to bring more delicious local, sustainable food to our tables.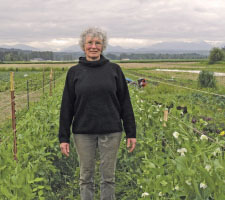 If you're a regular at the Redmond PCC, you may have noticed signs above the rainbow chard and green kale that read: "Grown in Carnation at Growing Things Farm," with a picture of farmer Michelle Blakely. Down the aisle, the broccoli and Dinosaur kale are marked with a different sign, one showing Luke Woodward and Adam McCurdy of Oxbow Farm, located in Duvall.
PCC sources organic produce from a variety of local sources for all its stores, but these two small, neighboring farms provide gorgeous greens and other vegetables just to Redmond. It's part of a renewed and aggressive PCC effort to support emerging local, mostly organic producers. In practice, it means we're matching smaller farmers who can't supply all stores with just the one that's closest.
Both the farmers and PCC buyers work hard to make the individual farmer-store partnership mutually beneficial. Redmond's produce coordinator, P.J. Cawley, began buying a handful of vegetables from the two farms a few years ago, and now has an agreement to buy a whole variety, including chard, cucumbers, squash and more. It's an agreement that ensures a steady market for the two farms and means PCC can offer the freshest local, organic produce from nearby farmers who don't want to get too big.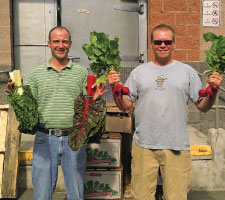 Sourcing from small, local producers doesn't come without challenges. "Ordering gets a lot more complicated in the summer," P.J. concedes, when he's coordinating invoices from several farms instead of just a central distributor. Weather setbacks and distribution schedules are additional challenges; "we have to be more flexible with when we can get the products," P.J. says. "It's not as easy as just saying, 'I'll take a case of carrots and 10 bunches of chard,' like I would ask a large distributor."
Farmer Michelle Blakely says she's grateful for P.J.'s willingness to roll with the ups and downs. She says he's "very understanding if we're running short one week, and he also helps us by buying more of certain crops if we have a lot of extra."
Small farms such as Growing Things make more money selling their produce at farmers markets than at wholesale through grocers, so P.J. pays more for their produce, even though PCC won't make as great a profit. "It's worth it to be able to support these farms that are in our backyard, and to be able to provide such fresh local food," he says.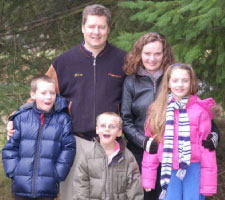 The organic, authentically pastured eggs now available at West Seattle and Edmonds PCCs are another example of PCC's renewed effort to partner with small, local, organic farms.
Melissa and Mark Moeller of Misty Meadows Farm recently began supplying the West Seattle store with organic eggs from hens who spend their entire lives on pasture, which isn't a requirement for organic certification.
The Moellers researched how egg farms operated in the 1920s — when pasturing was the norm — to learn how to run their own farm, which has high overhead and is extraordinarily labor intensive. The Moellers are moving fences constantly to ensure the hens are on fresh grass, hand-gathering eggs, and strategizing about how to protect the flock from aerial predators.
"If you look at what eggs cost in the 1920s and extrapolate that to today, we should be paying $12 per dozen eggs," she says. "You can't compare the cost of raising hens on pasture to raising them in confinement. We've been deceived by the artificially cheap factory farm system."
Misty Meadows eggs are more expensive than what many shoppers are used to paying for eggs — even organic eggs. Still, enthusiasm from customers has been amazing, Melissa says. For now, she has only enough eggs to supply one PCC location, but she's "excited to see our relationship with PCC expand and hope to provide eggs to more stores as we grow. It's great to work with people who get it."
PCC's CEO Tracy Wolpert says it's essential that our buyers at PCC "get it" and he wants them aggressively to seek out emerging producers trying to carve a niche in the organic market and help them compete against lower-cost options. "It's a core part of our mission," he says.
A longstanding commitment
The commitment to support local, organic farmers and food artisans has been part of the fabric of PCC almost since the co-op's beginning. It's provided a stable market for farmers and producers as they've just started up, and has allowed some to expand their organic acreage or operations. It's even catapulted some now well-known producers to national and international acclaim.
Consider Rent's Due Ranch in Stanwood, Wash. Farmers Mike Shriver and JoanE McIntyre started in 1980 with less than an acre.
PCC's produce coordinator at View Ridge, Win Poage, began selling lettuce from Rent's Due in 1990, and soon PCC committed to purchasing the farm's produce to supply all stores. The relationship allowed Mike and JoanE to expand the farm and today, Rent's Due spreads over more than 50 acres. PCC continues to rely on the farm not only for lettuce but also for a range of fruits and vegetables, from artichokes to raspberries.
Another farmer, Gene Kahn, began selling organic fruits and vegetables from his Rockport, Wash. farm to PCC in 1972 out of the back of his Volkswagen bus. With support from PCC and a few other local sellers, the farm expanded to a company that makes a range of organic foods including jams, cereals and frozen fruits and vegetables.
The company eventually was bought by General Mills and today Cascadian Farm foods are sold in markets around the world. Cascadian Farm's range of products still can be found, of course, at PCC.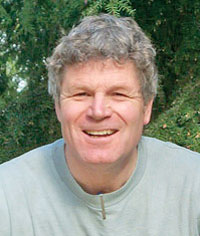 Like the small farms that supply vegetables and eggs to just one PCC store, some other producers, such as Island Springs Organics, have opted to stay relatively small (though you'll find their foods in all PCC stores). They've relied on PCC to provide a steady market for their products from the time they've launched onward.
PCC was Island Springs Organics' first customer in 1976, when owner Luke Lukoskie was looking for a market for the artisan tofu he'd begun making on Vashon Island.
"We can't compete with the economies of scale and huge advertising budgets of larger food manufacturers, so we have to rely on partnerships with companies like PCC," says Lukoskie. "Our longstanding relationship with PCC has provided us with the opportunity to have our products on the shelves and labeled 'local' to set us apart," he adds. PCC's partnership with Island Springs has endured; you'll still find Island Springs tofu on our shelves and in our delis.
A worthwhile effort
Emerging local producers rely on PCC not just for shelf space, but also to get their products market-ready. PCC buyers help work out transportation, distribution, packaging, labels, storage, pricing, bar codes, marketing, and many other details that are required to get a food from the farm to the shelf.
Managing the details is a tremendous amount of work, but it's a very important way for PCC to get local products — and it's essential for farmers and producers whose main priority must be growing or making their food.
"PCC's meat departments understand we need to move a whole animal," says Jim Brooke, president of Corfini Gourmet, which provides grass-fed beef to all PCC stores. The hundreds of restaurants Corfini serves demand prime cuts such as steaks, but PCC provides a market for other cuts such as roasts and ground beef.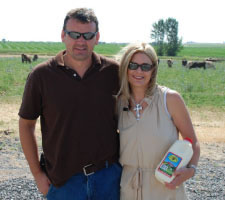 Brooke says PCC has been instrumental in building a consistent supply of grass-fed beef in the Northwest. "We wouldn't have been able to grow the program without PCC as an anchor account."
"Elin Smith (a PCC grocery merchandiser) has been a tremendous advocate for us," says Jill Smith, who with her husband, Richard, sells organic, grass-fed milk and cream from a small herd of cows on their Othello farm under the Pure Eire Dairy brand.
She credits Elin with connecting Pure Eire with a distributor so it's possible to get the dairy to PCC stores, and with getting the word out to customers about the benefits of grass-fed milk. (We've praised the dairy on our website, blog and social media.) PCC is now the largest market for Pure Eire dairy on this side of the state.
We're also the largest market for another small Washington dairy, Grace Harbor Farms, in Custer, Wash., just south of the Canadian border. Tim and Grace Lukens have been making creamy yogurt from a small herd of Guernsey cows since 2009, and credit PCC for helping them rebuild their business after an incident in 2006 involving raw milk nearly forced them to quit. (Grace Harbor no longer sells raw milk; the milk from their Guernsey cows is pasteurized.)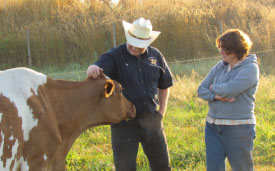 Tim says he's profoundly grateful for the personal relationships he's built with PCC staff and customers. He loves that he can bounce ideas off PCC's buyers (one idea: yogurt in reusable glass bottles!). "And at the store level, you've got wonderful people," Tim adds, noting that he calls each store every week just to maintain the personal connections.
In the end, of course, PCC hopes to be the friend-of-a-friend, the matchmaker who introduces our creative, dedicated vendors to you, our passionate customers, who are seeking a deeper, more meaningful connection to the people who grow our food.
"I cannot express how fabulous the co-op shoppers have been to us," Tim from Grace Harbor says. "We have a loyal following from PCC and we're very grateful."
Lovers of Grace Harbor yogurts return the affection. One wrote to say, "It's very easy to support local when the product is as good as yours!"