2nd Annual Non-GMO Month
This article was originally published in October 2011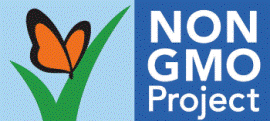 October marks the second annual Non-GMO Month, and we've got a lot to celebrate!
We know many PCC members and shoppers are passionate about avoiding genetically modified organisms (GMOs) in food. It's why we're partnering with the Non-GMO Project, the first independent, third-party certifier to establish Best Practices and testing throughout the supply chain to ensure non-GMO claims.
You'll be glad to know PCC buyers have instituted an additional level of scrutiny to our already stringent product standards. They now give priority to new items enrolled in the Non-GMO Project.
In our delis, we've asked the vendors of each ingredient — from the corn in our famous corn pudding to the Vegenaise on our sandwiches to the powdered sugar in some of our baked goods — to verify their ingredients are non-GMO.
We've also made it easy for you to find products enrolled in the Project when you visit our website. You can use our non-GMO database to see what favorite PCC products and brands are enrolled.
When we first launched the database in November 2010, we carried 350 enrolled products. Now, less than a year later, we carry 650 products! You can search by keyword or browse by category, and add products to your online shopping list.
When you're at PCC, look for the Non-GMO butterfly seal to find verified products in our stores. The shelf signs clearly identify products as "Non-GMO Project Verified."
Meanwhile, we'll continue to advocate for the consumer's right to an informed choice, through mandatory labels on GMO ingredients. We're committed to educating consumers and communicating with manufacturers about the environmental and health impacts of GMOs.
Together with you, our shoppers, our collective effort appears to be working — as of July, there were nearly three times more products verified than there were at same time last year.
So thank you for your active support. By purchasing organics and products enrolled in the Non-GMO Project, you're helping lead the way to a non-GMO future.