PCC Board of Trustees report, July 2011
This article was originally published in July 2011
Welcome the new board of trustees, PCC election results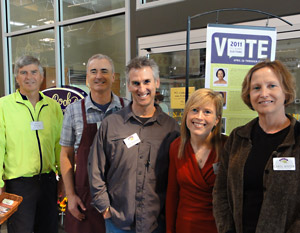 PCC's 2011 annual election began on Tuesday, April 26 and ended Thursday, May 19. The ballots were counted at a public meeting on Monday, May 23.
There were 1,884 valid ballots cast or 4.1026 percent of active members. Quorum for this election was 1,378 (3 percent of 45,921 active members as of March 31, 2011).
The newly elected trustees each have messages for the members. Upon being elected to her second term, current board chair Julianne Lamsek said, "PCC is committed to serving member values, such as sustainable agriculture, building healthy communities and supporting the well-being of our co-op. I am honored to continue my service on PCC's board to represent the values of our membership and support the long-term health of our co-op."
Carol Binder, who also will be serving her second term, notes, "I am grateful to the members and staff for re-electing me to the board of trustees. I will continue to work in the best interest of the co-op and its members."
Bruce Williams will be serving his first term on our board and adds, "I am very appreciative of the opportunity to serve on the PCC board and look forward to working with the outstanding PCC team of trustees, management, staff and members."
VOTE TOTALS ARE AS FOLLOWS:
(*Top three candidates are elected to three-year terms.)
Julianne Lamsek (incumbent) — 1,457*
Carol Binder (incumbent) — 1,368*
Bruce Williams — 1,340*
Jane Repensek — 483
Michael LaBaw — 405
NOMINATING COMMITTEE
(each elected to serve one-year term)
Tom Monahan — 1,395
Chantal Stevens — 1,359
Mary Simon — 1,328
Rick Riehle — 1,301
Hofford retires from board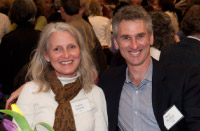 Dear Members,
I'd like to thank you for the honor of serving as trustee over these past four years. As a longtime member, I've always taken great pride in what we do and what we stand for at PCC. As I've learned about the inner workings of our co-op, that pride has grown even further.
We are truly fortunate to have such talented management and such wonderful, devoted staff. I leave the board with the utmost confidence that PCC remains in capable hands, with a bright and promising future ahead. Thank you again to all our members for continuing to support this outstanding organization.
— Buzz Hofford
Please note: our Ends policy will run in the August issue of the Sound Consumer.
Board meeting report
At its May 31 meeting, the board approved the date and program idea recommended by the member relations committee for the fall meeting. The October 25 member meeting is well positioned to be part of the first national Food Day celebration (foodday.org). Look for more details in the coming months.
The board also completed work on a review and update of its process and management relationship policies, approved a task force to review the nominating committee process, discussed the plans for new trustee orientation, and approved the board's year-end self-evaluation tool.
Continuing its multi-year education track on childhood nutrition and the local food system, the strategic learning session at this board meeting featured a presentation from Erin MacDougall, Ph.D., program manager of the Healthy Eating and Active Living program at Public Health for Seattle and King County.
The next board meeting is July 26 at 5 p.m. at the co-op office. Members are welcome at all public portions of the meeting and member comment period is at 7 p.m.