Delta Farm tour: home of Nash's Organic Produce
by Charlotte Madsen
This article was originally published in May 2011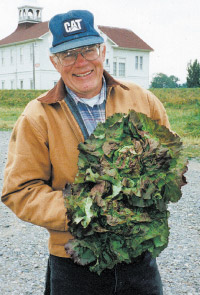 On May 14 we'll be out on the Olympic Peninsula to tour Delta Farm. Delta Farm is home to Nash's Organic Produce and was the first farm to be saved by PCC Farmland Trust.
This tour will be a wonderful way to welcome spring and learn from farmer Nash Huber about the importance of farmland preservation and sustainable agriculture.
Nash was named American Farmland Trust's 2008 "Steward of the Land" and was most recently awarded a "Sustie" (Steward of Sustainable Agriculture) award by the nonprofit organization EcoFarm in recognition of his responsible farming practices.
Nash understands how agriculture can nourish both environment and community and is eager to share how this is achieved.
At Nash's Organic Produce, care is taken to put as much back into the land as is taken out. Nash and his crew maintain the soil by composting materials from neighboring farms and from their own produce packing operations. This mineral-rich soil is unique to the area and is partly responsible for making "Nash's Best Carrots" so distinctive.
Nash's signature carrots were also the inspiration for another sustainable practice. When his supplier stopped selling his preferred carrot seed, Nash began seed saving, creating a "closed-loop system" in which he produces his own organic carrot seed right in the field.
Practices like these set Nash apart in today's agricultural circles, and he is working actively to ensure that this continues by taking on apprentice farmers — some of whom have been working with Nash for almost a decade — who will be showing us around the fields on May 14.
The crew at Nash's work year-round, so we can expect to see the last of the overwintered crops and the first greens of the new season. With this spring starting out a bit wet, bed preparations have been slow to start, but there is still activity aplenty as workers rotate the pigs through their pasture, collect eggs from the hens, and welcome the first baby chicks of the year.
The cycle of nurturing and harvesting never stops at Nash's Organic Produce.
Here at PCC Farmland Trust, we're looking forward to visiting the place that began it all. As we look full of hope toward the future, it's inspiring to be able to look back to our roots.
Learn more & register for the farm tour »
See you at the farm!