Your co-op, March 2011
This article was originally published in March 2011
Notice of annual membership meeting
Dinner will be served at 5:30 p.m. RSVP by April 19. Free parking • Directions are available online or by calling 206-547-1222 • Accessible by Metro Bus: http://metro.kingcounty.gov/
The spring member meeting will feature annual reports from the board and management on the state of our co-op. You also will hear from our five board candidates.
At each member meeting, we present a segment on a topic about which we think members would like to learn more. Our topic this time is organic standards with a special focus on the work of the National Organic Standards Board (NOSB) and the National Organic Program.
The NOSB will host its spring meeting on April 25 here in Seattle and three key figures in the organic industry will join us as speakers. Liana Hoodes is director of the National Organic Coalition. Urvashi Rangan, Ph.D., is the director of technical policy at Consumers Union. Michael Sligh is founding chair of the NOSB and Sustainable Agriculture Program director of the Rural Advancement Foundation International.
They will discuss a range of issues that will impact the organic industry and we expect there will be discussion of the recent U.S. Department of Agriculture decision to allow unrestricted planting of genetically engineered alfalfa.
It's very important for the NOSB to hear from consumers of organic products. The reason the board meets around the country is to allow it to interact with a wide variety of consumers. Meeting in this region of longtime supporters of organics is very exciting to the NOSB and we want to make sure that you're heard.
What questions would you like to ask these experts at PCC's annual about organic standards? Submit your question by emailing
board@pccmarkets.com
We will use some of your questions during the Q&A session at the annual meeting.
2011 election
April 26 through May 19
To give our members more time to get to know their candidates, we will post the candidates' information, (including video interviews) on our website by March 23. You'll receive your printed information, including your ballot, by mail to your home inside the May Sound Consumer.
Our candidates are:
Carol Binder (management consultant), incumbent
Julianne Lamsek (director of technology, KCTS 9), incumbent
Michael LaBaw (president, Sound Telecom)
Jane Repensek (vice president, Special Olympics Washington)
Bruce Williams (director, HomeStreet Bank and Cascade Land Conservancy)
Board report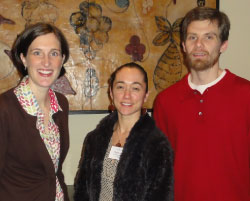 At its January 25 meeting, the board heard reports from the Board Development and Member Relations committees. Board members discussed plans for the February retreat and for this April's annual meeting.
The February retreat agenda included more learning on the issues surrounding childhood nutrition. Laurie Albrecht, PCC marketing and membership director spoke on PCC's Healthy Kids initiative and Mollie Grow, M.D., M.P.H., of Seattle Children's Hospital, discussed her work on childhood obesity in King County.
The board also worked on a complete review of policies that address how the board members do their jobs.
The next scheduled board meeting is Tuesday, March 29 at the co-op office. The meeting begins at 5 p.m., and a member comment period is at 7 p.m.