Notes from the Cellar: Chinook Wines: A taste of the real Washington
by Jeff Cox, PCC Wine Guy
This article was originally published in March 2011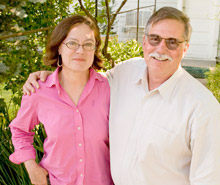 Truly good things never go out of style, but neither do they lend themselves to easy description. "Bigger," "better," "colossal" or "pushing the envelope" fall sadly short of capturing real character and quality. Superlatives don't work well either (real merit isn't usually the "est" of anything — it just is).
Hence, attempting to draw a picture of Kay Simon and Clay Mackey at Chinook Wines isn't an easy task. What can you say about two people and a winery who've become almost iconic among those drinkers of Washington wine who care about soul, style and structure?
Drink this: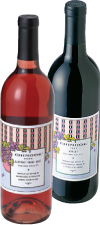 Try the amazing, dry, spicy rosé, or the merlot, with its elegantly expressed red fruit; or the cabernet sauvignon, beautifully balanced and packed with ripe cassis, cherry and blackberry fruit.
The sauvignon blanc and the Semillon are superb, and perfect with everything from crustaceans to halibut and fresh, seasonal produce.
Take your pick. In any case, you'll get a taste of the Yakima Valley — and the real Washington.
A random survey of friends and colleagues in the wine business elicited descriptions as unanimous as they are complimentary, a litany of adjectives riffing on themes of quality and integrity: "real," "honest," "elegant," "no b.s.," "salt of the earth," "purity," "quality," "integrity," "no-nonsense," "balanced," "character," "delicious." Accurate, all of them, but not nearly adequate to describe two people and a winery that are about as "Washington" as Washington can be.
The roots of Kay and Clay's partnership reach separately back to California, where Clay helped his father plant a vineyard in the Napa Valley in the early '70s, then began his career as a vineyard manager for several California wineries. Meanwhile, Kay graduated from UC Davis with a degree in enology, then worked for wineries in the San Joaquin Valley.
Their paths crossed when both began working at Chateau Ste. Michelle, where both gained valuable experience, an intimate familiarity with Washington's wine-growing regions, and a belief that Yakima Valley grapes were capable of producing world-class wines.
In 1983 that belief ripened and bore fruit. With borrowed equipment, the sweat equity of family and friends, and the name of the warming winds that blow from the Pacific, across the Cascades and into eastern Washington, Chinook Wines was launched, using exclusively Yakima Valley fruit. Just a year later, that first wine, a sauvignon blanc, was released — a mere two days before Kay and Clay's wedding!
Since then, Chinook's milestones have come and gone, on a road paved with consistency, practicality and a tremendous work ethic. While the current fashion is to make massive, California-style wines in equally imposing, palatial "facilities," Chinook is housed in farm buildings built in the '30s on a former orchard property, adjacent to the winery's cabernet franc vineyard. The winery is well-equipped, but modest, efficient and scrupulously, eat-off-the floor clean.
And the wines? Pure, honest, elegantly balanced expressions of sweet, juicy, lively Yakima fruit.
For great wine picks and tips, sign up for PCC Wine: Drink this!, PCC's wine email newsletter.