Sustainable shrimp
This article was originally published in January 2011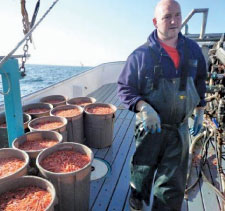 Sweet and succulent, shrimp are versatile, healthy and easy to prepare. Add them to a stir-fry or pasta for a lively weeknight dinner, top a salad for a nutritious lunch, or eat them by themselves, sautéed with just a little butter and salt.
They're a great source of low-fat, low-calorie protein; a four-ounce serving has just over 100 calories and less than a gram of fat. Shrimp also are rich in vitamins D and B12 and tryptophan, a nutrient that's said to help regulate appetite, improve sleep, and elevate mood.
But not all shrimp are delicious and healthy — or sustainable. Nearly all of the shrimp Americans eat is imported from countries such as Thailand, India and Ecuador, where industrial shrimp farms are destroying the environment and coastal communities, and producing unhealthy shrimp.
At PCC, we carry only American shrimp, wild-caught or farmed in ways that are ecologically sustainable. We have a range of sizes and styles — fresh, frozen, raw and cooked. Here are a few you may find in our stores.
Certified Wild American shrimp — Great for the barbecue or a sauté, the Certified Wild American shrimp we carry is from Woods Fisheries, a fifth-generation family company in Port St. Joe, Fla. The Woods family has shrimped in the Gulf of Mexico since 1860 and uses special equipment to reduce the amount of bycatch, an environmental concern with most wild shrimp. Depending on the season, PCC carries mild, soft "whites," richly-flavored "browns," or the firm, beautiful pink Florida Hoppers. You don't have to worry about contamination from the BP oil spill — all U.S. seafood is inspected rigorously. Tainted seafood cannot be approved for sale.
Greene Prairie saltwater shrimp — Greene Prairie Aquafarm provides PCC with saltwater shrimp raised in inland, closed-system ponds in Alabama. These sweet-tasting farmed shrimp have earned a "green" rating for sustainability from the Monterey Bay Aquarium's Seafood Watch program because they don't harm the environment and are produced without antibiotics or pesticides. They have a shell that peels off easily but you can leave the shell on if you're poaching or grilling to protect the delicate meat inside.
Oregon pink shrimp — Also known as Bay Shrimp, Cocktail Shrimp, Ocean Shrimp and Salad Shrimp, these small shrimp are sweet and have received a "green" rating from Seafood Watch because they're sustainably harvested along the Oregon coast. They always come cooked and shelled, so they couldn't be easier to enjoy!
Cooking tips
Overcooking
Cooking shrimp too long is common. Shrimp cook fast in as few as three minutes and will continue cooking after they're removed from heat. As soon as they begin to turn pink, remove from heat and immerse briefly in ice water or spread on ice. Overcooked shrimp become tough and lose their flavor.
Peeling
Remove the shell before cooking if the shrimp will be served in hot liquid. Otherwise, leave the shell on to protect the meat and impart good flavor.
Cooking with frozen shrimp
Thaw and drain frozen shrimp before frying, sautéing, broiling or grilling. While frozen shrimp don't need to be thawed before boiling or steaming, they're more tender if they are. Defrost shrimp in the fridge or in cold water.
Easy cooking methods
Boiling: Bring 2 quarts of water to a boil, add a quartered lemon and a few tablespoons of sea salt. Add 2 pounds of shrimp and cook a few minutes, then remove the shrimp and put on ice until cooled. Sprinkle generously with seasonings and salt before peeling.
Sautéing: When sautéing, don't cook too many shrimp at a time — the moisture from the shrimp can end up steaming them. Thaw shrimp, peel if desired, and damp dry. Add about 1 tablespoon of butter to a sauté pan on medium heat. Add a clove of chopped garlic into the pan, fry briefly, and then add a handful of shrimp and stir. After about a minute, sprinkle with salt, turn the shrimp and cook about a minute longer. Sprinkle with more sea salt and remove from heat. Add a splash of white wine or a squeeze of lemon to the pan during the last minute of cooking.