Your co-op, June 2010
This article was originally published in June 2010
Election
The ballot count meeting for the 2010 election was on May 24, so results were not known before press time. Results are posted now in the stores, the co-op office, on our Web site, and will be reported in the July issue.
Annual member meeting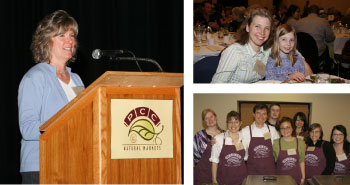 The 2010 meeting was a glowing success. Attendance reached yet another record with more than 425 members joining us at St. Demetrios Hall on April 27.
Executive Chef Blake Caldwell (Kirkland PCC's Deli Coordinator) and Chef Birgitte Antonsen (Edmonds PCC deli and PCC Cooks instructor) led the planning and preparation of our dinner. Using seasonal, local and organic ingredients, their team produced a beautiful and delicious spring meal.
[Former] Staff Nutrition Educator Leika Suzumura talked to the membership about the nutritional value of the menu items and detailed the sourcing of ingredients. Suzumura's report, along with the menu and recipes, are linked to from the annual meeting page on our Web site.
Board chair Stephen Tan and CEO Tracy Wolpert reported on the co-op's solid financial health and shared operational highlights of 2009. Their reports are linked from the annual meeting page on our Web site, as is the official 2009 annual report.
On behalf of the 2009-2010 nominating committee, chair Mary Simon introduced the four board candidates to the members. Each candidate gave a brief statement.
The evening concluded with "A Day in the Life of PCC," developed by staff members Diana Crane, Ricardo Rabago and T. J. Osborne. Triggered by a member suggestion to the board at our last member meeting, the presentation gave a comprehensive overview of the operations in our stores and business office in a "typical" 24-hour period.
More annual meeting details, including a photo slide show, are available on our Web site.
Anna Lappé visits PCC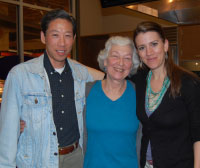 On April 16, noted author Anna Lappé had dinner and conversation with PCC board, management staff and guests, discussing her new book "Diet for a Hot Planet — The Crisis at the End of Your Fork and What You Can Do About It."
One of the guests, Chad Kruger, Director of the Department of Sustainable Agriculture and Natural Resources at Washington State University, says about Lappé's book, "I think she did a great job of scoping the topic at a high level and conveying the need to move toward action."
Lappé noted, "PCC is one of our country's food jewels, representing true sustainability in all its dimensions: fostering healthy communities through good food and good jobs while protecting the future of good food through its support of farmers, sustainable agriculture research, and farmland preservation.
"Every time my work takes me to Seattle, I make a beeline to PCC. Just walking through its doors makes me happy — not to mention well-fed."
Board meetings
The report on the May 25 board meeting will be published in the July Sound Consumer.
The next board meeting is scheduled for June 24 at the co-op office at 5 p.m. Member comment period is at 7 p.m.