Northwest food adventures
by Eli Penberthy, Associate Editor
This article was originally published in June 2010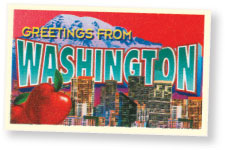 (June 2010) — It's no secret that the Pacific Northwest is home to some of the best food in the world — in fact, it's probably a big reason why we choose to live here! You'll always find your favorites at our neighborhood PCCs, but sometimes it's fun to visit the source and see where some PCC foods come from firsthand.
Summer's long hours of daylight and warm weather make it a perfect time to explore this culinary haven, and many destinations are within an hour or two of the city. You can spend an afternoon picking berries and visiting farm stands (see the Puget Sound Fresh guide for a list of local farms at puget soundfresh.org); stop by a few creameries on your way to a Canadian vacation; or plan an overnight stay in Washington wine country, tasting at several wineries while you're there.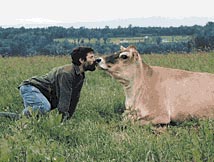 Photo by Alicia Guy
You'll find that the community of farmers, cheesemakers, wineries, breweries, coffee roasters, restaurants and other food artisans around Puget Sound is thriving, diverse and rich; whether you're in search of a sharp farmstead cheese, a world-class wine or the sweetest carrot you've ever tasted, any direction you go — east, west, north or south — you're bound to be well-fed!
North
Golden Glen Creamery, Samish Bay Cheese, and Fidalgo Bay Coffee are in the Skagit Valley and only about 10 minutes apart — so visit all three in the same trip! The Cascadian Home Farm is less than an hour east, so you could visit there the same day, or travel an hour north to visit the Grace Harbor farm store, which also is a nice stop-off if you're on your way to Canada.
West
Great day trips on the Olympic Peninsula and Vashon Island.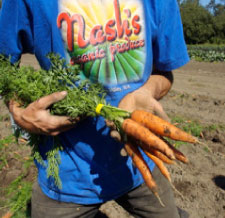 Photo by Nash's Organic Produce
Nash's Organic Produce (1865 E. Anderson Road, Sequim, Wash., 360-681-7458, nashsorganicproduce.com):
One of the first farmers to be certified organic in Washington, Nash Huber and his crew manage 400 acres of prime farmland in the Dungeness River Delta, on the North Olympic Peninsula. Nash's provides PCC with chard, kale, herbs, turnips, beets, leeks and other vegetables, but it's best-known for its irresistibly sweet carrots! Visit the farm store year-round from 9 a.m. to 5 p.m. Tuesday through Sunday, or call ahead for a tour of the farm. Nash's also holds an annual Harvest Celebration the first weekend in October with fun activities, music and food.
Mt. Townsend Creamery (338 Sherman Street, Port Townsend, Wash., 360-379-0895, mttownsendcreamery.com):
The artsy community of Port Townsend is a fun day trip in and of itself, but a visit to this creamery to see how its award-winning artisan cheeses are crafted makes the trek even more worthwhile. The creamery and tasting room are open to visitors Tuesday to Sunday during the summer.
Island Spring Organics, Small Planet Organics (18846 103rd Avenue S.W., Vashon Island, Wash., 206-463-9848, islandspring.com): The best tofu around is crafted locally on Vashon Island, and lucky for us, the producers offer tours to learn how the healthy protein is made. Visit Tuesday and Thursday mornings from 10 a.m. to noon, by appointment only. Tours last about a half-hour and you'll get to taste samples and take home recipes. Call or email info@islandspring.com for more information or to book a tour.
East
Close to home, easy day trips.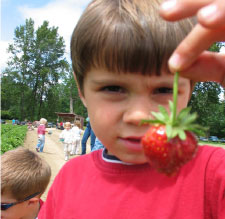 Photo by Remlinger Farm
Remlinger Farms (32610 N.E. 32nd Street, Carnation, Wash., 425-333-4135, remlingerfarms.com):
You can enjoy Remlinger Farms' delicious berries all year (they're stocked in the freezer section at PCC), but nothing beats eating them fresh, right on the farm, during the summer. In addition to U-pick strawberries (June), raspberries (July), blueberries (August), and pumpkins (September/October), this farm has plenty of other activities for a fun day with the family, including the popular Family Fun Park with mini-fair rides, a 4-H animal barn, pony rides, an authentic steam train ride, and live entertainment in the farm theater.


There's also an on-farm market with fresh produce, gift shop, restaurant and bakery. Open May through October on weekends, and every day June 21 until Labor Day, 10:30 a.m. to 4:30 p.m.
Full Circle Farm (31904 N.E. 8th St., Carnation, Wash., fullcirclefarm.com):
PCC sources gorgeous salad mix, bunched greens, root vegetables and other produce from Full Circle Farm in the Snoqualmie Valley, just 30 miles east of Seattle. This busy 400-acre certified organic farm grows about 200 varieties of crops. This year the farm will host several events open to the public, including an outdoor summer chef's dinner on July 15 (sign up at outstandinginthefield.com). For inquiries about other farm visits, email farm@fullcirclefarm.com.
South
Chinook Wines, in the Yakima Valley, and Domaine Pouillon, in the Columbia Gorge, are more than three hours outside of Seattle, so plan to stay overnight. There are plenty of other wineries to visit nearby, so you can visit several in a day. See wineyakimavalley.org and columbiagorgewine.com for more information.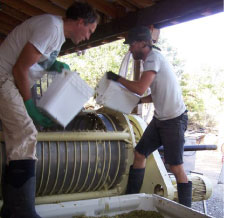 Photo by Domaine Pouillon
Chinook Wines (Yakima Valley, 509-786-2725. Visit chinookwines.com for directions and hours):
If you want a taste of the real, honest-to-goodness Washington, Chinook offers outstanding wines in down-to-earth former farm buildings surrounded by vineyards and orchards. Bring a picnic!
Domaine Pouillon (170 Lyle-Snowden Road, Lyle, Wash., 509-365-2795. Visit domainepouillon.com for directions and hours.):
Alexis, Juliet and T-Bone the dog are among the exciting, rising stars in the Columbia Gorge, making wines that marry Old World style with Wild West verve.
Close to home
You won't go hungry (or thirsty) sticking around the city this summer, either. Seattle is a food-lover's paradise.
Tour the Theo Chocolate factory in Fremont. Or, go on a mini-pub crawl in Ballard, visiting Maritime Pacific Brewery's Jolly Roger Taproom and stopping for a second pint at another nearby brewery, Hale's Ales. It's summer, after all!
For those who prefer a more low-key adventure, pack a picnic for a day at the park or beach — stopping at the PCC delis to pick up salads, sandwiches and brownies, of course! It's a perfect way to spend a summer afternoon.
More adventures
Of course, we know that not every delicious thing to eat and drink from the Pacific Northwest is available at PCC, so we thought we'd tell you about a few unique other unique finds that are worth a trip.