Your co-op, November 2009
This article was originally published in November 2009
Board report
The board and senior managers met at an annual retreat on October 17 and 18 for wide-ranging discussions that touched on each aspect of PCC's triple bottom line. In addition to expert guest speakers on re-regionalizing the food system and retail industry trends, the board also benefitted from presentations by key members of PCC's senior management team on our co-op's public policy efforts, and by members of our board who led a session on finance as part of the board's ongoing education efforts.
Fall member meeting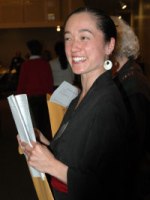 At press time, all board members planned to attend the October 27 member meeting. We'll report on that meeting in the December Sound Consumer and on our Web site by November 12. The reports will include photos.
After each of our member meeting dinners, we have many requests for the recipes used in our meal. You can find the recipes from the meeting on our Web site.
[Former] PCC Nutrition Educator, Leika Suzumura, was part of the planning team for the fall member meeting menu.
Look for her report on the fall meeting page on our Web site by November 12.
PCC Farmland Trust solicitation
This month, active PCC members will receive an appeal in the mail from the PCC Farmland Trust as it begins its annual fundraising drive. The trust has made appeals to our membership in each of the past several years.
"Our members have told us repeatedly that PCC's ongoing support of the trust's work is very important to them," says board administrator Janice Parker Theiss. "This weighed heavily in the PCC board's decision to approve this limited use of our mailing list." The fundraising letter will include an update on the trust's latest activities.
Next board meeting
The next board meeting will be Tuesday, November 24 at 5 p.m. at the co-op office. Member comment period is at 7 p.m.
Public education
Here's a brief update on PCC activities to help create a sustainable food environment:
PCC Advocates was launched over the summer, an opt-in email newsletter alerting PCC shoppers to opportunities for action on issues affecting the integrity of our food. Topics so far have included a proposal for farming fish in the Gulf of Mexico, and tools to advocate improved standards for school food.
Nutrition educators engaged a Seattle high school class in discussing the link between nutrition and health, and the students' role in running a school store; offered a presentation in Bothell to mothers of preschoolers on developing a healthy relationship with food; participated in the Food and Nutrition Council's annual conference; and led a discussion on sustainable food at Seattle's Greenwood Senior Center.
Public affairs staff joined the Cattle Producers of Washington's annual meeting in Spokane, to share trends in consumer expectations for beef; and joined seafood experts at the Blue Festival in Seattle to speak about PCC's sustainable tuna and sushi program, and the National Organic Standards Board's recommendations for organic farmed fish.