Your co-op, April 2009
This article was originally published in April 2009
Notice of annual membership meeting
Tuesday, April 28, 5:30 p.m.
St. Demetrios Hall
2100 Boyer Ave., E., Seattle, WA
Please note: The deadline for reservations was April 21, 2009. Our meeting is fully booked and reservations are closed. Thanks for your interest in PCC. Our next member meeting is Tuesday, October 27.
Free parking • Directions are available online or call 206-547-1222. • Accessible by Metro Bus: http://tripplanner.metrokc.gov
PCC's annual membership meeting will offer a full evening of information, reflection and food. The PCC Board of Trustees and management will report on the state of our co-op and candidates for the 2009 board will be introduced.
The educational program for this meeting is about "Values and Value" — how members can support our mission and values, and find economic value while shopping our stores. 
For dinner, a delicious menu will highlight bulk, seasonal and local ingredients. A PCC Cooks chef and a nutrition educator will talk about ways to stretch our food dollars and create easy, nutritious meals. They'll also demonstrate preparation of four dishes on the dinner menu.
2009 board election begins this month
Vote in stores and by mail April 28 to May 22
This year's ballots will present candidates for the board and nominating committee. Our board candidates are:
Stacey Donahue, marketing consultant
Stuart Heath, real estate broker and attorney
Maggie Lucas, community volunteer, retired attorney
Stephen Tan, environmental attorney, PCC board incumbent
Mark Woodward, marketing and public relations director
Nominating committee candidates are Diana Crane, Janet Hietter, Don Nordness, Rick Riehle and Mary Simon.
Look for the special election insert inside the May Sound Consumer, which will be mailed to active members in the last week of April. It features photos and biographical information on the board candidates, along with campaign statements. Your insert also will contain your ballot.
You can vote in person at the annual meeting, at any PCC store, or by mail.
Board Administrator Janice Parker Theiss reports, "Our members have told us they really want more time and more avenues to get to know the candidates, so we've responded in several ways."
We posted the election material, including candidate videos, on our Web site last month — a full month before the beginning of the voting period. This is the third year now for the candidate videos and they are watched by more members each year. We believe the videos are helpful in bringing the candidates to life for the voters.
"Realizing that our members are busy, we've kept the videos fairly short, but they should be effective in helping voters decide who to support," says Parker Theiss.
We've also designated four dates when you'll be able to meet all the board candidates in person with two visits on the east side and two on the west side. You'll have a chance to talk with the candidates about the values that are important to you. Some of our current trustees also will be on hand.
Meet the candidates and enjoy great PCC food from our demo team. All meetings are from 5:30 to 6:30 p.m.
Tuesday, May 5, Fremont PCC
Wednesday, May 6, Edmonds PCC
Tuesday, May 12, Redmond PCC
Wednesday, May 13, Issaquah PCC
The ballot count meeting
Monday, May 25, 3 p.m.
PCC co-op office
4201 Roosevelt Way N.E.
Seattle, WA 98105-6092
Board report
There was no board meeting in February. The March 31 board meeting report will be published in the May issue.
The next regularly scheduled board meeting will be Tuesday, May 26. The public session begins at 7 p.m. The agenda will be posted on our Web site approximately one week prior to the meeting.
PCC commended by organic certifier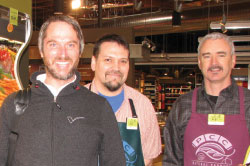 Edmonds PCC is now officially certified as an organic retailer, along with our other eight stores.
Certification as an organic retailer means that we:
Maintain records of organic purchases, providing traceability.
Verify that the organic products we purchase are certified.
Handle the organic products in a way that maintains their organic integrity.
Use appropriate cleaning, sanitizing and pesticide products and procedures.
Our certifying agent, the Washington State Department of Agriculture (WSDA), inspects our records and facilities annually, interviews staff, and conducts an audit. 
WSDA inspector David Simpson noted, "Again, [PCC's] stores are models for the right way to be a certified retailer. I commend you on your efforts to put all of the systems in place to ensure the organic integrity never is compromised."
The inspector says he continues to be impressed by PCC staff knowledge and passion for our mission.