Your co-op, October 2008
This article was originally published in October 2008
Fall member meeting
Tuesday, October 28, 2008, 5:30 p.m.
St. Demetrios Hall
2100 Boyer Ave. E., Seattle, 98112
Please RSVP by October 21 by calling 206-547-1222.
Free parking. Directions are available online or by calling 206-547-1222. Accessible by Metro bus: http://tripplanner.metrokc.gov. For more information, see the Fall member meeting Web page.
Upcoming Talk to the Board opportunities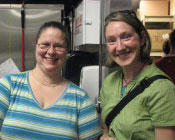 (see photo at right:)
Talk to the board events are opportunities for our trustees to meet members and store staff. At a recent visit to our new Edmonds store, bakery manager Cortney Bowers-McCoy (l) took trustee Julie Tempest on a tour of the baking operation.
Board application deadline November 4
Are you a collaborative thinker who believes in PCC's mission? There is only a month left to apply for a spot on next spring's board ballot. The nominating committee will be reviewing applications and begin interviews in mid-November.
Our trustees set broad goals for the management team, which directs the operations of our nine stores in the Puget Sound area. The board term is three years and trustees spend approximately 10 to 20 hours per month on board work.
The committee is recruiting for PCC members who have the time and a desire to contribute to the co-op. Previous board experience is helpful, but not required.
Several of our trustees recently talked about what serving on our board means to them:
"PCC's trustees are committed not only to the continued fiscal success of the co-op, but also to the welfare of our local communities, to educating our members and our neighbors on issues of personal health and responsible food production, and to conserving natural resources. It's gratifying to serve with people who share these values."
— Stephen Tan, board chair
"It is a very rewarding experience to represent our community of members through participation on the board as PCC continues to be a pioneer in sustainable practices, responsible leadership and community engagement."
— Chantal Stevens, board developmentcommittee chair
"I'm honored to serve on PCC's Board of Trustees where we set goals that reflect the values of our membership including personal health, food system sustainability, family farm vitality, and community education."
— Kelly Horton, member relations committee chair
Should you wish to learn more about the trustee's job from a current trustee or the nominating committee, please call board administrator Janice Parker at 206-547-1222 or email nominatingcommittee@pccmarkets.com. Application deadline is November 4.
You may also visit our Web page Run for the Board.
Board report
The board and several senior managers met in retreat in August to plan a strategic discussion calendar for this board year. The next board meeting will be on Tuesday, November 25 at 5 p.m. at the co-op office. Member comment period is at 7 p.m.