How you and your home can be healthier
by Diane Cortese
This article was originally published in March 2008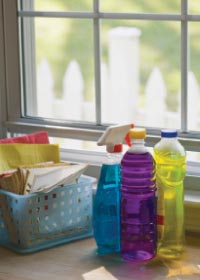 (March 2008) — Maintaining a healthy lifestyle while being an environmentally friendly consumer is important to many PCC members.
The grocery aisles are full of organically produced delights. Yet, what you may not know is that shopping for household items at PCC is one of many easy steps you can take in making your home a healthier place to live.
Having good indoor air quality is one of the main ways you can have a healthier home. Indoor pollution comes in many forms including allergens, dust, pets, household cleaners and formaldehyde.
Living in an area where the temperature changes rapidly means that people often keep their windows closed. However, when you reduce the fresh-air exchange in your living space you may be exposing yourself to pollutants that can build up over time.
Healthy air 101
Indoor air can contain many substances that people come into contact with outdoors, such as pesticides and other chemicals; vehicle emissions; heavy metals, such as lead, cadmium or mercury; solvents from paint and petroleum products; and carbon gasses from wood stoves.
Become a volunteer Master Home Environmentalist
The American Lung Association of Washington holds training classes in the spring and fall of each year.
This free 35-hour training meets Tuesdays from 6:30 to 9 p.m. and occasional Saturdays.
Participants are required to give back 35 hours to the community through volunteering. For more information, call 206-441-5100, ext. 35.
When these pollutants enter the home through cracks and crevices or from being tracked in on shoes and clothing, they can become trapped in carpeting and other porous materials.
In addition, other items in the home can contribute to problems with air quality. Some pollutants come from items that live in the home, such as perfumes in household soap and personal care items, dust from peeling paint, and mold from moisture or condensation, a big issue here in the Northwest.
The immediate effects of exposure to these irritants can include sensitivity in the eyes, nose and throat; headaches; dizziness; or fatigue. Such immediate effects usually are short-term and treatable.
Often the solution simply is eliminating the source of the pollution, if it can be identified. Many residents, however, have issues with their indoor air and aren't sure how to find the sources of pollution or how to deal with them once they're apparent. Thankfully, the American Lung Association of Washington has an outstanding program to help residents assess and control indoor air contaminants.
How to find help
The Master Home Environmentalist Program has operated for 13 years and has more than 50 fully trained volunteers (Master Home Environmentalists) who do free home assessments. The program's goal is to promote better lung health by increasing awareness of home environmental pollutants and to encourage action to reduce each resident's exposure.
The Master Home Environmentalist reviews a questionnaire with the resident and conducts a walk-through of the home. They can identify what might be causing poor indoor air quality and will provide residents with easy solutions to create a healthier living space.
The volunteers don't do air testing or cleanup but they can address concerns and help find solutions, which generally are low-cost or free. The volunteer conducts a follow-up in two weeks to see if any changes have been made or to assist in finding ways to achieve the proposed solutions.
Three easy steps to a healthy home
Contact the Master Home Environmentalist Program at the American Lung Association of Washington at 206-441-5100, ext. 35, and sign up for a free visit.

A volunteer will contact you to set a date and time. The assessment takes an hour and a half on average.

The volunteer meets with you to do your home assessment. Diane Cortese is an Americorps intern working in the Master Home Environmentalist program on indoor air quality issues.