GROWing a community one banana at a time
by Cristina Vaamonde
This article was originally published in February 2008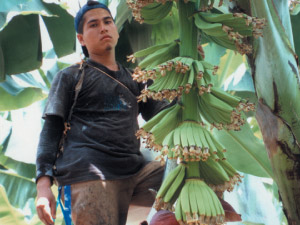 (February 2008) — It's one thing to enjoy delicious organic, fair trade bananas as a consumer. It's another to see first-hand how PCC's bananas sold under the GROW label are produced and what the GROW program means to the farm community that produces them.
PCC's produce merchandiser Joe Hardiman recently spent five days observing the GROW banana operation in Colima, on Mexico's west coast. Joe watched young men locate and tag trees on the 100-plus-acre farm, cut down bananas with machetes, and carry huge bunches over their shoulders to hang on a trellis for collection and packing.
Joe says, "It's amazing how hard they work. Their shirts become covered in reddish sap from the banana trees."
Joe also was happy to see how the GROW program has improved the local communities where these bananas are farmed.
The nonprofit GROW organization (which stands for "Giving Resources and Opportunities to Workers") receives 60 cents from every case of bananas sold at PCC, which benefits scholarships and other programs in the villages where workers live. This premium is not passed on to shoppers, but is absorbed by PCC in the form of a smaller sales margin.
GROW has helped fund a college in Colima and a high school in nearby Cofradia and has sponsored scholarships for many of the students. Joe describes the students as "bright and very impressive" and explains that many of them came from impoverished backgrounds and wouldn't have had the opportunity to attend school without this program.
Joe also viewed some improvements in the local infrastructure that allowed filtered water to be brought into some of the communities. Water is piped into the local school in each community so families can fill up containers and transport clean water back to their homes.
Joe says his visit to Colima shows that PCC's support for the GROW program is worth every penny. "It makes you feel good, " he says. "The community really is benefiting."