Saving Puget Sound
by John Lombard
This article was originally published in August 2007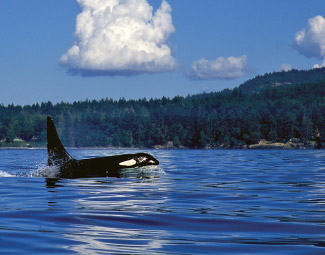 (August 2007) — The Puget Sound Partnership, created by the state legislature earlier this year to plan and coordinate restoration of the Sound, provides an opportunity for bold, creative action to conserve the natural heritage of our region. But only if we, as interested members of the public, make clear that we will settle for nothing less.
Frankly, speaking as one who has written a book on the subject, much of the process that led to the partnership was disappointing.
In the report that resulted from the process, Gov. Gregoire's own scientists state clearly that the strategies she proposes are "not likely to be sufficient to achieve ecosystem goals" — such as long-term recovery of salmon and orcas — given challenges from population growth, climate change and invasive species.
In general, the governor recommends continuing what we have been doing to protect and restore our environment, just doing a lot more of it. More of the same is not necessarily a bad thing, but the scientists are right: it's not sufficient, given the challenges ahead.
Developing an "Action Agenda"
The legislation that created the partnership calls for development of an "Action Agenda" over the next year, which must consider the entire ecosystem that includes Puget Sound up to the crests of the Cascade and Olympic mountains.
The agenda is to consider the full range of factors crucial to the health of this ecosystem — including competition for land and water between our growing human population and natural systems. It also is to propose funding sources to implement what the governor's report estimates will require $9 to $18 billion between now and 2020.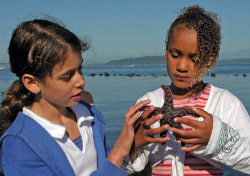 In these respects, the legislature has called for something other than just more of the same. The Action Agenda is due by September 2008, ensuring that the issues it raises will become part of the governor's race and legislative races next year.
A leadership council chaired by Bill Ruckelshaus, the widely respected leader of salmon recovery efforts in our region, will oversee development and implementation of the agenda. The council will work with two advisory committees, one comprised by scientists, the other comprised by representatives of stakeholders and agencies.
A long-term, comprehensive approach
I'm working with a wide variety of interested people across the Puget Sound region to try to ensure the council's recommendations are long-term and comprehensive, and will address the fundamental challenges identified by the governor's scientists.
Unfortunately, this will entail a shift in vision from the governor's stated goal of "saving the Sound" by 2020. While that may sound admirable, it mischaracterizes the challenge. As long as millions of us live here and our population continues to grow, the Sound never will be "saved."
In the Central Puget Sound counties of Snohomish, King and Pierce, the Cascade Land Conservancy has better framed the issue: looking out 100 years, what can we do now to conserve the most important natural features of our region? How can we "grow with grace?"
The main problem with the Conservancy's approach is its geographic limits. Natural systems do not, of course, stop at county lines. Worse, this approach cuts out the most important parts of the region for how Puget Sound as a whole functions as an ecosystem: most of the Skagit River basin, much of the Nisqually River basin, all of the Nooksack River basin, all of the Olympic Peninsula, and most of the Puget Sound shoreline.
It's not that we should ignore the needs of the central Puget Sound area. That's where most of us live. But if we neglect investing in these other places, we will not succeed in conserving Puget Sound as an ecosystem.
A comprehensive, long-term approach must consider the entire region as an ecosystem — a connected landscape. To save the orcas, we must save the salmon. To save the salmon, we must save our river systems. To do that, we must save our forest ecosystems, work with agriculture to conserve farmland while restoring key floodplains, and change how we develop in urban, suburban and rural areas.
The prospect is daunting, but we should take heart in two things: one, we have a head start on many of the toughest issues (e.g., growth management, protecting old growth forests, developing integrated salmon recovery plans); and two, we have the legal authority to do this.
By the latter point, I mean that all of our toughest issues ultimately come down to how we manage land and water. Land use laws, most aspects of water rights and water pollution control, stormwater management — these are almost entirely matters of state and local control and individual choice.
Economics are key
I believe that the most significant challenges before us are economic. Ultimately, they come down to these three issues:
We must eliminate, or at least significantly reduce, current subsidies for environmental degradation. This is not just — or even primarily — a matter of subsidies to businesses. We all withdraw water for free, paying only to have water transported to our taps, stored until we are ready to use it, and cleaned to meet drinking water standards. But, collectively, we withdraw more than 250 billion gallons a year from our streams and aquifers in the Puget Sound region, with profound consequences for fish and wildlife.



The gasoline tax that we pay does not even cover the full cost of constructing and maintaining the road system — especially at the local level, where nearly half of all costs are paid with general taxes that have nothing to do with one's use of the roads. Yet our roads and our cars are primary causes of air and water pollution and habitat fragmentation. New developments pay little to no mitigation for cumulative impacts on the environment. Factories, treatment plants and others are given permits to discharge pollutants into our air and water, with no charge based on the ecological consequences.


Conceptually, addressing all of these misplaced subsidies with targeted taxes or fees is not difficult. It would be an enormous challenge politically. But reasonable rates to address the subsidies above easily could raise $1 billion a year in our region — more than enough not just for an ambitious conservation program but also to sweeten the proposal by reducing property or other taxes substantially.

We must accept a substantial transfer of wealth from urban areas to ecologically more important rural areas. Everyone would pay the sort of taxes just described. We all use water. Nearly all of us drive. But taken as a whole, urban taxpayers far outnumber rural taxpayers, while investments in ecological conservation must target rural areas, where the large majority of our best habitat remains.


I live on a tributary to Thornton Creek in north Seattle. I am a past president and active supporter of Thornton Creek Alliance. I am not saying that we should "write off" urban natural areas. But we should understand the limitations of investments in those areas and set reasonable goals for them.


The current project to "daylight" Thornton Creek on the south lot of Northgate and to improve water quality there will cost more than $10 million. I support this project, but primarily for its community development benefits. If the pot of money paying for it could be used to best serve Puget Sound as an ecosystem, I would shift that money immediately to the lower Skagit River, where it could make some real headway in the tragic conflict between farmers and environmentalists, who I believe could be on the same side with the right resources.


The science is clear that urban areas cannot support the diversity and abundance of native fish and wildlife that rural areas can (if that obvious point even needs documenting). We still may invest in urban natural areas to improve our quality of life and minimize the harm urban areas do to larger ecosystems. But we must invest in rural areas if we are to save our natural heritage in this region.
We must develop new ways to compensate property owners for ecological services that we all receive from their land. In the state of Washington, the state Supreme Court has ruled that regulations cannot place an "undue burden" on individual property owners to meet societal goals. This goes beyond the U.S. Supreme Court's requirement to compensate landowners if regulations take all reasonable economic use from their property.


I was glad that I-933, last year's property rights initiative, lost at the polls, but I do agree with proponents that the fundamental issue is a matter of fairness. It's also a matter of practicality: when forestry and agriculture are not economically viable, land is converted to suburban or rural development, which typically is much worse for the environment.


Western Washington lost 648,000 acres (more than 1,000 square miles, almost half the size of King County) of timberland to development between 1978 and 2001, according to researchers at the University of Washington and the U.S. Forest Service. This trend may well worsen in the years ahead.


Given our increasing population, some such losses are inevitable. But the scale of these losses and their location (driven by economics, with little regard to ecological impact) will overwhelm efforts to conserve our natural heritage, if left unchecked. We must change the economics of this land to support forestry and agriculture where it matters most ecologically.
When Gov. Gregoire appointed the group that ultimately recommended the partnership, she called for a "bold" proposal. That opportunity is still before us.
John F. Kennedy once asked, "If not us, who? If not now, when?" Considering all of the Puget Sound region's advantages in beauty, wealth, natural resiliency, scientific knowledge and history of environmental concern, when it comes to conserving natural systems in a developed area, I would add, "If not here, where?"
John Lombard is the author of "Saving Puget Sound: A Conservation Strategy for the 21st Century." Published late last year by the University of Washington Press and the American Fisheries Society, it's available at most bookstores and through Amazon.com. See www.savingpugetsound.com for details and contact information.