PCC Redmond earns Gold for "green" building
Sound Consumer August 2007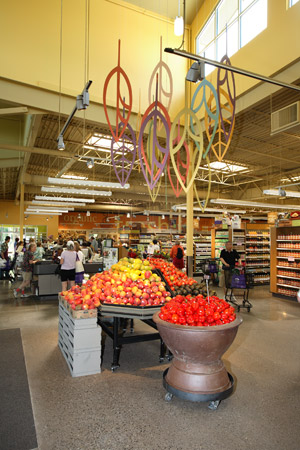 (August 2007) — The prestigious Gold LEED certification for outstanding design, construction and operation of a "green" building has been awarded to PCC's Redmond store, the first grocery store in the United States to achieve gold status.
LEED (Leadership in Energy and Environmental Design) is a rating system for "green" buildings developed by the U.S. Green Building Council. It evaluates the "whole-building" approach yet examines specific factors that support human and environmental health. Long before breaking ground at Redmond, PCC planned to make our eighth store shine with features that save energy and incorporate recycled and sustainable materials.
"There never was a question about what we wanted to achieve in designing Redmond," said George Ostrow of Velocipede Architects. "We wanted it to be an exceptional stand-out example, well beyond industry standards for energy efficiency and systems performance."
LEED-qualifying features at Redmond are largely behind-the-scenes in energy-efficient heating and refrigeration systems, but more obvious ones are appreciated daily by shoppers and staff. Natural light from 28 skylights, specially glazed to block heat but not light, illuminate the aisles. Full-spectrum, general lighting systems perform at a level 39 percent better than Washington State Energy Code, and timers automatically turn off accent lighting when the store is closed.
Cabinetry is made from panels that are 100 percent recycled fiber, and glass tiles are 100 percent recycled from a local source. Everyone in the store breathes easier due to paints and building products with low VOCs (volatile organic compounds) that virtually eliminate harmful chemicals in the air, and to mechanical systems that circulate filtered fresh air throughout the store.
According to Lori Ross, PCC's director of store development, "We incorporated as many environmentally-friendly features as possible in the construction and operation of Redmond. We considered them long-term investments in the future of PCC and the communities we serve.
Having our efforts recognized with Gold LEED certification is wonderful, but our hope is that it raises the bar for other new buildings and retrofits in our market area."
For more information, visit our Redmond PCC store locations page.