Notes from the Cellar: First-pitch swinging
by Jeff Cox, Wine and Beer Merchandiser
This article was originally published in June 2007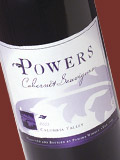 Bill Powers spends his winters in Arizona, making trips to the local wine shop and watching fields of lettuce grow. To say that Bill is a farmer is to say that John Muir liked to get outdoors every so often.
His affinity for dirt isn't a "lifestyle" or homegrown imageering — it's about growing green things in good, brown earth. It's a family thing, a trait propagated in son and winemaker Greg Powers. It doesn't get much more bedrock than that.
Most wineries with a shred of marketing savvy expound upon how great wines are made in the vineyard, but the Powers family walks the talk. Grape growers at Badger Mountain Vineyards since 1982, the Powers family made the transition to organic in 1988 — long before "organic" became trendy — simply because it made good environmental and business sense.
Powers Wines are made using top-quality fruit purchased from other Columbia Valley growers and are among Washington's most delicious, undervalued wines.
That's why, when our friendly, local Powers rep pitched the opportunity to blend a special wine for PCC (that would include a two dollar donation to the PCC Farmland Trust for each bottle sold), it required all the contemplation of a belt-high fastball.
On a blustery February day, five of us met at the winery to figure out assorted nuts and bolts and to assemble a blend. I would be remiss at this point in not disabusing the reader of certain conventional notions of gravitas surrounding such activities. If you picture a group of solemn-faced individuals reverently assessing and conferring on the merits of the liquid they sip, you've got it all wrong, amigo.
The wind-up? A run to the taco truck for sustenance, while someone rounds up glasses, beaker, graduated cylinder and a spittoon. Then, a taste through the potential component wines (not a whiff of reverence).
The Cabernet is a knockout, with plenty of sage-laced blackberry fruit, the Syrah shows lovely black fruit (tasting "purple" as good Syrah should) while the Merlot offers lovely red berry flavors with a hint of spice. Cabernet provides the foundation, so we start with 75 percent Cab and take a first swing with 15 percent Syrah and 10 percent Merlot.
We nail it on the first pitch and we're stoked. We try a couple variations, just to be sure, but agree the first blend is a home run. The rest of the story is in your glass. Enjoy luscious Columbia Valley wine while helping to save organic farmland!
— Powers 2005 Cabernet Sauvignon PCC Cuvée, $11.00