Chocolate and the taint of child slavery
by Leanne Skooglund Hofford
This article was originally published in February 2006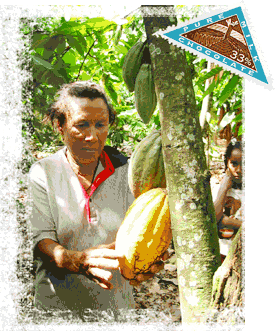 (February 2006) — Five years ago, media investigations revealed that some cocoa farmers in West Africa were using forced child labor to cultivate and harvest their cocoa beans. Seventy percent of the world's cocoa is produced in West Africa and the reports described children there toiling long hours with no pay and little food or sleep. Some were beaten severely and locked up at night.
Suddenly, chocolate was leaving a bitter taste on the tongues of many concerned consumers. The response by activists, lawmakers and the $60 billion global chocolate industry was quick and strong. In the United States, where 3.3 billion pounds of chocolate are consumed annually, Sen. Tom Harkin and Rep. Charles Engel introduced legislation to create a federal system to certify and label chocolate products as "slave free."
The chocolate industry, led by M&M/Mars, Hershey and Nestle, quickly mobilized to head off the legislative effort in favor of a voluntary initiative called the Harkin-Engel Protocol. The Protocol set a July 1, 2005, deadline for implementing "credible, mutually acceptable, voluntary, industry-wide standards of public certification" to ensure that cocoa beans are grown and processed without the worst forms of child labor.
The deadline came and went, with the chocolate industry publicly acknowledging that it did not meet its goal. Participants and watchdog groups were not surprised at the slow progress — but for different reasons.
Protocol participants point to the complex political, economic and social issues involved. Simmering civil war in the Ivory Coast, the vast number of small cocoa farms — an estimated 1.5 million — African governments' reluctant cooperation, and local traditions that condone child labor are all obstacles to change, they say.
But some consumer and labor rights advocates believe that the big chocolate corporations really aren't trying to solve the problem. "For four years, industry has dodged the bullet," said Bama Athreya, deputy director of the International Labor Rights Fund (ILRF). "(The certification system) was the single most important goal … and they have gotten nowhere with it … Sure, it's complicated, but we've managed to do far more complicated things."
In response to the missed deadline, the ILRF filed a federal lawsuit alleging that U.S. companies Archer Daniels Midland, Nestlé and Cargill Inc., who control most of the Ivory Coast's cocoa export market, are involved in the trafficking, torture and forced labor of children.
According to Athreya, the suit seeks transparency of cocoa sources, internal changes such as training cocoa buyers to identify abusive child labor, and contractual obligations to help farmers solve the problem.
At the root of the child labor problem is the extreme poverty experienced by cocoa farmers and their neighbors. Protocol efforts include industry support for local development projects to improve socio-economic conditions, but some say that ensuring farmers receive a fair price for their cocoa is a far more effective solution.
Jamie Guzzi, Fair Trade chocolate campaigner for Global Exchange, argues that the Fair Trade model, a third-party certification system that guarantees farmers a living wage and prohibits abusive labor practices, is a viable option for the chocolate industry.
Guzzi believes chocolate could follow the path of Fair Trade Certified coffee, which is now sold in McDonalds and Dunkin Donuts. Currently, Fair Trade Certified chocolate holds a miniscule portion of the market — less than 1 percent — but sales grew 78 percent last year. With the participation of the large chocolate companies, the system could significantly expand, Guzzi says.
Consumer pressure on chocolate manufacturers to take responsibility for eliminating abusive child labor practices is viewed by both Protocol participants and critics as essential to progress. Peter McAllister, executive director of the International Cocoa Initiative (ICI), a foundation set up by the Protocol, says, "If that pressure is consistently there, it becomes intrinsic to their way of doing business."