Your co-op, April 2005
This article was originally published in April 2005
Notice of annual membership meeting
Wednesday, April 27 at 5:30 p.m.
The Donald Graham Visitors Center
Washington Park Arboretum
2300 Arboretum Drive, Seattle
Board plans annual meeting with a message
The board is planning the agenda for the PCC annual membership meeting. Reports from the board and management will cover our co-op's 2004 highlights and the 2004 annual report will be available. Candidates for the upcoming election also will be introduced to the membership.
Nash Huber, master organic farmer, Dungeness Organic Produce
Craig Winters, co-founder of The Campaign to Label Genetically Engineered Foods
Goldie Caughlan, PCC nutrition education manager and consumer representative, National Organics Standards Board
Trudy Bialic, PCC public affairs manager and Washington Pesticide Advisory Board member
Learn more about these speakers.
"We're excited about this chance to learn more about issues that are of growing importance every day," notes Linkage Task Force Chair Alexander Rist. Board Chair Mary Simon adds, "We feel this will be a valuable meeting for our members and we look forward to an energetic session. We're fortunate to have such a stellar group of experts available to us. Surely, members will take away information and strategies that will serve them and our community well."
Talk to the board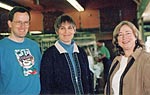 These in-store visits offer a unique opportunity for the board and members to discuss the future course of the co-op. "The board members are sincerely interested in getting member input on issues that are important to them," says Linkage Task Force Chair Alexander Rist. "As the election draws near, events like this could be an especially useful tool for members as they consider candidates and the proposals to amend our articles and bylaws."
In the photo above: PCC members Josh and Robin Reddeman-Beach (left) love the Kirkland PCC store. Board member Chantal Stevens (right) met them at the March Talk-to-the-Board event. "I'm impressed by the enthusiasm and dedication of the PCC members I met, many of them longtime members. It's also very exciting to hear from members like Robin and Josh how important PCC is to young families," noted Stevens.
Upcoming dates:
Saturday, April 23, 1 to 3 p.m.
Seward Park PCC
Saturday, May 21, 12 to 2 p.m.
Greenlake PCC
Board meetings
There was no board meeting in February. The March 29 board meeting report will be in the May Sound Consumer. The next regularly scheduled board meeting will be Tuesday, May 31 at 5 p.m. with time set aside as usual for member comment at 7 p.m. Please contact Janice Parker at 206-547-1222 if you plan to attend.
Board of Trustees election April 28 to May 27
Nominating committee announces 2005-2006 board candidate slate
After months of work, the nominating committee has named the following PCC members as board candidates in the May election: Bob Cross, Kanwal Kaur, Linnea Noreen and Rick Riehle. PCC members will meet and have the opportunity to question the candidates at the annual meeting.
Campaigning will begin in the stores after the annual meeting. The election dates are April 28 through May 27. Look for an election special insert in the May Sound Consumer for biographical information and campaign statements. The May Sound Consumer also will include your ballot and voting details. Candidate information also will be posted on our Web site by April 25.