Seasonal cooking with local produce
This article was originally published in August 2004
Celebrate the high days of summer with three recipes that take advantage of the season's freshest, locally grown organic produce — available this month at our markets.
---


Organic nectarines, grown by Mark LaPierre in Zillah, Washington.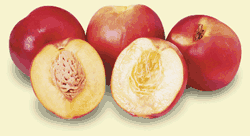 Almond polenta cake with Nectarines and Crème Fraîche
1 cup butter
1 cup sugar
2 cups ground almonds or almond meal/flour (Bob's Red Mill)
1 teaspoon vanilla extract
3 eggs
Juice of one orange
1 cup dry polenta
1 teaspoon baking powder
Pinch of salt
4 to 5 nectarines, sliced
Crème fraîche or whipped cream, to taste
Almond-flavored liqueur, to taste (optional)
Preheat oven to 375° F. Butter and flour a 9-inch springform cake pan.
Beat the butter until it becomes pale and soft, then add sugar and beat until light and creamy. Stir in the ground almonds and the vanilla extract.
Add the eggs, one at a time, beating thoroughly before you add the next one. Fold in the orange juice, polenta, baking powder and salt. Spoon into the buttered cake pan and bake 35 to 40 minutes or until a deep golden brown and still a bit wobbly in the center. Cool cake in pan about 20 minutes, then loosen sides of pan and finish cooling.
To serve, cut into slices, put a dollop of whipped cream or crème fraîche on top of each piece and top with sliced nectarines. Drizzle with almond liqueur, if desired.
— Adapted from the Almond Board of Califonia
---


Organic green beans from Rent's Due Ranch in Stanwood, Washington.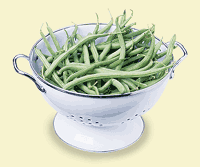 Red potato and green bean salad
1 1/2 pounds small red-skinned potatoes
3/4 pounds small green beans, rinsed and stem ends trimmed
1 small sweet onion, coarsely chopped
1/4 cup chopped fresh basil leaves
Balsamic vinaigrette
Salt and pepper to taste
In a large pot over medium-high heat, steam potatoes until tender. Remove from heat and let cool. Cut into quarters.
In a pot of boiling salted water, cook green beans approximately 5 to 6 minutes or until crisp tender. Remove from heat and drain. Transfer beans to a bowl of ice water and let cool. When cool, drain and cut beans in half.
In a large bowl, combine potatoes, green beans, sweet onion and basil. Add balsamic vinaigrette and toss to coat. Season with salt and pepper to taste.
Balsamic vinaigrette
1/4 cup balsamic vinegar
1 clove garlic, minced
2 tablespoons fresh lemon juice
Dash of Worcestershire sauce or to taste
1/2 cup extra-virgin olive oil
2 tablespoons Dijon mustard
Coarse kosher salt
Coarsely ground black pepper
In a small bowl or jar, whisk ingredients together. Season to taste with salt and pepper.
---


Organic cherry tomatoes including Sungold and Sweet 100s, grown by Pride of the Umpqua Organics in Roseburg, Oregon.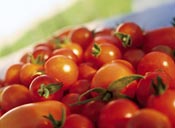 Marinated cherry tomatoes over warm provolone garlic bread
1 large basket cherry tomatoes, halved
2 green onions, coarsely chopped
1/4 cup Italian parsely, finely chopped
1 tablespoon fresh rosemary, finely chopped
3 cloves garlic, finely chopped
1/3 cup extra-virgin olive oil
3 tablespoons balsamic vinegar
Salt and pepper to taste
In medium bowl, mix tomatoes, green onions, parsley, rosemary, garlic, oil and vinegar. Cover and marinate at room temperature for at least one hour. Season with salt and pepper to taste.
Provolone garlic bread
4 tablespoons extra-virgin olive oil
3 cloves garlic, finely chopped
4 large, thick slices of crusty artisan bread
4 slices provolone cheese
1/4 cup grated Parmesan cheese
To make garlic bread, combine olive oil and garlic and let stand for 10 minutes. Brush one side of each piece of bread with garlic and olive oil. Broil only brushed side until lightly browned. Cover the toasted side of the bread with 1 slice of provolone cheese and a generous sprinkling of Parmesan.
When tomatoes are marinated and just before serving, preheat broiler. Toast bread under broiler until cheese is bubbly. To serve, place a piece of warm bread in a shallow soup bowl. Spoon tomatoes and marinade around the ends of the bread.
— From Farm Fresh to You