Going full circle
This article was originally published in July 2004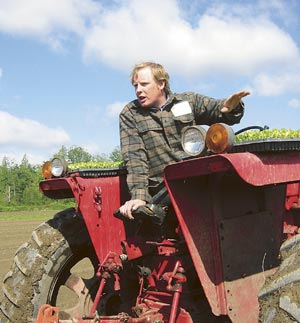 Story and photos by Alicia Lundquist Guy
(July 2004) — On a crisp spring morning with the promise of a blue-sky afternoon, half a dozen PCC deli staff members huddle next to the old red barn at Full Circle Farm in Carnation.
All dutifully wear boots as instructed, ready to tromp through the mud in search of the perfect radish. Steam winds out of the coffee cups held as fortification against the morning chill. The fields at Full Circle Farm are already in a state of great activity. A tractor hauling flats of baby salad greens chugs past the barn and down the dirt road to the yonder end of the farm. Andrew Stout, owner of Full Circle, is clearly delighted with how the weather is shaping up.
The objective of today's field trip is to foster the alliance between the PCC delis' culinary creatives and the hardworking hands of the local farming community. There's a groundswell of support for small, local farms in the Puget Sound economy.
Consumers are asking for local agricultural products. Retailers like PCC Natural Markets are dotting piles of apples, berries and spinach with signs indicating the growers' names and hometowns. Even local government is getting involved, funding programs such as Puget Sound Fresh, which promotes and markets local farms and crops.
The farmers themselves are taking more of an active interest in the community, realizing that community support of local, organic agriculture just might ensure them small-scale success in an age of corporate agriculture.
With their innovative ideas, Andrew Stout and the folks at Full Circle Farm are the new face of organic farming. (Quite literally! A few years back, Andrew Stout's countenance was at eye level with drivers all over King County as part of a Puget Sound Fresh ad campaign adorning Metro buses.) Stout's marketing success began as youthful optimism at its best. He started Full Circle Farm in 1996 with Wendy Munroe (now his wife) and John Huschle, who now owns Nature's Last Stand farm.
Relatively green to farming, they broke ground on three acres in North Bend. "It was a beautiful place," notes Stout, "full of rocks, terrible soil, not enough water; but boy, we were struck by the awesomeness of the site." They marketed their first harvest by packing small boxes with their now trademark salad mix, baby spinach, head lettuce, bunch radishes and a business card and drove them around town to grocery stores and restaurants in the back of a pickup truck. Stout laughs, "I remember stopping off with Joe Hardiman [PCC produce merchandiser] with this little box of stuff, "Hey, we can grow food. Look at us!'"
That first week of hopeful knocking on doors brought in $1,600 dollars of sales and it's been climbing ever since. Now Full Circle Farm is mentioned on the menus and popular in the kitchens of favorite restaurants all over Puget Sound — Carmelita, Café Flora and Dahlia Lounge to name just a few. Full Circle's signature salad mix has a regular fan base in all seven PCC produce departments.
They regularly deliver salad and braising mix to all the PCC delis as well. "We got into a relationship with PCC at a very fortunate time," Stout says. "Salad mix is our main crop. They didn't have a dedicated grower in the produce world to do that."
Dedicated growers they definitely have become. After outgrowing their original three acres and a patchwork of other small parcels, Full Circle moved to an 80-acre parcel in Carnation, leasing the land from former dairyman Bill Knutsen. Last year, Stout purchased an additional 54 acres over the fence.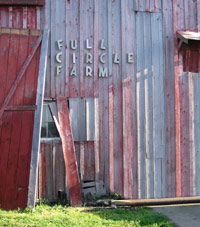 Full Circle Farms focuses on crop diversity, now growing 75 varieties of fruits, vegetables and herbs. They also distribute produce for other organic farms such as the 60-acre Alvarez family farm in Sunnyside. Early in the season, when they are limited to cool weather crops, Full Circle complements its offerings with warm weather items such as green beans, zucchini, eggplant and cucumber from Eastern Washington.
Stout says, "One of our main tenets is feeding people a healthy, organic, local product. We don't pull from out of state, we don't pull from any other place, so we are limited in the seasonality of what we do, but we like to try to extend that as much as possible."
Full Circle Farm now has three greenhouses on site to further extend the season. Countless flats of baby salad greens and infant herbs are warmed from underneath to get a head start on springtime.
As we march out into the fields, Andrew Stout points out different crops. A large plot of perennial herbs entices the PCC chefs, who lean over to snap off sprigs of an esoteric sampling — sweet cicely, lovage, sorrel, bronze fennel, lemon balm and Greek oregano. Aromas are taken in, textures are felt, leaves are nibbled. A sprig of fennel is gingerly placed in a flannel pocket. Stout infuses, "We like to sit down with [chefs] as much as possible. We hand out seed catalogs in springtime and ask, "What do you want to see?'" It's this kind of innovation and attention to detail that sets Full Circle apart as a new kind of farmer.
Stewards of the land
Stout walks us over to Griffin Creek, a salmon stream that runs through the farm before it empties into the Snoqualmie River on the other side of the property. Back in 1997, the creek blew its bank. Bill Knutsen worked with King County to restore it. Full Circle Farm continued the project and was recognized with a 2003 Green Globe Award for habitat preservation by the King County Department of Natural Resources.
Stout says of the projects, "You can have natural preservation and habitat restoration without having it be a crippling event. People say, "They fixed the creek … they did stream restorations … they had some native plantings … they cleaned the ditch … and they're still smiling!'"
Full Circle Farm's community involvement is an example of what farmers, local government, regional consumers, and retailers can accomplish when they work together. The Farm regularly donates fresh produce to many local organizations such as FareStart, a Seattle non-profit that provides job training and placement in the restaurant industry for homeless and disadvantaged people.
The folks at Full Circle are also involved with Meadowbrook Farm, a former hop farm that the cities of Snoqualmie and North Bend purchased as open space in 1993 to create a permanent buffer, wildlife habitat and flood storage area in the Snoqualmie Valley. Full Circle is a land steward for the project, maintaining part of the acreage.
On the day of our visit to Full Circle, farm hands were busy chopping 30,000 pounds of seed potatoes as part of the Meadowbrook project. Stout's vision is to have Boy Scouts pick the potatoes when they are ready for donating to area senior centers. Stout always is asking himself, "How can we close the gap a little bit more? How can we make it so that the community knows we are there for them and vice versa?" His new project is to get involved with the developing Farm to Cafeteria program.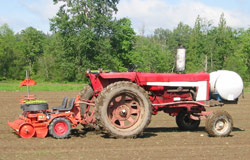 Farm to fork
This is where the everyday consumer comes in. Chris Henning from the PCC Greenlake deli tells Stout, "My customers are always asking, "what's organic, where's it from, what farm is it from?'" It's these questions that encourage retailers to demand local products from their suppliers. In turn, the local community maintains its local agricultural base.
According to the King County/Washington State University Cooperative Extension, 75 percent of the farmland in King County has disappeared since 1945 — from 165,000 acres to 42,000 acres in 1992. Currently, just 3 percent of all King County land is farmed.
But that cloud has a silver lining. "King County right now is changing," says Stout. "It has stopped being the dairy center, and a lot of small farms are coming in. It's exciting to see. They always need an outlet. They need the support."
Sure, it's easier for PCC deli coordinators to order from the wholesaler, but there's extra incentive in the high quality of Full Circle's products and the satisfaction of supporting the local community.
Jean Szeles, deli coordinator at PCC Seward Park, says of her day at Full Circle Farm, "I was really impressed with how small they are and how much they do. They are into more than just organic farming. They are into the environment and feeding people nutritious food. They've got the big picture." She plans on ordering more of Full Circle's salad greens, braising mix, fresh herbs and fresh snap peas to integrate into enticing deli offerings.
At the end of the refreshing and educational morning at Full Circle Farm, the PCC deli staff is in for a special treat. They're going to run the double mechanical transplanter attached to the back of a large red tractor. The objective is to drop one hearty little seedling down each of a quickly rotating wheel of chutes, which then neatly plugs the seedling into the waiting soil below.
Nothing brings people out of their shell and into a state of unsuppressed laughter like a tractor ride. All of this excitement works up an appetite. As you might expect, the visit comes to a glorious end with a shared meal of smoked oysters, grilled salmon, local goat cheese, mixed greens with fresh herbs and radishes lightly dressed in oil and vinegar, and steamed new potatoes.
"How do we make it so that people aren't just looking at something that may be yummy, but something they want to buy because it was grown by decent people and fixed by people that cared?" Stout asks at one point. The answer to that question is easy. Just keep doing what you're doing.