Your co-op, February 2004
This article was originally published in February 2004
Store awnings win award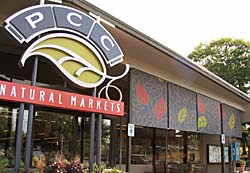 PCC has won a design award, an International Achievement Award from the Industrial Fabrics Association, for our new store awnings.
Companies in 13 countries submitted 291 entries for 26 categories. Judging was based on complexity, design, workmanship, uniqueness and function. Entries were judged by a panel of industry experts, editors, architects, educators and design professionals.
Rainier Industries manufactured and installed the awnings on three PCC stores — West Seattle, Seward Park and Fremont. The awnings give the stores a unified look as part of PCC's new design and identity program.
Talk to the board
Co-op members, patrons and board members alike are finding the "Talk to the Board" events helpful. "This opportunity for a one-on-one dialog outside the formality of a meeting or electioneering is a valuable tool," reports Linkage Task
Saturday, February 28, 2 to 4 p.m. • West Seattle PCC
Thursday, March 11, 5 to 7 p.m. • Kirkland PCC
Saturday, April 3, 2 to 4 p.m. • Issaquah PCC
Board of Trustee meetings
There was no board meeting in December. The January 27 board report will be published in the March Sound Consumer. The next scheduled board meeting is Tuesday, March 30 at the PCC office. The meeting begins at 5 p.m. with time set aside for member comments at 7 p.m.
PCC and the grocery labor conflict in Southern California
by Randy Lee, PCC Chief Financial Officer
Many PCC members no doubt have been staying informed of the grocery workers' strike/lockout in Southern California that started on October 11 last year. The lockout that followed the initial strike at Von's stores (owned by Safeway) and spread to Kroger and Albertson's stores has left 70,000 grocery workers out of work for over three months. (At press time in mid-January, there is no end immediately in sight, although we certainly hope that by the time you read this the conflict has been settled and this large labor force is back at work with a stable and constructive contract.)
Most of the issues in dispute in that strike are almost certainly going to be addressed in the industry negotiations here in the Northwest later this year when the same major chains in this area (including QFC as part of Kroger's), which are represented by Allied Employers, renegotiate their contract that expires in May. Because of the questions and uncertainties that have begun to be discussed among both PCC staff and members concerning what this might mean for PCC, we thought we would share some background on where PCC and our staff fit into this set of issues that's coming to Puget Sound.
PCC has been proud to be a union employer for almost 20 years since some of our staff voted to have the Retail Clerks union represent them back in 1984, at first just at two stores and gradually covering all of our stores. When we introduced meat departments into all of our stores in 1991, our meat staff chose to have their contract negotiated by UFCW Local 81, which represented most meat workers in the local grocery industry.
Through all these years, PCC has worked to craft agreements separate from the industry contract that blend together elements distinct to our workplace with some of the benefits and programs in the industry contract. This has resulted in labor contracts that have been customized to PCC's business and are beneficial economically to our staff.
While we have no way of knowing what the outcome of the dispute in California will be, this separateness of our contract from the industry agreement is one of a number of important differences between PCC stores and the chains that make those of us in management at PCC very optimistic that we will be able to avoid the conflict that has engulfed Southern California.
The fact that we and our staff have chosen consciously in past contracts to have our agreements expire after the local industry contract gives all of us the advantage of complete information on what the competitive landscape will look like. This has enabled PCC to pay staff an excellent economic package that in many regards surpasses the industry's, while also preventing the co-op cost structure from getting unsustainably higher than that of our competition.
Another major element that separates PCC from the conventional industry is that in certain ways we operate on a different business model than the industry. Many of our staff are far more knowledgeable about the food that we sell than is necessary in the average chain store; our deli staff prepares foods from scratch with much more sophisticated processes. This requires a more talented workforce than the average chain "deli," warranting compensation that is simply different in so many instances than what a Wal-Mart or a chain store finds necessary to offer its staff.
But perhaps the most important difference between our cooperative and the chains, and one that will serve us well should this conflict come to our area, is that we have a deep and longstanding respect and appreciation for our staff and all that they do to make our stores the outstanding enterprises that they are. Our negotiations over the years have been at times intense and energized, but invariably have shown the respect that all of the parties involved, including PCC staff, management and union negotiators, have had for each other.