Sunfield challenge grant completed! Shipley Fields defense continues
Sound Consumer August 2003 | by Jody Aliesan, PCC Farmland Fund President and Operating Officer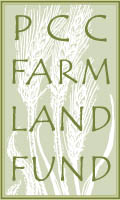 Shipley Fields update
(August 2003) — The Sequim City Council decided to allow two massive projects near the Dungeness River, one of them a thirty-two acre Wal-Mart superstore next door to the Shipley Fields.
The local non-profit Sequim First, the Jamestown S'klallam Tribe, and Clallam County appealed these plans. They are concerned about stormwater and groundwater pollution — of the aquifer, irrigation ditches, wells and the river itself. Two marathon hearings have been held, one lasting until 1 a.m. If the City does not require an Environmental Impact Statement, the groups will appeal at the next legal level.
Farmland Fund donors have contributed more than $3,000 to help with legal expenses. "It helps immeasurably to know that you support us," says Deborah Keeting-Hansen, president of Sequim First.
"Meanwhile, the Dungeness, still wild, still home to beleaguered salmon, a major part of one of the most unique ecosystems on the planet, remains in danger. Organic practices on the Delta Farm and protection of the Shipley Fields contribute to the river's safety.
"The Dungeness River and its valley, of which the Farmland Fund's land is a treasured part, is of national importance and deserves national attention. We urge anyone who hasn't been to Sequim to come and see it, especially the Shipley Fields — sooner rather than later."
Contributions can be sent to Sequim First, P.O. Box 431, Sequim, WA 98382. Information and message line: 360-460-4016.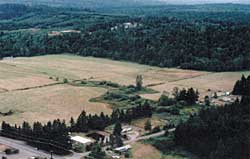 Sunfield Farm update
We did it! The Farmland Fund will help save a third farm from development by making a one-year $10,000 challenge grant to Sunfield, a Waldorf school community working to preserve an 83-acre farm south of Port Townsend. Thanks to 172 donors, the full amount was raised in fourteen weeks. We're ready to award this grant to Sunfield when they have raised their match (now 60 percent complete). Donations beyond the goal will go to save the next farm.
Farmland Fund Highlights
Save the date — On September 7, Seattle Tilth Weekend Workers on Organic Farms (WWOOF!) goes to the Delta Farm. They'll spend a day working with Nash Huber and his crew in the rich volcanic soil of the Dungeness Valley, in the lap of the Olympic Mountains. Children are welcome with a supervising adult. The cost is $12, or $10 for Tilth and PCC members. To register, please call 206-633-0451.
From the anthology In Praise of Fertile Land (Whit Press, 2003) available for $14.95 in PCC Natural Markets. All proceeds benefit the Farmland Fund.
Soybeans
The October air was warm and musky, blowing
Over brown fields, heavy with the fragrance
Of freshly combined beans, the breath of harvest
He was pulling a truckload onto the scales
At the elevator near the rail siding north of town
When a big Cadillac drove up. A man stepped out,
Wearing a three-piece suit and a gold pinky ring.
The man said he had just invested a hundred grand
In soybeans and wanted to see what they looked like.
The farmer stared at the man and was quiet, reaching
For the tobacco in the rear pocket of his jeans,
Where he wore his only ring, a threadbare circle rubbed
By working cans of dip and long hours on the backside
Of a hundred acre run. He scooped up a handful
Of small white beans, the pearls of the prairie saying:
Soybeans look like a foot of water on the field in April
When you're ready to plant and can't get in;
Like three kids at the kitchen table
Eating macaroni and cheese five nights in a row;
Or like a broken part on the combine when
Your credit with the implement dealer is nearly tapped.
Soybeans look like prayers bouncing off the ceiling
When prices on the Chicago grain market start to drop;
Or like your old man's tears when you tell him
How much the land might bring for subdivisions.
Soybeans look like the first good night of sleep in weeks
When you unload at the elevator and the kids get Christmas.
He spat a little juice on the tire of the Cadillac,
Laughing despite himself and saying to the man:
Now maybe you can tell me what a hundred grand looks like.
— THOMAS ALAN ORR
Donor Roster (June 1 — 30, 2003)
Anonymous: 11
Jim Bailey & Leanne Olson
Naomi Barry
Martha Beard
Larry and Geraldine Carey
Casey Curran & MiYoung Choi
Joy A. Dillon
Jennifer Ernst & Jeff Ernst
Karen Gardner
Mary Jane Helmann
Sue & Bob Hill
Irene Holroyd & Patrick Perkins
Betty H. Hughes
Terri Hurley
Lenore Jensen Zenia & Michael Landi
Ronald D. Long
Kirk Mattson
Robert Messina
Marilyn Nemerever
Michelle Quigley Pearson
Erin H. Riley
Mark & Nancy Tucker
The Uthus
In honor
Jane Baier Nelson
PCC Staff
More than 100 PCC staff members make voluntary payroll deductions twice a month.
Businesses and Organizations
A Moveable Feast
Blue Star Electric
Choice Organic Teas
Good Nature Publishing Company
Microsoft Matching Gifts Program
PureAyre
Salmon Bay Friends Meeting
TalkingRain Beverage Company
Wildwood Harvest Foods
The PCC Farmland Fund works to secure and preserve threatened farmland in Washington State and move it into organic production. For more information, see the PCC Farmland Fund.