Local organic farmers and PCC
by Jody Aliesan,
This article was originally published in July 2003
(July 2003) — When I first started working at PCC thirty years ago, one of a staff of twelve, our only store was on N.E. 65th Street in Seattle. Everyone called it "the food co-op."
At that time we were virtually the only retailer in the Seattle area providing organic produce. People came from great distances to buy it.
Two of us, both women, worked produce and split the week. Our hours didn't overlap, so we left notes for one another. Our wet rack was a third-hand meat cooler turned to the top of its temperature range. Every ten days or so it would rebel overnight and freeze everything in the display.
The store had no loading doors or dock, so we unloaded trucks at the curb and wheeled the boxes on hand trucks through the single-width, non-electric front door. Big crates we hand- carried sideways.
We bought directly from the few very small organic farmers in Washington, pathfinders whose dedication to organic principles and methods laid them open to more than the usual risks farmers face.
Besides restoring soil and watersheds, they had to cultivate markets, find loan providers, and set up their own storage facilities, brokerages and delivery systems. They worked in the face of skepticism, ridicule and outright hostility from conventional growers and mainstream culture.
PCC depended on organic farmers in California for year-round supply and for produce that couldn't be grown locally. We weren't confident that we could trust the claims of some of the long-distance brokers. Out of that uneasiness came campaigns for state standards and certification, first in California and then in Washington.
Organic produce from out of state had to be ordered ten days in advance for delivery once a week. If the truck's refrigeration failed, or if the broker tried to pass some end-of-crop or culls off on us, we refused delivery.
It was important to establish standards, even if it meant less variety on hand for customers. We were conscious of our part at the beginning of something important and necessary, although mainstream culture scoffed at organics as weirdo fringe hippie romantic superstitious nonsense. At the time, we were dismissed as radicals.
But agribusiness and the biotech industry are the extremists, backed up against the profit wall by the public's preference for clean food. Genetic engineering is one way they can contaminate our seeds and fields so that organic agriculture won't be possible.
Stay alert. Buy local. Buy organic. Demand labeling on genetically modified food. Help save organic farmland.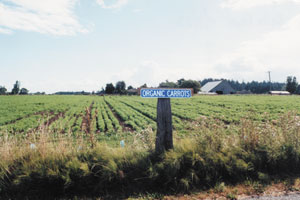 Farming the future
(July 2003) — Nearly thirty years ago, during a board meeting held among manual cash registers in PCC's only store, board member Luke Lukoskie leaned forward on his metal folding chair and said, "I think PCC should buy farmland." At the time, top priorities included avoiding Health Department raids and making enough profit to keep food on the shelves. "Right," everybody muttered and turned back to the agenda.
Lukoskie went on to found Island Spring, Inc., the first large-scale commercial maker of tofu and tofu products in the region. PCC went on to create the Farmland Fund in 1999, with Island Spring as the first donor. The Farmland Fund went on to save the Delta Farm from development, thanks to contributions from PCC members, staff and vendors.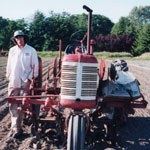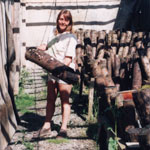 Now Nash Huber and a new generation of farmers at Dungeness Organic Produce are farming the Delta Farm and providing PCC shoppers with dozens of varieties of fruit and vegetables, including their famous carrots. The partnership between local organic producers and consumers goes back most of PCC's history, and we're all in it for the long haul.