Fremont sprouts a new PCC
This article was originally published in June 2003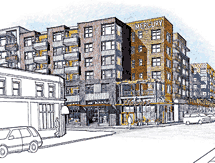 (June 2003) — The grand opening is less than a month away, and PCC's newest store is gearing up to be Fremont's tastiest shopping experience.
"The store is designed around increased presentation of perishables, including meat, produce and deli," said director of store development, Lori Ross. The new store is nearly twice the size of the old one and will be open daily from 6 a.m. to midnight.
Shoppers will surely love the new Fremont store's bigger fresh food selection, they'll no doubt cite increased parking as one of the store's best features. Underground parking will offer more than 90 spaces with an elevator that goes directly to the retail floor.
The interior of the store sports environmental graphics designed by Seattle design firm Maestri, a colored concrete floor and art installations by local artists. Solar-selective glass that lets in light, but not heat is being installed over the produce area. And seating for 60 people will be located outside the store under the canopy of another solar panel. The solar panels will generate a portion of the store's lighting needs — a first for a Seattle-area business.
"The store is designed to be as eco-friendly as possible," said Ross. "The insulation, steel and other construction materials contain recycled products. And, we're saving 32 percent over code thanks to our efficient lighting." Other eco-friendly features include custom cabinets made of straw-board, counter-tops manufactured using recycled paper and linked heating and refrigeration systems.
The store also features a unique partnership with Fremont's Essential Baking Company. PCC will bake Essential breads in ovens on the retail floor, giving our customers an aromatic shopping experience.
On Saturday, June 28, from 10 a.m. to 6 p.m., PCC Fremont will partner with the Fremont Public Association (FPA) to fight poverty and hunger in our community. Ten percent of all PCC Fremont sales wil be donated to the FPA.