Honor your Mother — help save farmland
by Jody Aliesan
This article was originally published in May 2003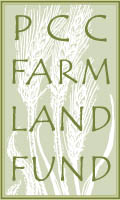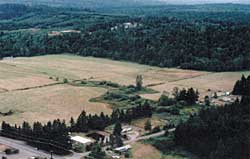 (May 2003) — The Farmland Fund is acting to help save a third farm from development by making a one-year $10,000 challenge grant to Sunfield, a Waldorf school community working to preserve an 83-acre farm south of Port Townsend. Since announcement of this project in the March Sound Consumer, donors have covered 55 percent of the total.
If you would like your contribution to the Fund to be part of this challenge grant, use our online donation form found here. Honor or remember your mother with a gift for Sunfield in her name. Wherever she is, she'll love that you're saving farmland.
Spring planting on the Delta Farm
Apple and pear trees were clouds of bloom in early April on the Delta Farm. Farmer Nash Huber's apprentice Sam McCullough called to say he'd seen a lot of migratory waterfowl passing through, including Trumpeter Swans and maybe a Sandhill Crane.
Work will begin soon to create a holding pond west of the farmstead. Next year that will be a welcome landing and refueling spot for migratory birds, with the sky reflecting on its surface and creatures living and foraging in the plants around its edges.
The day he called, Sam said the fields were a warm brown. He'd disked them multiple times and prepped one on the south for its first planting — three 700-foot-long beds along the irrigation ditch just east of the barn. Scott Chichester (another apprentice) seeded spinach there the next week. The north fields are in cauliflower and leeks, all organically grown.
Meanwhile, back in the barn, Josh Gloor (the third apprentice) has checked the wiring to make sure it's safe and has replaced broken windows. Next he'll repair the big door.
One of the Farmland Fund donors who bought a protection share in the Delta Farm, a veterinarian who brought along her ornithologist friend, remarked about the diversity of homes and food for wild creatures. These include waterplants along the irrigation ditch, wetlands on the north and south boundaries, headwaters and initial course of a salmon stream, hillsides with mixed forest and brush, the eaves of buildings, the high rafters and crevices in the barn, spilled seeds on the storage floor, and worms behind the spring plowing and gleaning ground after harvest.
The Delta Farm is the first farm saved by the Farmland Fund. The Fund owns the farm and leases it to Nash Huber. This is the second year the farm will be feeding us. Thanks go to all who helped protect this land and to all who care about it.
Farmland Fund Highlights
Receive a free print for every gift of $100 or more. Original illustrations in color pencil and watercolor by Northwest artists are printed on high quality recycled papers and donated by Good Nature Publishing. The images shown are two of four designed to double as placemats.
Badger Mountain Vineyards gives to the Farmland Fund 50 cents from every purchase of their NSA (no sulfites added) wine sold at PCC during April and May.
Easy giving — Now you can make your donation at checkout in all PCC Natural Markets.
Donor Roster (March 1 – 31, 2003)
Anonymous: 19
Diane & Steve Adam
Maximilian & Friederike Aigner
Elizabeth Alexander & Larry Metzger
Susan A. Allein
Stephen Anacker & Lisa King
Rich & Marcia Appleton
Cedar Acosta Armbruster
Michael August
Ron L. Bardell
Kathryn Batson
Ann & Earl Beede
Joanne Benzon
Carolyn Berg
Bubba & Ladybug
Wally & Kathy Bubelis
Gro Buer
Bob Carroll
Deborah Casso & Sheryl Schwartz
Barbara Chin
Kathy Copeland
Cathy Cornett
Ginelle Cousins
M. Cumming & D. Livesey
Sally Deneen & Robert McClure
Robert Dickerson
Kay Doolittle
Ruth S. Dunlop
Mary E. Embleton
Brett Milner Feltis
Polly Freeman
Edward W. Geller
Cindi & Jared Gellert
Liliane Gilbert
Jeffrey Hamblin
Benjamin Haskell
Antje Helfrich & Nancy L. Shawn
Mary Jane Helmann
Alicia Hokanson
Diane Horn
Betty H. Hughes
Terri Hurley
Ed Irwin
Gail & David Karges
Virginia A. Kelley
Donna Koss
Marjorie F. Laughlin
Carlo Levy & Rebecca Alexander
Patricia Lewis
Ronald D. Long
Judith Marcus
Deena C. McCloskey & Jay Alan
Lyn Mckay
Robert Messina
Michele Millage
Sheila & James Molnar
Bil Moorhead & Margo Leishman
Pamela J. Murphy
Don Myhre
Bruce Naftaly
Courtenay Newton
Starr Niego
Julia Paulsen & Kevin O'Connor
Eileen O'Reilly-Miller & Kip Miller
Cynthia Pinckney
Laura Plath & Rick Kunz
Geralynn & Rich Rackowski
David Radabaugh
Alexander Rist & Linda A. Noble
Stephanie Roche
Mary L. Ross
Carla Saulter
Manvel & Verna Schauffler
Kiri Schultz
Sarah Seltzer & John Larsen
Linda K. Shaw
Stephani Siudmak
Enid Miller Slivka
Susan J. St. John
Renee Such
Robin Supplee
Michael & Linda Tricker
Mark & Nancy Tucker
Michael Turnsen
Catherine Pihoker Vanderwilt, M.D.
Kelsey Vaughn & David Hale
Jeriene L. Walberg
Jennifer Winters & Tony Earle
Morton S. Wood
Caryn & Matt Woodward
Barbara J. Yocum
PCC Staff
More than 100 PCC staff members make voluntary payroll deductions twice a month. Goldie Caughlan, Janice Parker and Elin Smith made additional contributions. The Office Donation Jug added $114.
Legacy Society
Cecilia Matta & Casey Riske
In honor
Brigid and Emily Wills
Business & Organizations
Adobe Systems Matching Gifts
Choice Organic Teas
Fountain-Light Electric
Gardensmith Horticulture, Inc.
Good Nature Publishing Company
Microsoft Matching Gifts
TalkingRain Beverage Company
Washington Mutual Matching Gifts
Wildwood Harvest Foods
The PCC Farmland Fund works to secure and preserve threatened farmland in Washington State and move it into organic production. For more information, see the PCC Farmland Fund web page.