Earth to humans: no oil for food
by Jody Aliesan, PCC Farmland Fund President and Operating Officer
This article was originally published in April 2003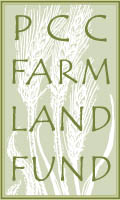 See below:
(April 2003) — The "security" of our conventional food supply depends on petroleum.
Industrial agribusiness in the United States needs oil to make fertilizers, pesticides, herbicides, fungicides, plastic sheeting and plastic pipes. It needs oil to fuel groundwater pumps, dry land circle irrigation, earth-moving machinery and long-distance transportation of produce by barge, road, rail and air.
Meanwhile, sprawl — enabled by automobile-based infrastructure — is eating up our local farmland.
Large-scale dependence and small-scale dispossession make us increasingly vulnerable to disruption of the production and delivery of our staples, never mind luxuries.
It doesn't have to be this way.
Independent farmers, community-owned grocers and all of us who buy from them are renewing the relationship between those who grow our food and those who benefit from their labor.
By supporting local, organic, sustainable agriculture — growing and distribution practices that are economically healthy, socially just and environmentally sound — we weave safety nets under ourselves and our communities.
Make a Food Circle: get a map, find your neighborhood and draw a circle around it — a big circle, with a 250-mile radius. See how much of your food you can buy from sources inside that circle. Invest in a CSA farm share. Support a farmers' market. Shop at retailers such as PCC who purchase from local farmers.
That will mean less oil for food. And less food for oil.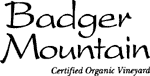 Badger Mountain Vineyards gives to the Farmland Fund
50 cents from every purchase of their NSA (no sulfites added) wine sold at PCC during April and May Badger Mountain Vineyard's commitment to organic wine begins with a basic concern for the land and extends to providing a healthier product for their customers. "We balance tradition and technology to produce an array of classic varietal wines, including wines with no added sulfites (preservatives)," says owner Bill Powers.
The Certified Organic estate vineyard is situated on the south-facing slope of Badger Mountain in the famous Columbia Valley, Washington State's finest wine culture region. The climate is well suited for growing world-class wine grapes, with weeks of 85- to 95-degree daytime temperatures during the summer, cool nights, and winters cold enough to control many vineyard pests.
Powers continues, "The Farmland Fund is a natural match for us. We want to show that organic farming is a viable option, not just for the backyard farmer but also for the bigger farms and vineyards. This is the way it used to be done and it's better for our neighbors and community. We have all seen beautiful farms fall prey to urban sprawl. The Farmland Fund is a step in the right direction."
Goldie Caughlan joins the Farmland Fund board
Goldie Caughlan, PCC's Nutrition Education Manager, member of the National Organic Standards Board, founder of FoodWorks and longtime activist, has graciously agreed to serve on the Farmland Fund's board of directors.
Goldie has served on the PCC Board of Trustees, the Washington Public Interest Research Group, the National Organic Trade Association and Nutrition Education Works. In 1985 she organized Consumers United for Food Safety to address food irradiation and to promote stronger food labeling rules.
Caughlan's work has led to multi-term appointments on the Food Safety Enhancement Advisory Committee of the Washington State Department of Agriculture and the Washington State Organic Advisory Board. As a Farmland Fund board member she succeeds Jeff Voltz, who resigned in February in order to "transfer volunteer time to environmental services."
Donor Roster (February 1-28, 2003)
Anonymous: 4
Michaelene Adams
Kay Doolittle
Michele & John Fawcett-Long
Carla Hyde Fromm
Lynn Hamilton
Mary Jane Helmann
Eileen Ikejiri
Terrel and Rob Lefferts
Stephanie A. Lingwood
Ronald D. Long
Carolyn Mattern
Lyn McKay
Robert Messina
Paul Newman
Martha Ohashi
Rita & Syd Reynolds
Polly B. Sanford
T.M. Speer
Mark & Nancy Tucker
Rachel VanDeMark
Claire L. Zick
PCC Staff: More than 100 PCC staff members make voluntary payroll deductions twice a month. Kibby Bowen increased hers, and Kathy Huet made an additional donation.
In Honor:
Elbert Moore
Lorraine Toly
Businesses and Organizations:
Choice Organic Teas
Good Nature Publishing Company
Island Spring, Inc.
Microsoft Matching Gifts Program
Newman's Own Organics
Pacific Natural Sales
Plymouth Poultry Company
TalkingRain Beverage Company
Wildwood Harvest Foods
The PCC Farmland Fund works to secure and preserve threatened farmland in Washington State and move it into organic production. For more information, see the PCC Farmland Fund.