PCC's Cash for the Hungry program: 15 years feeding the hungry
This article was originally published in March 2003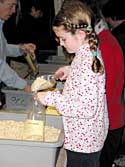 (March, 2003) — It's a simple process, really. PCC shoppers make cash donations at the check stand, and PCC Natural Markets uses it to buy bulk food in 10-50 pound. bags at wholesale prices. Then volunteers repackage the food in smaller portions at regularly scheduled work parties each year.
The packaged food is distributed to those in need through food banks in communities served by PCC's seven stores.
What is remarkable about this process isn't its simplicity, but how well it works. In 2002 alone, 76,895 pounds of food were purchased for area food banks with $47,350 in shopper contributions. As difficult as it might be to visualize almost 38.4 tons of food, imagine the more than a million servings of food that it equals (see side bar). In addition, more than 1,020 hours of labor were donated by volunteers … the equivalent of more than 25 40-hour work weeks!
The Cash for the Hungry program has been an important demonstration of PCC's commitment to the community since 1988. PCC's annual budget allocation to the program, for staff time and packaging supplies, isn't given a second thought by management, according to Laurie Lombard, director of marketing. "It's hard to imagine a more effective and rewarding demonstration of key co-op values — consumer, staff and community trust and participation — than Cash for the Hungry. Through this program, we give our customers and ourselves a way to reduce — significantly — the number of people who go hungry daily in our community."
2002 Cash for the Hungry Food Donations
 
Pounds
Servings
*Seasonal items and healthy snack foods
Cereals
& Grains
27,122
311,834
Beans & Peas
10,747
108,330
Brown
& White Rice
18,202
189,227
Pasta
7,762
73,891
Other*
13,062
340,935
Total
76,895
1,024,217
In 2002 the West Seattle Food Bank responded to more than 26,469 requests from families for food. The food donated through the Cash for the Hungry program made a significant difference in meeting the increasing need. PCC and the volunteers do a great job packaging the food and purchasing a variety of food to meet the needs of different clients. The volunteers are also great fun to work with. We are truly appreciative of this partnership.
Hunger is on the increase throughout Seattle and the Eastside. Lorrie Johnson, executive director of the University District Food Bank, reports a nine percent increase in the number of families served by her organization in 2002, due largely to job layoffs. "Cash for the Hungry provides high- quality, nutritious food and money for the Food Bank to purchase food. We are grateful for the community connection with the View Ridge store and for PCC's dedication to help alleviate hunger."
Administration of the Cash for the Hungry program has been a labor of love for Nancy Gagnat, PCC web administrator. She has been responsible for making the program grow for the past seven years, during which it won the 1995 Mayor's End Hunger Award and was nominated for the same award in 1999. "Working with local hunger issues," Gagnat says, "has given me a deeper awareness of the needs in our society. It's stunning to learn that almost 50 percent of food bank clients are children and that most families depending on food banks have at least one working parent."
Gagnat deserves a great deal of credit for her ability to develop and maintain the key relationships on which Cash for the Hungry depends. Each packaging requires timely coordination with PCC's bulk food supplier (Mountain People's Northwest), food bank directors, PCC staff and volunteers, and ongoing promotion of the program.
Gagnat's responsibilities were recently assumed by PCC Community Relations to allow her to focus on PCC's Web site, but she's not concerned about the program's future. "Cash for the Hungry is successful because of the generosity of PCC shoppers and volunteers," she says. "The program literally wouldn't exist without them. They're awesome."
Donations to PCC's Cash for the Hungry program can be made at any PCC store location; just add any amount to your grocery bill. For information about volunteering at food bank packaging work parties, call Community Relations at 206-547-1222.