PCC Farmland Fund partners to save a third farm
This article was originally published in March 2003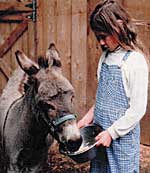 (March 2003) — The Farmland Fund is acting to save a third farm from development by making a one-year $10,000 challenge grant to a school community working to save farmland. For every $1.50 raised, the Farmland Fund will provide $1.
Sunfield, a Waldorf school community, seeks to purchase and protect an 83-acre property six miles south of Port Townsend in the Chimacum Valley of Jefferson County. They are calling their project "Land for Learning."
The farm includes 50 acres of quality farmland, 26 acres of mature forest, seven acres of wetlands and a stream. Benefactors took it off the market pending Sunfield's purchase. The 501(c)3 non-profit organization has 18 months to raise $400,000.
Another non-profit, the Jefferson Land Trust, plans to purchase a conservation easement on Sunfield Farm with a 50 percent match from the USDA Farmland Protection Program. That total would cover half the cost.
Beyond saving the land from development, Sunfield's goals are to create an active organic farm using biodynamic principles; develop land stewardship and environmental education programs for public and independent schools; initiate agricultural apprenticeship programs for young people; build a farm-based Waldorf school for pre-K to 8th grade students; and provide learning and research opportunities for all ages interested in creating balance between nature, agriculture and human needs.
By supporting Sunfield's "Land for Learning" project, the Farmland Fund continues to carry out its mission of saving farmland and keeping it in organic production while assisting the agricultural education of children.
If you would like your donation to the Fund to be part of this challenge grant, enclose a note with your gift or write your intentions on your check.
For more information about the PCC Farmland Fund, click here.