Making better food choices
Sound Consumer January 2003 | by Trudy Bialic and Harvey Varga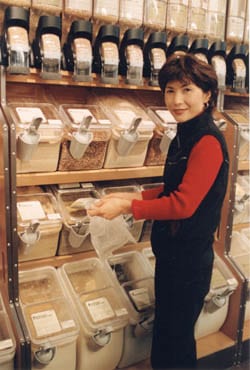 "I used to stay up late at night, drink and smoke, slug down a couple of fatty, sugary doughnuts for breakfast, survive the middle of the day on fast-food meals and reward a hard day's work with a bag of chips, some orange-colored-cheese-like product, a stick of pepperoni and a 32-oz Big Gulp."
— Dennis Weaver 12 years ago.
Today, Weaver has quit smoking, he works out regularly, drinks water, and eats only organic foods. What caused Weaver to change, reforming his shopping and eating habits? What's the catalyst for any person who begins making better food choices?
For Weaver, it began when he attended a food show with demos on everything from slicer-dicers to Ginzu knives and juicers. He saw "The Juiceman," Jay Kordich, grind up a common American breakfast, one that Weaver used to rely on — a cigarette, a doughnut, and a cup of coffee — and put little cups of that on a tray next to fresh-made juices, then offered the audience a choice. The rest is history.
Weaver bought a juicer, more interested in the presentation than the product, but confesses that juicer launched him to making better food choices.
The reformation
"He (Kordich) made it sound fun," Weaver said, "and I'm a fun-loving guy! I don't wear Birkenstocks. But every time I tried juice instead of junk food, I felt just a little bit better, had a little more energy, a little more vitality, clearer of mind, fresher of breath, lighter of step." That led Weaver on what he calls a personal journey of discovery, a passion for what he calls "Living the Good Food Life."
"I have never felt better," he beams. "Once you know how good you can feel, how you were meant to feel every day, you'll do anything and everything to preserve, defend and protect that genuine sense of well-being."
Today, Weaver is an organic food evangelist, running high-energy, high-humor "Change Your Food — Change Your Life!" shows to motivate people to make the changes that will help them "feel better, look better, and live better." His command of hard information, and the spectacle of throwing Fritos® and Coke® and preservative-laden "products" into a garbage pail, converted a hundred people to organics at just one two-hour show recently in Edmonds.
Getting started
Not every natural food eater has as dramatic a turnaround as Weaver. But, everyone has had a turning point, a time that caused them to pause and think about their future on this planet. A Roper Poll recently found that 74 percent of Americans are concerned about hidden ingredients in their food.
While such evidence suggests that the majority of Americans would like to eat healthy food, they just don't know how or where to begin. As Weaver observes, "It's doubtful that anyone ever loads up their grocery cart and pays the cashier thinking, 'I have just made some really lousy food decisions for myself and my family, and now I would like to pay for it.'"
For Lynn Ludlum, concern for the health of her family led her to seek a change in their eating patterns. She had a degree in food and dietetics, yet her son was diagnosed diabetic and she suffered from hypothyroidism and adult ADA. "I was wandering for years, through the aisles of a Piggley Wiggly in Chicago, lookin' for food! Never did find any.
So, being sick and tired, I moved West looking for a better life," she says. Ludlum saw a poster at a dry cleaning shop in Mukilteo for one of Weaver's shows, wondered what the gimmick was, but took a chance. Once she learned that choosing natural foods didn't have to mean restricting snacks or giving up favorite foods or flavors, making better food choices became a fun adventure. "Now I have organic kids!" she says. "I'm on the good food wagon!"
Heather Durst, an office manager for a local newspaper, reports Weaver's show changed her life. "Instead of begrudgingly shuffling down the aisles of a corporate supermarket pulling stuff off the shelf, I now go on organic shopping sprees. And believe me, my organic food is not a bowl of gruel as some would think! It's absolutely delicious, to savor. I'm so excited. I'm so proud of myself."
Lois Casimas says she loves organic juices and admits, "Normally, I would scream about paying $1.99 for a little bottle of juice, but it's worth every penny, and still cheaper than a latté." Casimas says she's happier now, her family loves the food, and they're all feeling better.
For most, there is difficulty in getting from wanting to change to making the change. Consumers are confused or intimidated when stepping into the unknown realms of a natural food store. Unfortunately, there are precious few bridges that consumers know about.
Help for better choices
PCC offers Natural Foods Kitchen classes, free to every member. Goldie Caughlan, PCC's Nutrition Education Manager, has taught most of them, offering a dynamic and informational class. Caughlan is a Consumer Representive to the National Organic Standards Board and a tremendous resource during these hour-and-a-half classes in PCC stores.
Caughlan conducts the class right in the aisles of PCC stores, to help customers feel more comfortable with unfamiliar foods and brands. It's a lively hour-and-a-half "walk and talk and taste" session, full of tips for shopping and menu planning. (See the Natural Foods Kitchen class schedule.)
Weaver's shows focus on "the unadulterated organic food we were designed to eat. No pills, no diets, no pyramids, no schemes — just good organic food choices." Folks are seated at tables overflowing with organic nut butters, grains, bread, pasta and sauces, fruit, vegetables, pizza, chocolate — all free for the audience to sample, enjoy, and take home.
"The faux food made in a lab by the guys in the white coats wearin' rubber gloves isn't food at all!" he hollers to his crowd, "Sodium benzoate doesn't taste good. These organic Kettle sweet brown rice and black bean chips taste good. And there's nothing in 'em but food!"
Roger Chapanis is a certified personal coach who provides "Mind, Body and Spirit Coaching." He says, "Food choices aren't just about food, really. They reflect a lot of other things, such as our personal beliefs, personal outlook, education, and goals." He works with individuals and groups to evaluate food choices and the underlying values, feelings, and needs to help the client set meaningful goals and make choices consistent with those goals.
"How do you choose what to eat?" he asks. "If you're bored, do you turn to alcohol or ice cream to allay your feelings? What needs aren't being met? If you're overweight, do you choose foods guaranteed to maintain your weight?" Food choices, says Chapanis, should be based on conscious, life-serving decisions.
What's your reason?
What propels people finally to start changing can be a myriad of things. Many parents start with milk and produce. They want to keep growth hormones in conventional dairy, and the pesticide residues from chemically-farmed produce, out of their kids' diets. Others shift to more natural foods because of food allergies or doctor's orders that dictate more wholesome and healthy food choices. Others realize the decisions made by industrial food producers lead to man-made health risks, such as Mad Cow Disease.
The 74 percent of Americans concerned about hidden ingredients in their food per the Roper Poll would seem to be ready for a conversion. The awareness is there that our bodies aren't made to deal with the food additives, artificial flavors, colors, sweeteners, synthetic preservatives or pesticides that pervade "unnatural" foods. Why does anyone wait until a change needs to be made?
Carol Ann Schultz, who took a personalized Weaver tour through the PCC Kirkland store says, "I was literally crying in the aisles after learning of the horrors of what has found its way into our non-organic poor food products. I hadn't paid attention. It's an outrage. I'm now the proud owner of a juicer and a member of PCC Natural Markets."
Weaver observes, "The natural, whole, and organic food growers, makers, and sellers have to realize they're in a war for people's lives. Corporate America is not our friend when it comes to health. Food manufacturers don't even call their stuff 'food,' but rather 'products,' 'the goods,' or 'things,' not food! Furthermore, when you choose food, instead of 'products,' it's nearly impossible to overeat. It's automatic weight management!"
In fact, Melanie Warren, a young woman who attended a Weaver show, brags, "I've lost ten pounds — the easy, tasty way!"
Research suggests organic food shoppers don't let prices be a determining factor; they want the best that money can buy and even single parents on modest incomes say they'll skimp on other budgetary items to give their food top priority. There are, however, ways to economize on many basic organic foods. (See "Ask Goldie!, Sound Consumer, Jan. 2003)
No pills, no diets, just food
The real challenge remains getting from wanting to change to changing, and change may seem hard. People do want to make better food choices and feel better. The solution is going slowly.
Weaver says, "Most people hear the word 'change' and envision some dramatic — and usually difficult — alteration. They tend to think of change as loss, instead of focusing on what they might gain from the process. Finding small, realistic adjustments are more palatable and easier to sustain than large, sweeping changes.
The real trick to healthy change is to make good food choices without giving up all the fun foods or denying your personal tastes. We walk folks through a solution and don't ever scare them by saying it will be hard, because it's not. It's fun. It's easy. It's simple."
If you're spending your money on foods you can't pronounce, make you feel lousy, and your body doesn't know what to do with after your taste buds are done, it may be time to make better food choices. There are options available for discovery and learning. Getting started can be a fun adventure. Eating will be more satisfying than ever. No pills, no diets, no pyramids necessary, just real food.
Contact Dennis Weaver at changeyourfood@hotmail.com. Contact Roger Chapanis at rogerc48@foxInternet.com.