Your co-op, August 2002
This article was originally published in August 2002
A tribute to Mel Jackson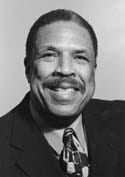 Mel Jackson died June 21, just one month after completing his term on the PCC Board of Trustees. For those of us who knew Mel, it's almost impossible to understand that such a lively, energetic, warm-hearted person is no longer with us.
Mel was born in rural Maryland and relocated to the Puget Sound area after a stint in the U.S. Army at Fort Lewis. He made his home in Tacoma for many years, graduating from the University of Puget Sound, working for the City of Tacoma and Bates Technical College, and raising his son there.
He moved to Seattle in 1996 when he became executive director of the Millionairs Club, where he remained until he took the position of Dean of University Relations at Antioch University in 2001. In addition to PCC's board, Mel served on numerous other boards over time, most importantly that of the Children's Home Society.
Having grown up on a farm, Mel retained a fondness for the land and was a quiet but generous supporter of the PCC Farmland Fund. He believed that everyone, well-off or poor, should have access to high quality, fresh food, and he saw the cooperative structure of PCC as one way to make this happen.
In his term on the PCC board, he challenged board members to see things from a different perspective, while keeping things light with his great sense of humor. Mel, we'll miss you more than you will ever know.
European officials visit PCC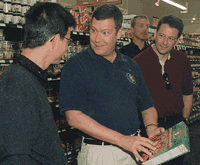 High-level officials from 11 European nations visited PCC Greenlake, exploring American attitudes on genetically engineered (GE) foods. Every one of their home nations has moratoriums or prohibitions against GE food production or sale. Delegates asked about the lack of labels on GE foods in this country, testing for GE residues, genetic drift, and the effect on global trade. PCC's Nutrition Education Manager and National Organic Standards Board member, Goldie Caughlan, fielded questions, with PCC CEO Tracy Wolpert.
The delegates are part of the U.S. State Department's International Visitor Program, run by the World Affairs Council here in Seattle. The countries represented are Austria, Belgium, Bulgaria, Denmark, Estonia, Germany, Greece, Italy, Norway, Sweden, and the U.K. (Northern Ireland).
Board in the stores
Please watch for board members in your store the week of September 7 through 14. One or more board members will be present in each store at some time during the week to listen to members and staff. A schedule of appearances will be posted in stores, the Sound Consumer, and on the website as soon as it's firmed up.
How to get in touch with us — email us at
board@pccmarkets.com
Your letters are routed to the board administrator, who forwards them "intact" to all board members.
PCC Board activities
The June 25 meeting of the board was the first meeting of the new board term. Board members introduced themselves, elected a new board chair, Chantal Stevens, and discussed work assignments for the coming year. The June meeting ended on a somber note as board members reminisced about Mel Jackson, who left the board in May and passed away June 21 (see story above).
The board met again July 30, too late for a report to be included here. Watch for more news on board activities in the September Sound Consumer.
The next board meeting will be held at 5 p.m. Tuesday, September 24, at the PCC Offices. An opportunity for members and staff to address the board is scheduled, as always, at 7 p.m.
Please note that the agenda for each board meeting is not firm until approximately one week before the meeting, and so is not available in time for publication of open session times in the Sound Consumer. Please check the website at Board meeting closer to the time of the meeting for more details on the agenda, or call the office at 206-547-1222 if you don't have Web access.
Policy governance
PCC's Board of Trustees adopted the policy governance approach to conducting its business in 1998, primarily to make its relationship to the CEO clearer and more effective. This model requires that all instruction to the CEO be in written policy form and approved by the whole board. Of the four types of policy listed on the July 2002 "Your Co-op at Work" page, two policies — Ends and Executive Limitations — are meant as instruction to the CEO.
PCC's Ends Policy:
PCC ensures member and patron access to high quality, fairly priced healthful food and other products and fosters a cooperative, sustainable environment in which organic and natural industries can thrive.
Ends-A: PCC takes positions on issues that affect our sustainable environment and communicates those positions to members and patrons.
Ends-B: PCC provides organic foods and supports organic agriculture.
Ends-C: PCC is a chain of neighborhood stores.
Ends-D: PCC's greater community will have opportunities to learn about the use, benefits, and politics of natural and organic foods, healthy lifestyles, and the cooperative way.
PCC's Executive Limitations Policy:
The CEO shall not take any action or allow any condition to exist that is unlawful, unethical, imprudent, not in the best interest of the membership, or detrimental to PCC as an ongoing business.
For further information on the policy governance model, you can visit the website, www.policygovernance.com, or feel free to contact the board administrator, board@pccmarkets.com or call 206-547-1222.