Farms and farmers: with liberty and justice for all
by Jody Aliesan, PCC Farmland Fund President and Operating Officer
This article was originally published in July 2002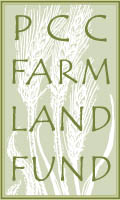 See below:
• Help support local farming, and the Cascade Harvest Coalition
• Letters to the Farmlannd Fund
• Donor List (May 1 – 31, 2002)
Back in 1776 it was small family farmers who started our Revolutionary War for independence from Britain.
The Minutemen standing on that little bridge near Concord were more concerned about crops and survival than they were about politics. But a moment came when their sense of justice was so offended that they banded together and put their lives on the line.
There's a grassroots movement afoot in our country today to protect our homeland, but in a different way. People are tired of watching loss and destruction of the productive land that feeds both our bodies and our souls. They're acting to protect American farmland, small family farmers, and our domestic food supply. Over a thousand of us support the PCC Farmland Fund. We're part of this spontaneous, peaceful, patriotic movement for independence.
Help support local farming, the Cascade Harvest Coalition, and have a berry good time
Bob Tidball of T&M Berry Farm is opening his strawberry patch to u-pickers. Part of the proceeds will support the programs of the Cascade Harvest Coalition, including Puget Sound Fresh, FarmLink and regional Harvest Celebrations. The highly desirable "Puget Summer" strawberry will be ripe and ready. It far outshines those tasteless, hollow berries from the nether regions. Bob uses no sprays!
Picking is from late June to mid-July, depending on the weather. Dates will be posted on the Coalition's webpage, www.cascadeharvest.org, or call the farm at 253-941-1435.
T&M Berry Farm is one of the last remaining berry farms in the Kent Valley. From Hwy 167, take the Willis Street Exit. Turn East on Willis and right on South 3rd Street that becomes 78th Avenue South. The Farm is located about 1.5 miles down the road. Look for the farm signs.
You may notice signs on the way that say the road is closed. It is not! If you're interested in volunteering to pick berries or staff the farm stand, please contact Mary Embleton at 206-525-1098 or mary@oz.net.

Hello, I'm a longtime PCC member. Love my co-op, love the Farmland Fund. Happy to know that the Delta Farm is out there and I will be buying those sweet carrots this summer. I bought one of the postcards with a photo taken by Nash Huber. I want permission to enlarge that photo to 11″ x 17″ and put it up in my cube here at Eddie Bauer with a caption with the name of the farm and then the name of the Farmland Fund.
— Anna Dickinson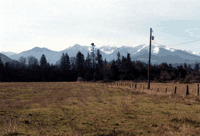 The Shipley Fields: forty more acres sounds like a lot until you actually stand on it. From the perspective of my own five acres, I know how terribly little it really is, which is why you can look forward to getting a payroll deduction increase note from me early next week.
— Bryan M. Booker, PCC View Ridge staff
Thank you … a million times!! There has been great concern about the fate of groundwater quality if the "Shipley fields" (Robb farm) were developed residentially and your efforts put much of that concern to rest. The aquifer we all use for drinking water is very susceptible in that area.
— Ann Soule
Groundwater Specialist/Water Resource Planner
Clallam County Natural Resources Division
Donor Roster (May 1 – 31, 2002)
Anonymous: 12
Diane and Steve Adam
Miki Adams
Stephan Anacker and Lisa King
Michael August
Mary A. Berg
Paul Buzzo
Ginelle Cousins
Sally Deneen
R.D. Dickerson
Theodore A. Dodge
Brent Ewing and Kelly Sanderbeck
Bruce Galvin
Gretchen Graybeal
Carol Hartman
Mary Jane Helmann
Virginia A. Kelley
E.C. Louise Larson
Ronald Long
Judi Martin
Laurie McMillan
David and Joann Meeds
Bil Moorhead and Margo Leishman
Don Myhre
Diane and Mickey Nichols
Eileen O'Reilly Miller and Kip Miller
Michelle Quigley Pearson
Christina Purdy
Carol A. Riddell
Susan C. Robinson
Carla Saulter
Sarah Seltzer
Linda K. Shaw
Helen Baker St. John
Sarah Sherertz
Mark C. Svore, DDS
Laurie Swanson
Holly Thomas
Nancy and Mark Tucker
Barbara Warden
Mitchell Weeks
Jennifer Winters
Sadie and Frank Yamasaki
Wendy S. Zieve
PCC staff:
More than one hundred PCC staff members make voluntary payroll deductions twice a month. Bryan M. Booker and an anonymous staff member increased theirs, and Mark Frasher made an additional gift.
In honor, for Mother's Day:
Robin Galvin
Patricia Galvin
Businesses and Organizations:
Annie's Homegrown
Microsoft (matching)
Organic Valley
TalkingRain
Tony's Coffee
The PCC Farmland Fund works to secure and preserve threatened farmland in Washington State and move it into organic production. For more information, see the PCC Farmland Fund web page.