Having heart and keeping faith
by Jody Aliesan, PCC Farmland Fund President and Operating Officer
This article was originally published in February 2002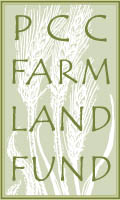 * * POSTPONED — Fence-pulling party
To be on the update list, contact farmlandtrust@pccfarmlandtrust.org.
Now's the time to pick the next farm we will save. This month the Farmland Fund will continue talking with private parties, land trusts and government agencies to identify land, partners and strategies.
All around us farms and farmers are threatened by development. Time is short. Our priorities are: prime quality soil, a functional landscape, wildlife habitat and rural community.
We want to use the full power of every dollar you have provided.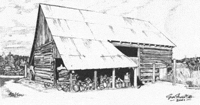 Sketch by Sue Short
The Albert Haller Barn
Sue Short renders pencil drawings of past and present barns in the Sequim-Dungeness Valley to highlight their beauty and preserve their memory. "The Haller Barn is one that my siblings and I played around while Dad and Albert played cribbage," says Short. "I don't remember ever playing inside of it, but we did catch trout in the pond south of it." Contact Short at ad_art@webtv.net, 360-582-9519, or 461 W Bell Street, Sequim, WA 98382.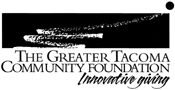 The Starr Family's gift arrives through the Greater Tacoma Community Foundation
The Starr Family contributed $1,000 to preserve farmland through its Fund with the Greater Tacoma Community Foundation. The Foundation, honored as the "Outstanding Philanthropic Organization of 2001" by the Washington Chapter of the Association of Fundraising Professionals, has been serving its community for 20 years.
Funds such as the one created by the Starr Family support civic programs, arts and culture, education, the environment, health and social services. For information, visit www.tacomafoundation.org or call 253-383-5622.

Custom Pure, the water store, supports Farmland
Custom Pure provides and maintains the bulk filtrated water dispensers in all PCC stores. Since 1992, customers have been bringing in their own bottles or purchasing new ones to fill with water from Custom Pure. "Our water filtration equipment removes the fluoride, lead, chlorine, chemicals and many more contaminants," say owners Pat and Jim Fox.
Here's what they have to say about their gift: "Thanks to our involvement with PCC we've been introduced to the wonderful array of organic fruits and vegetables. After just a couple of years at PCC we became vegetarians. We are supporting the Farmland Fund in order to help preserve precious land for organic farming.
"Development is running rampant and land values are skyrocketing. If you have the means, we urge you to make a donation to the PCC Farmland Fund. It will truly make a difference, ensuring that organic produce will continue to be available in the future. By giving to the Farmland Fund, you support the people who nourish us."
Farmland Fund Highlights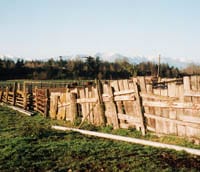 * * P O S T P O N E D * *
The event below has been postponed.
Fence-pulling party — To be on the update list, contact farmlandtrust@pccfarmlandtrust.org or call Jody Aliesan, 206-547-1222.
Join Fence Pullin' Party on the Delta Farm — Saturday, February 23
Help open up the land for planting crops and trees. Biologists are designing a master plan for habitat restoration on our Delta farm. Pulling the old cattle fences is a significant first step in this process. Farmer Nash Huber and his crew at Dungeness Organic Produce will direct operations with their usual good cheer. Lunch will be provided, along with a talk by Paula Macrow of the North Olympic Salmon Coalition. We'll see a big difference at day's end. For directions, carpooling, suggested clothing and equipment and all other questions, call 206-547-1222.
Thank the Farmer campaign report:
In November and December, the Fund mailed a thank you card to a Washington organic farmer for every gift received. Donors contributed $5,310 in gratitude for the fresh, organic produce on our tables. The local farmers who make this possible opened 180 cards with your messages written on them.
Donor Roster (December 1 – 31)
Anonymous: 26
Jack B. Albrecht
Anne Armstrong
John and Judy Armstrong
Eric and Danna D'Asaro
Michael August
Greg Barnes
Esther Bartfeld and Roger Wynne
Martha Beard
Ann and Earl Beede
Dave Berner
Rosemary Bezzo
Dan Borroff
Bill and Kelly Bryant
The Carow Family
Robert Casper
Pablo and Pierre Cat
Shauna Chambers
Carolyn Wren Clark
Nancy Crain
Gary and Sara Houston Culver
Betsy Davis
Renko and Stuart Dempster
Kim Duddy
Jane Eiseman
Brent Ewing and Kelly Sanderbeck
Margaret Mary Fargo
John and Michele
Fawcett-Long
Brynnen L. Ford and Jonathan W. Brown
Polly Freeman
Lisa C. Friede
Bruce and Matt Galvin
Karen Gardner
Kathryn Gardow and David Bradlee
Betsy W. Geist
David Gross and Kelly Sweet
Betha Gutsche
Chris Gutsche
Karen Hardiman
Betsy Hoffmeister
Alicia Hokanson
Julie James
David and Ellen Jenner
Melinda Jones
Pam Kalian
Corinne Kelly
Ronda Larson
Martha Logan
Shannon Markley
Bob Meyer
Jennifer M. Miller
Carole Moranty
Eunice Nakao-Tribelhorn
Heidi Neff
Beverly A. Osband and Eberhard Riedel
Robin D. Ozerkis
Karen G. Peissinger
Patti Pitcher and Steve Hall
Mace and Stacy Roberts
Pam Round
Dunja and Mark Ruljancich
Jerry Rutherford
David Ryynanen
Mary L. Sebek
Enid Miller Slivka
Ina Smith
Kathleen Smith
Kirsten H. Sogge
Chantal Stevens and Dennis Wajda
Helen Baker St. John
Loretta H. Taylor
Martha Taylor
Barbara Tice
Joan and Lou Truskoff
Nancy and Mark Tucker
Henri Van Elewyck and Lea Florus
Harvey Varga
Edward H. Vickers, Sr.
Lex Voorhoeve and Marjon Riekerk
Ed Waldock
Judith I. Waller
John Watson
Nancy Whitney
Anne Willard
Laurie and George Yamamura
PCC staff
More than 100 PCC staff members make voluntary payroll deductions twice a month. Stephanie Steiner started hers; Debra Daniels-Zeller makes monthly gifts beyond her payroll deduction; and Carol Reid contributed her PCC anniversary gift.
Foundations:
Aldermere Foundation
In honor:
Michael and Patty Barile
The Barrientos Family
Donna Bevan-Lee, Ph.D.
Annie, Doug, Roan and Jessica Bibby
Pearl and Marcus Bradlee
The Christen Family
Burt Culver and Robin Jacobs
Robin Galvin
Andrew Kavanaugh George
Kevin Patrick George
Gail and Doug Hilderbrand
Jean Thomas Houston
Liz Knowles and Elise Johnson
Dawn Mere-Ama and Phebe Jewell
Anne and Harry Kirschner
Barbara Ann Meyer
Salvador T. Rager
Rieley Roberts
Sharon Schubert
Anne Siems and Tom
Paul Stoner
Megan Syvrud
Candace Vance
Elizabeth M. Watson
Michael and Tarisa Whitney
Steve and Debbie Whitney
In memory:
Mary Jean Moyer Bach
Harry Cropsey
Doris H. Duddy
Princess Tabi
Businesses and Organizations:
A Moveable Feast   
   Custom Pure – The Water Store   
   Omega Nutrition   
   Peg Ferm Design   
   Plymouth Poultry Company   
   Rainier Investment Management, thanks to Miranda Kahn   
   Stiebrs Farms: The Egg People
The PCC Farmland Fund works to secure and preserve threatened farmland in Washington State and move it into organic production. For more information, see the farmlandtrust@pccfarmlandtrust.org.