Your guide to a natural holiday meal
by Goldie Caughlan, PCC Nutrition Education Manager, and contributions from Rita Overton, PCC Guest Editor
This article was originally published in November 2001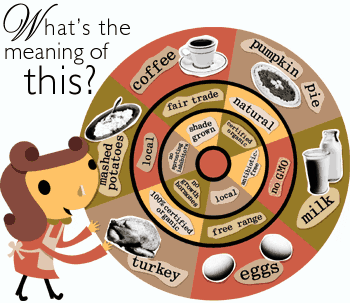 See also in this article:
Definitions and resources
Websites of interest
It's no doubt that the first harvest feast we now call Thanksgiving was celebrated with foods that were wholesome and natural.
As we look toward recreating that famous meal with our own friends and family later this month, our search for those same good foods is a bit more complicated.
Sure, you and I won't be hunting that turkey, grinding that corn, and wading the cranberry bogs as our forebearers did. Today's hunt involves sorting through the marketing claims that blur the definition of what's natural, whole and good for the Earth.
Most of us (at least — ahem! — in my generation) remember the "Good Housekeeping Seal of Approval." It was part marketing scheme, part consumer protection. With the glut of new goods flooding the post-war market, it gave consumers some guarantee that what they were getting was worth it.
Today, all the claims of wholesomeness, safety and superior nutrition can be mind numbing. Gathering the ingredients we need to create a down-to-earth Thanksgiving meal can seem more like a spin of the roulette wheel than a simple trip to the grocery store.
That first Thanksgiving was a celebration of survival in a new land that sustained a marvelous variety of delicious, but unfamiliar foods. What better way to honor that tradition than to take the feast back to its roots? PCC Natural Markets is committed to carrying an assortment of foods that not only feed our bodies and souls, but also sustains the beautiful land in which we live.
We'll help you sort through the labels and claims as you plan your eco-feast. As you move through the options, consider how a natural Thanksgiving can help you nourish your friends and family as well as nurture the land from which it came.
Poultry
Will you serve free range or organic? They're not the same.
Free range is defined by the USDA as poultry with "access to outside." The USDA doesn't specify a minimum time requirement. The term "free range" can be applied only to poultry. Diestel and Shelton offer free-range turkeys. Free-range chickens are offered by Ranger of Washington and Rocky of California. (Rocky Jr. chickens aren't technically free range, but are allowed to roam inside a large barn and are not caged.)
Certified organic is free range, and in addition is fed 100 percent certified organic feed from day one. This means non-GMO feed. Organic regulations also exclude antibiotics. Turkeys are available at PCC under the Shelton and Diestel brands. PCC carries Rosie the Organic Chicken from Petaluma Poultry Company.
No hormones. A special note: Watch for meaningless labels on chicken that make this claim. Unlike cattle, poultry never were fed hormones for quicker weight gain.
Pork
"Grown without antibiotics, hormones, vaccinations or vermifuges." This USDA-approved label on Beeler's Natural Pork at PCC means that Beeler's excludes the use of such drugs in production.
Beeler's is particularly proud of its delectable "Hog Wild" ham, uncured, without nitrites or nitrates — a fresh ham with a melt-in-your-mouth flavor! Beeler's is one of the very few pork producers who can make these strict claims. Watch out for pork touted as "natural" or with "no detected residues."
PCC's beef comes from Oregon Country Beef, a cooperative of 41 family ranchers. Growers certify the following:
Range-grazed cattle, like free-range chicken, are not raised in confinement. For cattle, this also means a shortened final feedlot time. No growth hormones. Most beef grown in the U.S. is produced with steroids and hormones that studies have shown can threaten human health. Such drugs are banned in the European Union and nearly every other industrialized nation. No antibiotics. Illnesses rarely occur, but if a calf does get sick, it is removed and treated and normally removed from the program.
No by-products. The cattle are never fed animal by-products. Such practices have been documented as associated with Mad Cow disease.
Sustainable methods. Protects salmon runs and "riparian zones" in grazing areas. There is evidence that animal antibiotics and other drugs used in conventional meat and dairy production are showing up in our streams and lakes; nearly half the antibiotics in this country go into feed for livestock.
Organically grown. Produce with an organic certification have met a series of standards that prohibit the use of chemical fertilizers and pesticides, among other practices.
Transitional-to-organic are crops that are grown with organic standards, but are in land that hasn't yet been certified. It takes three years of organic growing practices before a farm can be fully certified organic.
Conventional is how the majority of U.S. crops are grown.
Again this year, you can choose conventional or certified organically grown cranberries. Look for the Ladybug organically grown cranberries in the PCC produce section.
What's Thanksgiving dinner without mashed potatoes? Choose from several varieties bearing a label "Certified Organic" — grown in Washington State to boot! Organic standards exclude all post-harvest chemicals that the conventional potato industry uses to inhibit sprouting. So relax and enjoy those delicious, nutrient-rich potato skins!
You can always find certified organic sweet potatoes and yams, and an abundance of organic salad greens at PCC. We also carry organic sugar-pie pumpkins from Rent's Due Ranch in Stanwood, Washington. Our produce signs include information about origin and sometimes the grower.
In making your pumpkin pie, start with organic pumpkin. Choose fresh, or canned — you'll find many fine varieties available at PCC. Consider the other ingredients too, especially the eggs and dairy (see below: Environmental Labels).
Origin codes. As winter deepens, some organic produce is less available, replaced by conventional goods from California, Mexico and elsewhere. Look for the state or origin code on our signs to help you choose items that decrease the distance food travels, to reduce use of transportation and fuel and to strengthen local agriculture.
"Local," or "Northwest" or "Puget Farm Fresh." Stay local! PCC prides itself on supporting local farmers, and this is one way you can help. The program includes highlighting specific farms and farmers, such as Scott Leach's AppLeachDay apples, Nash Huber's Dungeness Organic Produce (especially Nash's Best Carrots) or Rent's Due Ranch or Full Circle Farm for the freshest organic produce. Such eco-relationships are bonuses, over and above organic status.
Eggs and Dairy
All PCC eggs are certified to be from hens fed no antibiotics and only vegetarian feed.
Certified organic eggs. The 100 percent certified organic label assures hens are fed all-organic food and are free range. Stiebrs Go Organic eggs are certified organic as are Chino Valley Organic Omega-3 Eggs.
Free range. Check the labels as some hens are "free range," while others are caged. Stiebrs Sunrise Fresh eggs are from free-run hens in open hen houses; Fry & Try eggs are from hens commercially raised in community cages. All are given vegetarian feed.
Certified organic milk. To earn an organic designation, farmers must use no GMO corn or soy in the feed and no rBGH or rBST growth hormones. Some dairies label this information, others do not. Absence of the statement does not imply that the dairy uses hormones. Most simply don't make a statement on the label. To the best of PCC's information, all the fresh milk and cream we sell is from cows that are never given growth hormones. Organic standards exclude this substance by statute.
Organic milk is available at PCC from three suppliers: Organic Valley, Horizon and Organic Life. There are also numerous brands of certified organic soy, rice and other dairy substitutes.
Coffee
Several considerations make this one complicated!
Shade grown (also called "bird friendly") means that the coffee trees were planted under a canopy of higher foliage essential for migratory bird habitat. In the past few decades, most coffee was grown on clear-cut plantations. Migratory bird losses documented by the Smithsonian institute and Audubon Society led to natural, shade-grown coffee as the obvious solution.
Fair trade certification by the international, independent organization known as "Trans-Fair" addresses social justice issues of working and living as a producer and guarantees a fair price for products.
Certified organic. The Organic Food Production Act (OFPA) of 1990 and the USDA Final Rule for organic regulations to be implemented in October 2002 does not include language to address social justice or fair trade issues, nor do they require shade grown coffee. Although these objectives are important issues, they're outside the scope of the statutory authority of the OFPA of 1990.
All bulk coffee at PCC is organic and shade grown, as are some packaged brands. Equal Exchange and Tony's combine organic, shade-grown and fair-trade certifications in their lines.Did the original settlers have so much to digest? No, at least not when gathering their food.
Definitions and resources
Excerpted from the Consumers Union (CU) Guide to Environmental Labels. The CU points out it can give a "fully acceptable on all criteria" rating only to the USDA Certified Organic program at this time.
The best eco-labels are seals or logos indicating that an independent organization has verified that a product meets a set of meaningful and consistent standards for environmental protection and/or social justice. Organizations establishing standards and deciding who can use a logo should not have any ties to and should not receive any funding from the sale of certified products or contributions from logo users beyond fees for certification. Employees of [such] companies should not be on the board of directors of the certifier …
Self-certified (first-party) labels: "issued by the manufacturer with no independent review." These can be useful, but where there's an established relationship and trust, clearly this is viewed as the weakest form of labeling from most consumers' point of view.
Second-party labels: "those issued by industry, trade or membership associations." In this model, the group may develop the standards, but be certified by the independent, or third-party certifier.
Third-party labels: "issued by organizations that are truly independent from the product … decision-makers have no ties to the industry … no financial involvement."