Poll of American voters: 69 percent concerned about loss of farmland
Sound Consumer September 2001 | by Jody Aliesan, PCC Farmland Fund President and Operating Officer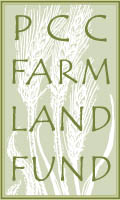 According to a new poll released by the American Farmland Trust:
69 percent of American voters are concerned about loss of farmland to development.
71 percent are concerned about pesticide residues on their food, 67 percent about unsafe meat, 64 percent about genetically modified food and 63 percent about contaminated drinking water.
81 percent of American voters want their food to come from within the United States. A majority (52 percent) wants their food to come from their own state.
Additional information is available at www.farmland.org, including a powerful short "flash" movie that says it all.
October Farm Day!
Saturday, October 6 is Western Washington's annual Farm Day! Farms all down the western side of the Cascades and over on the Olympic Peninsula are celebrating with open houses and tours. One of the many hosts will be Nash Huber's operations at Dungeness Organic Produce near Sequim, just up the road from our Delta Farm. Call the Farmland Fund at 206-547-1222, x140 for hours and directions. Celebrate the harvest and introduce yourself to Nash and his crew. They'll help you meet the beautiful fertile land we've saved for organic farming forever.
Farm Bill 2002 now in U.S. House of Representatives
The Fund supports rewarding farmers for environmental benefits from good stewardship practices on active land.
Congressional allies of sustainable agriculture are shaping the U.S. Farm Bill for 2002 in support of conservation. If they are successful, conservation programs will account for 40 percent of the agricultural bill, making environmental issues the key to government support for farmers over the next decade.
"Farmers are the best stewards of the land, but we have not given them the resources they need for conservation," says Representative Ron Kind, Democrat of Wisconsin. "Half of the land in this country is owned by farmers," he adds, so the potential is great.
Rep. Kind and Representative Wayne T. Gilchrist, Republican of Maryland, lead the effort for increased financing for programs to preserve farmland in the path of urban sprawl, protect wildlife habitat, manage manure, pesticide and fertilizer runoff into water supplies, and conserve grasslands.
Current subsidy payments are not equitable. A small number of large-scale farmers in only 10 states receive more than 70 percent of the subsidies for planting a few commodity crops such as corn, wheat and soybeans (see NewsBites). The majority of farmers, including vegetable and dairy farmers, are ineligible These excluded farmers apply for assistance through existing voluntary conservation programs, but two of every three applicants are turned away for lack of funds.
Among the supporters of a conservation-based Farm Bill 2002 are the American Farmland Trust, the Center for Science in the Public Interest, Defenders of Wildlife, Environmental Defense, Environmental Working Group, National Campaign for Sustainable Agriculture, National Governor's Association, Trout Unlimited, and, of course, the PCC Farmland Fund.
Inform your Representative of your support for conservation in Farm Bill 2002! For more information:
– www.sustainableagriculture.net
– www.environmentaldefense.org/programs/ Ecosystems/AgriReform/index.html

Seeds of change drawing winners!
Grand Prize: Trip for two to Santa Fe, New Mexico, including round-trip airfare, two-night hotel stay, $300 spending money, meals, and a tour of the Seeds of Change organic farm. The winner is Laurie Winogrand, Greenlake shopper!
Seven first-prize winners (one from each store) will have $100 donated to the Farmland Fund in their names. Each of them will also receive a Seeds of Change baseball cap and t-shirt.
Twenty second-prize winners will receive a Seeds of Change baseball cap, and thirty third-prize winners will receive a Seeds of Change t-shirt.
Betty Hughes Member Challenge: 75 percent of the match redeemed!
Betty matches every dollar PCC members give to the Fund with 50 cents of her own, up to a combined total of $45,000. The challenge lasts through October 2001.
Donor Roster
(July 1 – July 31)
Anonymous: 9
Grace Ackerman
Kathy Albert
Stephen and Kathleen Appleyard
Christine Chalupa
Gordon Collins
J. Elizabeth Davis
Kim Duddy
Cecilia Finnigan and Patrick Daugherty
Rev. Candace Frank
Jennifer Getchell-Durante
Judith Hance
Mary Lou Harper
Bernice Harris
Shannon Healey
Diane Hennessey
Joan and Mark Klyn
Luella McLane
Robert Messina
Pamela J. Murphy
Courtenay Newton
Francis R. Posel
John M. Reinke
Carol A. Riddell
Jim and Loretta Scott
Barbara Tubb
Nancy Tucker
Paul and Susan Weinstein
Julia Wight
PCC staff
More than one hundred PCC staff members make voluntary payroll deductions twice a month. Angelle Boulet and Marilyn McCormick increased their deductions and Roxanne Winship contributed her PCC Anniversary gift.
Businesses
Badger Mountain Vineyards
Blue Willow Tea Company
Microsoft (matching)
In honor
Dave English
Designate the PCC Farmland Fund in your United Way workplace giving!