PCC Natural Markets Sets Sights South
2017 News
(SEATTLE, Apr. 5, 2017) – PCC Natural Markets (PCC), the largest community-owned food market in the U.S. and one of Seattle's original grocers, today announced plans to open a new location in Burien, Wash. Located in Five Corners Shopping Center at 15840 1st Ave. S., the approximately 20,000 square foot store will open in early 2018 and bring around 100 jobs to the surrounding communities.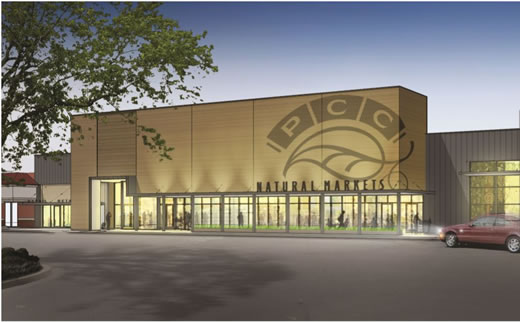 Graham Baba Architects
"My inbox is filled with requests for more PCC locations, and our members in Burien, Normandy Park and Des Moines are among the most vocal," said Cate Hardy, PCC Natural Markets CEO. "This is such a vibrant region of diverse tastes and food traditions along with thriving farmers markets. We're delighted to bring PCC to this growing community."
Like PCC's other 11 area locations, the Burien store will celebrate fresh, local, organic, seasonal and sustainable produce, meat and seafood; dishes made from scratch onsite every day in the PCC Kitchen; product standards that keep the store shelves honest; and store staff who are knowledgeable and attentive. PCC also will expand its food bank initiative, hot food and grocery rescue programs, local donations and school fundraising.
In addition to its made-from-scratch deli dishes, hot food bar, and salad bar, Burien PCC will feature the PCC Taqueria, where customers will find seasoned fillings like pork adobado, beef barbacoa, roasted squash and garbanzos, and chicken verde made with Non-GMO Project Verified chicken. Sides will include rice and beans, plus aguas frescas and freshly prepared salsas.
The PCC Café will serve hot coffee and tea beverages as well as baked goods made fresh from scratch daily. These treats will include seasonal galettes and the PCC crownie — a brownie, chocolate chip cookie hybrid drizzled with caramel. The store will serve Burien, Des Moines, Normandy Park, Sea-Tac, White Center and areas in-between.
The Burien PCC project will be the first designed for PCC by Seattle-based Graham Baba Architects. The firm will also design the co-op's West Seattle and Madison Valley stores.
Since 2013, PCC has added new locations in Seattle's Green Lake and Columbia City neighborhoods and, last year, in the city of Bothell. It plans to open its 13th store in Seattle's Madison Valley neighborhood in 2019. The community-owned food market also complemented store growth with the addition of online delivery in 2016 through partnerships with Instacart and Amazon.
About PCC
Founded in Seattle in 1953, PCC Natural Markets (PCC) is the nation's largest cooperative food market. Community-owned and open to all shoppers, PCC has an active membership that spans more than 58,000 households. With 11 stores in the greater Seattle area, PCC operates stores in the cities of Bothell, Edmonds, Issaquah, Kirkland and Redmond. Its six Seattle stores are in the neighborhoods of Columbia City, Fremont, Green Lake, View Ridge and West Seattle. PCC also plans to open new stores in Burien in 2018 and Seattle's Madison Valley neighborhood in 2019. Named WholeFoods Magazine 2016 Retailer of the Year, PCC gives 15 percent of its after-tax net earnings back to the communities it serves. For more information about PCC, or how to have PCC delivered to you via Instacart or Amazon Prime Now, visit: Website, Pinterest, Facebook and Instagram.
Media contact
Laura Ray

On Behalf of PCC Natural Markets

Email

206-715-4888