Help a neighbor in need: donate your warm clothing to the Mister Rogers Sweater Drive
2016 News
(Seattle, Wash.) — Help those in need this winter by donating new or gently worn sweaters, coats and cold-weather gear to KCTS 9's 19th annual Mister Rogers' Neighborhood Sweater Drive, running from January 11 through February 7. The donated items will benefit Wellspring Family Services, Queen Anne Helpline and Northwest Center.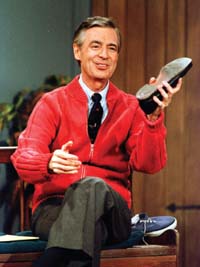 Look for the Mister Rogers' Neighborhood Sweater Drive collection bin at any PCC Natural Markets location or Sound Credit Union location in Western Washington; or drop your items off at KCTS 9's Seattle Center studio. Warm clothing for children and teens is greatly needed, but all new or gently used adult and children's sweaters and coats will be accepted.
"All of us, at some time or other, need help," said Fred Rogers. "Whether we're giving or receiving a sweater, each one of us has something valuable to bring to this world. That's one of the things that connects us as neighbors—in our way, everyone is a giver and receiver."
Fred Rogers began the sweater drive and inspired its spirit of generosity and neighborliness for six years before he passed away in 2003. His red sweater (knitted by his mom) and tennis shoes bring to mind comfort, care and joy in learning for millions. KCTS 9 is honored to continue the program in his memory. Last year's Mister Rogers' Neighborhood Sweater Drive collected more than 7,900 sweaters and coats—more than 10,000 pounds of warm clothing!
About PCC Natural Markets: Headquartered in Seattle, WA, PCC Natural Markets is a certified organic retail cooperative with annual sales of more than $230 million and an active membership of more than 54,000 households. PCC operates ten neighborhood locations; nine in King County including Columbia City, Fremont, Greenlake Aurora, Greenlake Village, Issaquah, Kirkland, Redmond, View Ridge and West Seattle, and its Edmonds store in South Snohomish County.
About Sound Credit Union: Sound Credit Union is a member‐owned financial institution open to anyone who lives or works in Washington State. Founded in 1940, Sound serves the personal financial needs of more than 100,000 member-owners. Sound Credit Union is headquartered in downtown Tacoma with 24 branch locations throughout the Puget Sound area from Lynnwood to Tumwater.
About KCTS 9: KCTS 9 brings quality public media programming to the public when and where they need it—on the air, online, and in our communities—serving more than 2.2 million viewers each week in Western and Central Washington State, British Columbia and across Canada. To learn more about our programs and initiatives, visit KCTS9.org.
Media contact
Tom Monahan, Marketing Manager

PCC Natural Markets

Email

206-547-1222, ext. 189