Cate Hardy Named CEO of PCC Natural Markets
2015 News
(Seattle, Wash., January 20, 2015) – PCC Natural Markets (PCC) has announced the appointment of Cate Hardy as chief executive officer, effective January 23, 2015. Ms. Hardy brings more than 15 years of retail experience in general management, retail operations, supply chain, growth and store development, and strategy. She was selected following a national search conducted by PCC's Board of Trustees. She joins PCC from Starbucks Coffee Company.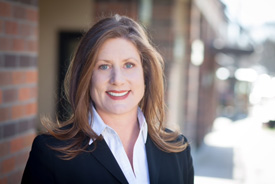 "We welcome Cate's experience and leadership at a pivotal time in PCC's history," said Randy Lee, PCC's chief financial officer, who has served as interim CEO since May 2014. "Her background and values are ideally suited for guiding PCC's growth in an increasingly competitive environment, and to strengthening PCC's triple bottom line business approach."
Ms. Hardy was with Starbucks for 9 years and most recently held the position of vice president of operations. She also held vice president roles for global commercialization, customer service, and global store development, as well as director positions in store development and strategy for the Seattle-based coffee company. Prior to Starbucks, Ms. Hardy was a vice president at Washington Mutual and a management consultant with McKinsey & Company and Deloitte.
"PCC is recognized and admired in the Pacific Northwest as a natural foods retailer that has achieved continual success through high product standards, sustainable business practices, and putting its community of members, customers, growers, and suppliers first," said Ms. Hardy. "I am thrilled to be joining this regional and industry leader, and look forward to working with PCC's team of dedicated and talented employees to continue PCC's record of growth and impact."
Ms. Hardy earned an MBA from the University of Chicago Booth School of Business, and a bachelor of science in accounting from the University of Florida. She serves on the board of Seattle-based FareStart, a culinary training and job placement program for homeless and disadvantaged individuals.
About PCC Natural Markets: Headquartered in Seattle, Wash., PCC Natural Markets is the nation's largest certified organic retail cooperative with annual sales of $230 million and an active membership of more than 54,000 households. PCC operates ten neighborhood locations; nine in King County including Fremont, Greenlake Aurora, Greenlake Village, Issaquah, Kirkland, Redmond, Seward Park, View Ridge and West Seattle, and its Edmonds store in South Snohomish County. pccmarkets.com
Media contact
Diana Chapman
PCC Natural Markets
Email
206-547-1222, ext. 106
206-390-6657 (cell)