PCC Natural Markets opens tenth store in Seattle's Green Lake neighborhood
2014 News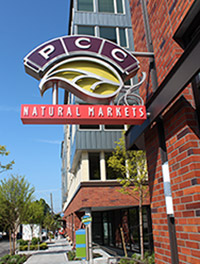 Seattle, Wash., May 27, 2014 — PCC Natural Markets (PCC) will open the doors of its tenth store on Wednesday, June 4 at 9 a.m., one block east of Seattle's Green Lake Park, at 450 NE 71st Street.
The opening of the Greenlake Village PCC will be preceded by a ceremonial ribbon-cutting by Seattle City Councilmember Mike O'Brien at 8:45 a.m. The public is invited to attend.
The new 27,000 sq. ft. PCC is the anchor tenant in Green Lake Village, a new multi-use project developed by Lorig Associates that combines retail, residential and public open space, as well as underground parking. Green Lake Village occupies the more than three-acre property still owned by the families that owned and operated the Vitamilk dairy that closed in 2003 after 63 years in business.
"PCC is happy to offer Green Lake neighborhood residents and visitors another convenient place to shop for delicious fresh, natural food and organic products," said Raymond Glandon, store director of the new PCC. "We look forward to serving our customers – and to offering classes through our internationally-acclaimed PCC Cooks program – at both our Greenlake Village and Greenlake Aurora locations."
PCC announced its plans to be part of the Green Lake Village project in April 2012. The largest PCC to-date, the new store will offer a full-line of natural and organic grocery products, as well as a wide variety of prepared foods and grab 'n go deli items made fresh daily and on-site, including pizza, smoothies, espresso drinks, and salad, soup and hot food bar choices. Several new local suppliers and more than 500 new products being introduced to PCC shoppers at the new store soon will be offered at other PCC locations.
The store itself embodies a number of environmentally-responsible features to minimize its carbon footprint,
yet maximize the shopping ambience. The store development team included Seattle-based VELOCIPEDE Architects and Bruce Hale Design Studios, and Woodman Construction (Bellevue, Wash.).
Business hours will be 6 a.m. to Midnight daily after opening day, and the store will be staffed by 130 full and part-time employees. Classes offered through the PCC Cooks program will begin at the Greenlake Village PCC on June 20.
PCC partners with local food banks in each of the neighborhoods it serves to provide nutritious bulk food, purchased with shopper donations. PCC has added a new partner for its Greenlake Village store, North Helpline Food Bank. Food packaging work parties are held at PCC Food Bank Program partners throughout the year.
About PCC Natural Markets: Headquartered in Seattle, Wash., PCC Natural Markets is a certified organic retailer with annual sales of more than $200 million and an active membership of more than 52,000 households. PCC operates ten neighborhood locations; nine in King County including Fremont, Greenlake Aurora, Greenlake Village, Issaquah, Kirkland, Redmond, Seward Park, View Ridge and West Seattle, and its Edmonds store in South Snohomish County. pccmarkets.com
Media contact
Diana Chapman
PCC Natural Markets
Email
206-547-1222, ext. 106
206-390-6657 (cell)