PCC Natural Markets partners with WISErg to turn food scraps into organic fertilizer
2012 News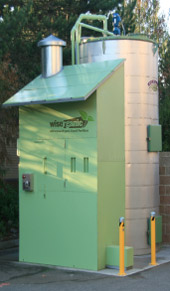 (Issaquah, Wash., May 8, 2012) — PCC Natural Markets (PCC), the nation's largest member-owned grocery retailer, has selected its Issaquah store for the first on-site food scrap "harvester". The pilot project is in partnership with local clean technology firm WISErg Corporation.
WISErg has developed sophisticated technology that provides a simple solution to the mountains of food scraps discarded daily by grocery stores. This two step process includes an on-site, sealed harvester that grinds the food scraps as well as a finishing process that results in an organic liquid fertilizer with bio-stimulatory effects, called WISErganic. It's sourced from PCC's own food scraps and available for sale to PCC customers in all nine of the market's locations.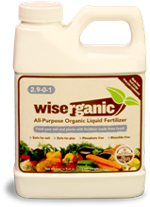 "It was important to me and co-founder Jose Lugo to find opportunities to use our years of technology experience in ways that offer local solutions to complex environmental and community problems," said WISErg CEO Larry LeSueur. "We are thrilled that PCC managers and members share our vision of sustainability through re-use, recycle and repurpose."
The innovative harvesting technology has been quietly on-site for six weeks and continuous digital monitoring and feedback confirms that the harvester performs well. The base fertilizer has also been subject to early testing at Washington State University. The goal to produce an organic fertilizer with bio-stimulatory effects that can compete with consumer-oriented synthetics, both in terms of cost and efficacy, appears within reach. The fertilizer also improves soil health, unlike petroleum derived synthetics.
The WISErg Harvester unit onsite at the Issaquah PCC store is the result of two years of research and development by WISErg. The technology offers the opportunity for grocery stores to lower their carbon footprint by significantly reducing the volume of food scrap waste transported offsite by truck by grinding and liquefying on-site in the sealed system.
"The WISErg Harvester enables businesses like ours to turn the problem of food scrap disposal into an opportunity for our communities and the environment," said Tracy Wolpert, PCC's CEO.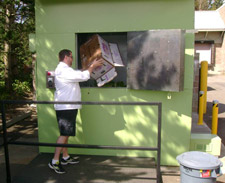 According to the Environmental Protection Agency (EPA) approximately 100 billion pounds of food is wasted each year in the United States. Wasted food that gets thrown out accounts for almost 34 million tons of the solid waste generated in the United States. Less than 3 percent of that food waste is recovered. And the Washington State Department of Ecology, in their 2009 Washington Statewide Waste Characterization Study, says "organics" (the term used by regulators to describe food scraps and compostables) are the single biggest segment of the waste stream. Food scraps retain large amounts of nutrients. Recovering those nutrients and turning them into fertilizer helps solve a serious environmental problem.
About PCC Natural Markets: Headquartered in Seattle, WA, PCC Natural Markets is a certified organic retail cooperative with annual sales of $161 million and an active membership of 46,000 households. PCC operates nine stores in the Seward Park, View Ridge, Greenlake, West Seattle, Fremont, Kirkland, Redmond, Edmonds and Issaquah neighborhoods.
About WISErg Corporation: WISErg is a clean technology company focused on producing high quality, organic and sustainable products from recycled and renewable sources. The company was founded in 2010 and now has 12 employees. Among its investors are Microsoft alumni and investors from Northwest Energy Angels. From its patent-pending WISErg Harvester system to its family of organic fertilizers, WISErg strictly adheres to the mission of recycle, re-use and repurpose. Headquartered in Issaquah, WA, WISErg is privately held. Visit www.wiserg.com
Contact information:
Diana Chapman, PCC Director of Sustainability, at (206) 547-1222
diana.chapman@pccmarkets.com
Larry LeSueur, WISErg CEO, at (425) 526-6791
LarryL@wiserg.com
Media contact
Diana Chapman
PCC Natural Markets
Email
206-547-1222, ext. 106
206-390-6657 (cell)