PCC set to begin remodel of its West Seattle location
2010 News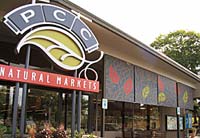 (Seattle, Wash., August 3, 2010) PCC Natural Markets (PCC) will soon begin remodeling its West Seattle location to improve the overall customer experience and the facility's energy efficiency. The project will start in early August and will be completed around the holidays.
Customers can expect a variety of changes. The deli will offer pizza made fresh on-site, a gelato bar, kombucha on draft, self-serve hot foods and a larger soup bar. The deli will continue to feature a variety of salads and entrees, but displayed in new cases and prepared in a remodeled kitchen.
The produce department will be relocated to the east side of the building, bathing the fruit and vegetable displays in natural light from large new windows along California Avenue. The grocery aisles will benefit from a more open layout and design and the meat department will receive a new prep area and feature new display cases.
The classroom will be moved to the southeast corner of the store. The state-of-the-art kitchen classroom will be surrounded in glass, so customers can see the acclaimed PCC Cooks instructors in action. PCC Cooks is an award winning cooking school offering more than 1,000 classes annually, with plans of offering over 200 classes at the West Seattle store post remodel.
The outside of the store will benefit from the remodel as well. New seating will be provided for customers and there will be cosmetic upgrades to the exterior.
The remodel project also includes new energy efficient equipment, which greatly improves performance and increases energy savings. LED lighting will be installed in cabinetry, and frozen and refrigerated cases. Porcelain tile flooring, which can be maintained without the use of waxing and buffing, will be installed throughout the retail area and bamboo and recycled wood fiber panels will be used for all cabinetry in the store.
"We're so excited to freshen up the look and feel of our store and showcase our kitchen classroom," said Mike Germundson, West Seattle PCC store director. "We hope that these changes will greatly improve the shopping experience for our members and customers."
About PCC Natural Markets: Headquartered in Seattle, WA, PCC Natural Markets is a certified organic retailer with annual sales of $138 million and an active membership of more than 44,000 households. PCC operates nine locations in the Fremont, View Ridge, Greenlake, West Seattle, Seward Park, Kirkland, Issaquah, Redmond and Edmonds neighborhoods. pccmarkets.com
About the redesign team: George Ostrow, Architect. Bruce Hale, Environmental Graphics. Construction: Woodman Construction. Refrigeration and Facilities Consultant: Greg Jones.
Media contact
Tom Monahan, Marketing Manager

PCC Natural Markets

Email

206-547-1222, ext. 189