Tea time in bulk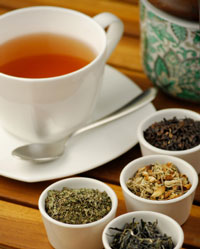 It warms, it soothes and its fragrance delights. We're talking tea, the steamy beverage we've been sipping for thousands of years since it originated in China. Fans know that tea steeped in its loose-leaf form imparts the most flavor and health benefits.
Don't let the price of loose-leaf tea per pound dissuade you from trying our many flavors. A mere two ounces is enough to brew more than 20, six-ounce cups of loveliness (depending how strong you take it). Take home as much or as little as your heart (and budget) desires.
The benefits of buying loose-leaf teas in bulk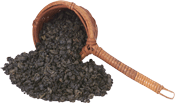 Just as with wine, cheese and chocolate, a wealth of adjectives exist to describe tea: smoky, smooth, woodsy, floral, robust, assertive, refreshing, tropical, full-bodied, bold, malty, toasty, mellow, bright, earthy, elegant.
Look to our bulk department as a way to sample many new flavors, affordably. We carry a range of blends from Choice Organic Teas, Rishi Tea, Frontier, and Guayaki.
Choice Organic Teas — A range of Fair Trade and/or organic blends in Moroccan Mint Green, Genmaicha, Lapsang Souchong, Orange Spice, Twig, Bancha Toasted Green, Mango Ceylong and more.
Frontier Organics — Fair Trade teas in Gunpowder, Assam, Rooibos, Ceylon Orange Pekoe, White Peony, Darjeeling, Irish Breakfast and more.
Guayaki Yerba Mate — A healthier alternative to coffee, yerba mate is nature's most balanced stimulant, delivering both energy and nutrition with 24 vitamins and minerals.
Rishi Tea — Organic and Fair Trade green, oolong, black and other blends in Jasmine Pearl, Wuyi Oolong, Pu-erh Tuo Cha and Golden Yunnan.
Meet our producers