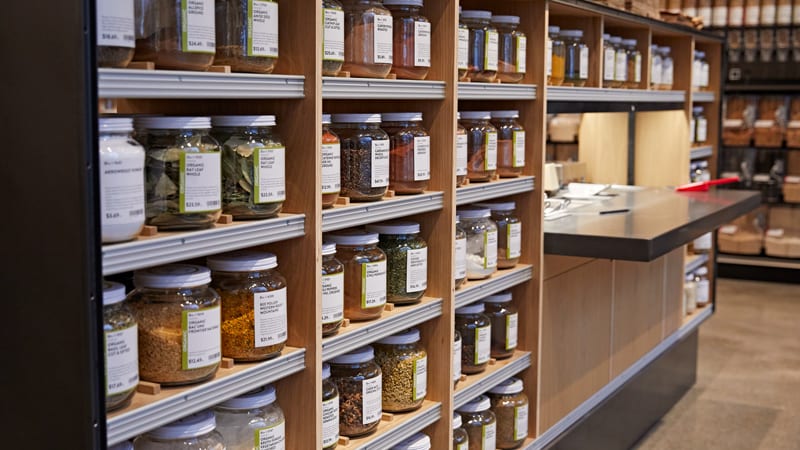 By the pinch or by the pound
From bright herbs to punchy spices, PCC's bulk section offers a world of flavor to explore in your search for the right seasoning. It's an easy, affordable way to buy organic, fair trade spices. Stock up on your favorites or try out new ones — head home with just the needed amount so your supply remains fresh and fragrant. Plus, buying in bulk substantially reduces the amount of packaging. Grab one of our compostable containers or opt for the reusable options that are available for purchase.
Quick spice tips
Store spices in airtight containers in a cool, dark place.
Ground spices stay fresh about six months, while whole spices will keep for about one year.
Get the most flavor out of whole spices like cinnamon, nutmeg, cloves and ginger by grating them as needed.
Bulk up on nutrients
Herbs and spices do more than elevate each meal. Many help boost your body's immune system, aid digestion and add vital vitamins and minerals to your diet. Here are some standouts:
Cumin is packed with iron and has a long-standing reputation as a digestive aid. This aromatic spice with its distinctive flavor and warm aroma is used around the world, both as a ground spice and a whole seed. Try these simple recipes and ideas.
Cayenne pepper is high in eye-healthy vitamin A. Try a healthy pinch to boost chili, spice rubs and other flavorful dishes from warm to hot.
Mustard seed contributes selenium, used by the body to prevent cellular damage, and is great in marinades and condiments.
Turmeric is high in the trace mineral manganese, which helps us process fatty acids and cholesterol. Add it to curries, chicken tagines and other spicy dishes for gorgeous color and flavor.
Cinnamon is an excellent source of manganese and a very good source of fiber, iron and calcium. Enjoy on your morning oatmeal or in your favorite recipe for apple crisp, or add it to savory recipes, like this Cuban Tortilla Torta.