Get organic in bulk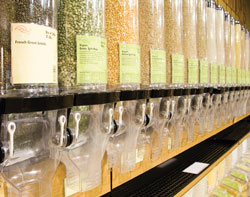 You'll see plenty of tags and labels throughout your local PCC. They help us alert you to foods that fit your needs, whether you're on a gluten-free diet or shopping for kids. In our bulk department, yellow labels indicate conventionally grown products and green indicates organic.
You'll find a wide variety of organic options, including fresh ground nut butters, rice and grains, beans, herbs, spices, dried fruit, baking supplies, oils and more.
Eating organic on a budget
Our bulk department can be your budget's greatest ally, especially if you prefer organic beans, lentils, nuts, herbs, dried fruit, spices and more. Here are our top tips for using it wisely.
Buying from the bulk bins lets you take home as much or as little as you realistically need to avoid leftovers that might go to waste in your pantry.
Think bulk when you need only small amounts of organic herbs and spices. You'll get the freshest quality and avoid paying for an entire jar.
Think bulk when you want to save on organic liquids like maple syrup, soy sauce and cooking oil.
Consider buying your shampoo, liquid soaps and bath salts from bulk. Savings with bulk body care means more money to spend on food.
Limit the processed and packaged foods you buy and cook them yourself with organic ingredients from bulk. Whip up your own trail mix from the variety in the bins, or sample different organic flours to give your next batch of pancakes a new twist.