PCC Members –
The intent of our Co-op Purposes Report is to reflect on our co-op's social, environmental, and financial results and impact from the past year. Yet, never has the past year felt so distant.
In early 2020, the COVID-19 pandemic changed our sense of community and connection. Grocery stores became essential businesses — for supplying pantry staples, and for adding a small, meaningful bit of humanity to our day. Our store staff members were, and still are, asked to tirelessly meet these very basic of human needs with care and compassion while overcoming their own fears and concerns.
It's difficult to pull our gaze from the present to reflect on what now seems like a different time. We chose to move forward with publishing the 2019 Co-op Purposes Report and its planned content because it is an important record of how our co-op lived its values and made progress toward its goals.
There are many things of which to be proud within this report, but a few that rise to the top for 2019 include:
We opened our West Seattle and Ballard stores, increasing our contribution to the Puget Sound economy. We've always been proud of the jobs we create by way of our stores, and these opportunities never have been more important than they are today. With each new store, we add more than 100 new jobs while also expanding the market for the organic, sustainable products we source from local producers, farmers, fishers, ranchers and makers.
We became the first grocer in the world to pursue Living Building Challenge (LBC) Petal Certification, the highest achievement in green building. Our West Seattle and Ballard stores were built to these specifications, and our store development team spent thousands of hours reviewing more than 800 building materials and pieces of equipment to comply with LBC's strict sustainability requirements.
We removed more than eight million pieces of plastic from the waste stream by switching to compostable packaging in our delis. This decision, together with our LBC certification, led Progressive Grocer to name PCC its 2019 Outstanding Independent Retailer of the Year for Sustainability.
The pandemic has changed many things, but it hasn't changed what sets our co-op apart: our commitment to our product sourcing and ingredient standards, which makes those standards among the highest in the nation; our local community ownership, which keeps us accountable to our members in the Puget Sound region; and our passionate and knowledgeable staff, who is the heart of our co-op community.
We know you have many choices when it comes to where you buy your groceries. Thank you for supporting our co-op, our shared values, and our shared vision of the planet as a healthier and more vibrant place.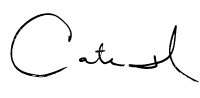 – Cate Hardy
CEO, PCC Community Markets