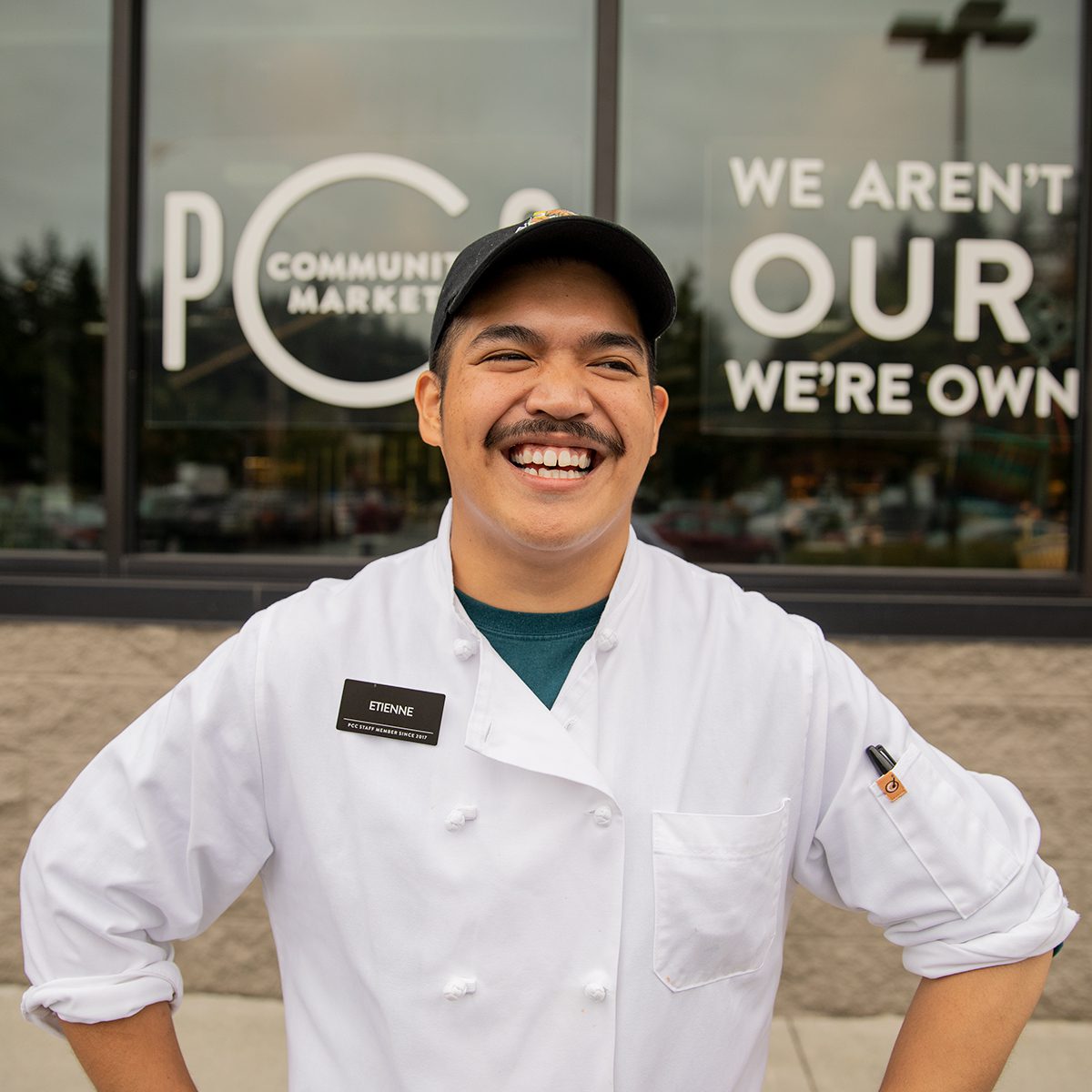 This profile was originally published in November 2019
Etienne Sotelo
deli helper clerk | edmonds
Etienne Sotelo works behind the Taqueria counter most days at Edmonds PCC, carefully crafting burritos for his loyal customers, who swear by his meticulous burrito-rolling skills.
But that's not the only thing to love about Etienne. The extremely enthusiastic and hardworking UW Bothell grad takes pride in everything he does. That means sharing his favorite recommendations (pork adobado, pineapple salsa and jicama slaw), jumping in wherever he's needed from the pizza station to the espresso bar, and keeping an eye out for WWE celebrities, like Becky Lynch and Charlotte Flair who stopped in after an event in Everett last year. Did we mention Etienne is a huge fan of pro wrestling?
Having worked at PCC for a little over two years, Etienne appreciates the stability and camaraderie the job provides, not to mention the discount on food and ORCA card, and potential opportunities to use his Interactive Media Design degree at the Co-op Office. He also has taken advantage of PCC's job referral incentive, as his sister and some of his friends work for the co-op now, too.
Etienne lives about a mile and a half away from the store, so he walks to work most mornings well before the sun rises.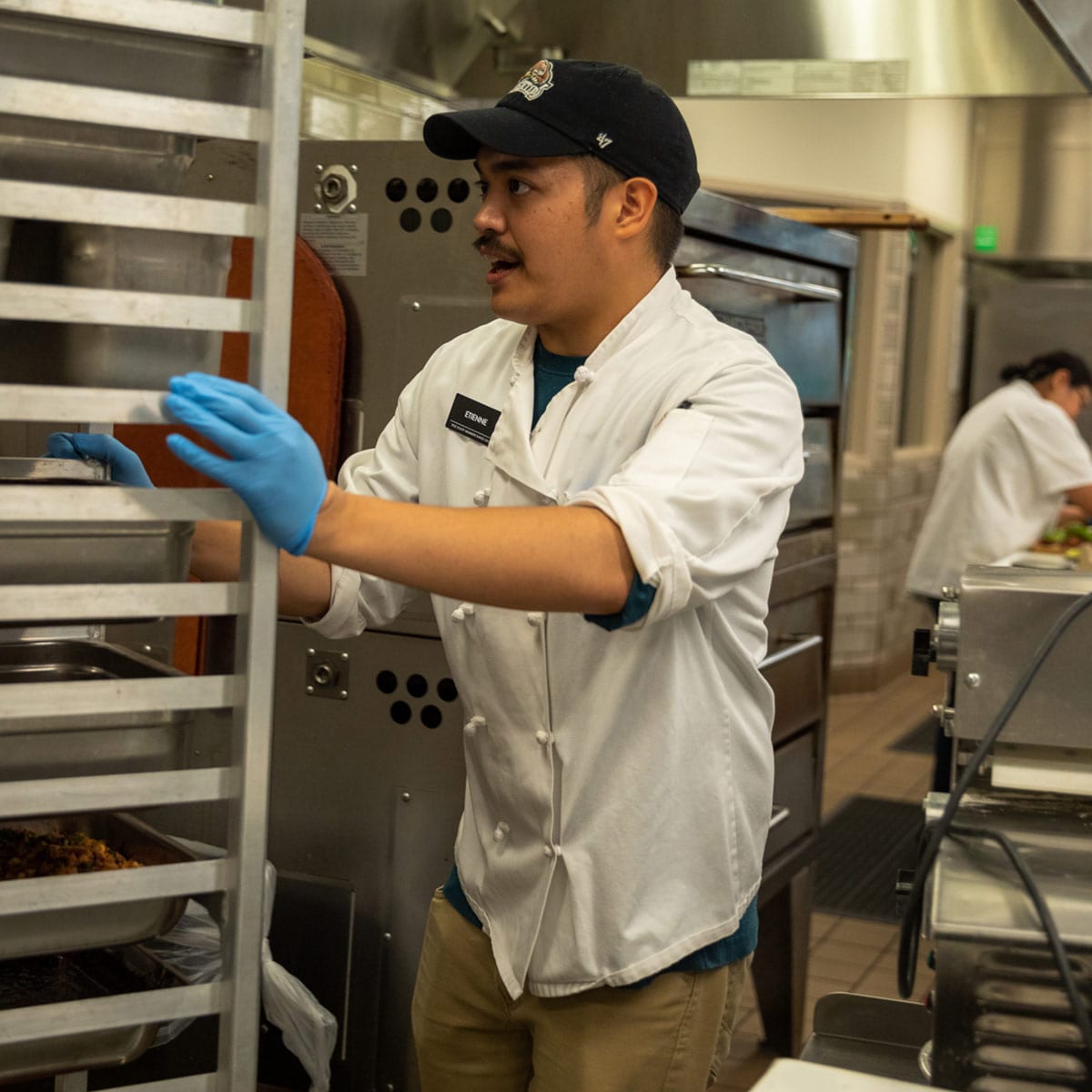 4:00 a.m.
Once the ovens and pizza warmer are turned on, Etienne heads to the walk-in fridge for trays of sausage, bacon and potatoes prepped by the night shift a few hours earlier. He won't see any customers for about two hours, but he stays energized by listening to Outkast, Rick James or a podcast like The Giant Bombcast.
6:30 a.m.
During his first break, Etienne grabs some food and checks scores from the previous nights' NBA playoff games since he goes to bed so early — typically around 8 p.m.
9:00 a.m.
Edmonds PCC gets busy, which means staying in constant communication with the deli team is a must. But since Etienne is a real people person, it's no problem. In fact, he thrives in this fast-paced environment, making sure there's plenty of freshly made rice, pork, beans and salsa for the lunch crowd that will be walking through the doors in the next couple of hours.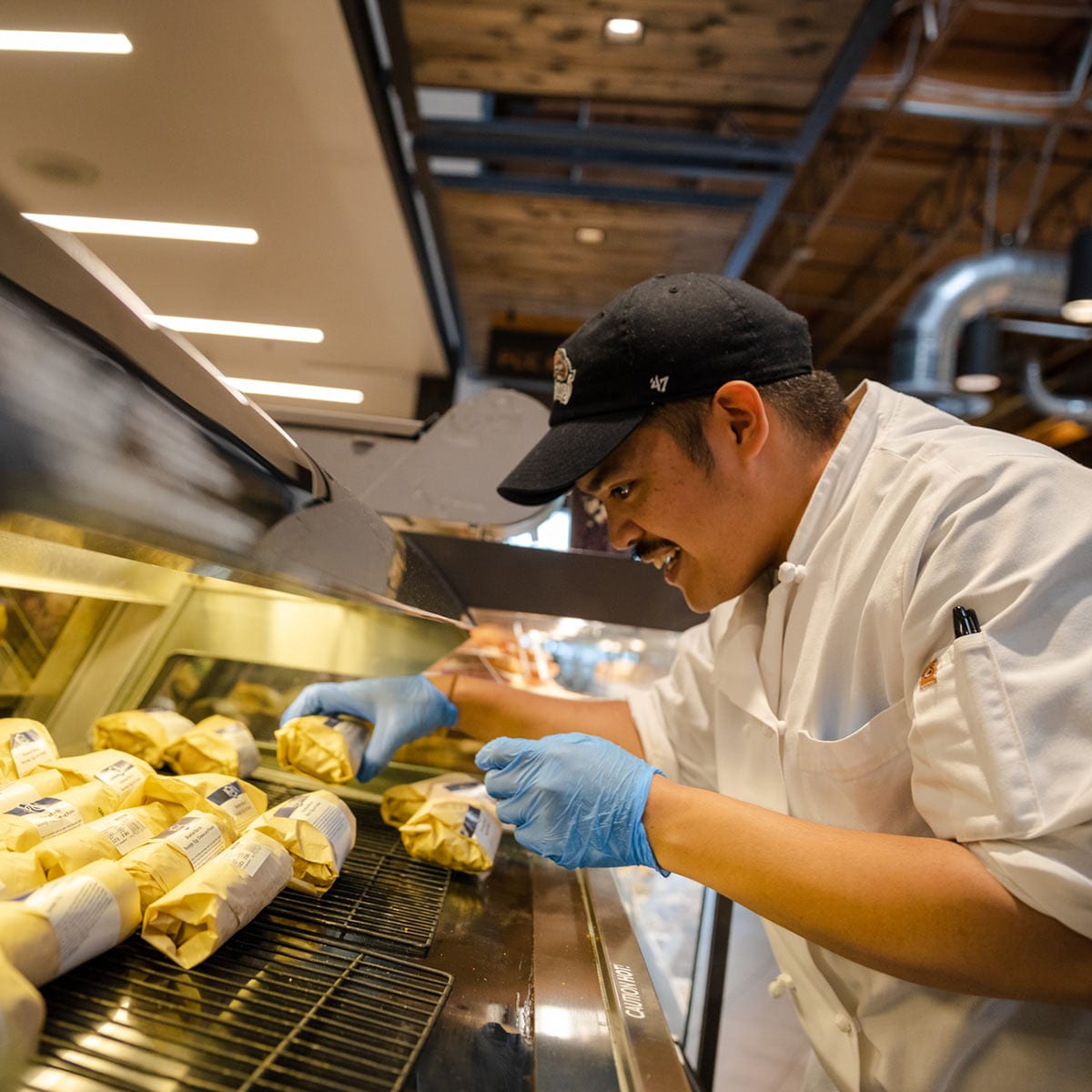 11:00 a.m.
He's trained on everything, so you'll see Etienne just about everywhere. The one thing you won't see though is his back. Even when he's doing prep work, he positions himself toward the store. "I want to make sure I'm always facing my customers, so I can see when they need me," he says. With that kind of mindset, it's no wonder Etienne recently won the co-op's Customer Service Star award.
12:00 p.m.
It's important for Etienne to provide a smooth transition for the closer. Before heading home to play a few competitive rounds of Tekken 7 or Smash Bros., he'll make sure his coworkers know what's prepped and what still needs to be done for the day.
Etienne likes working the early shift, so he can enjoy his time off while the sun is still up — especially during the summer when it's prime grilling season.